Cal Farley's youth return to present projects in annual 'maker faire'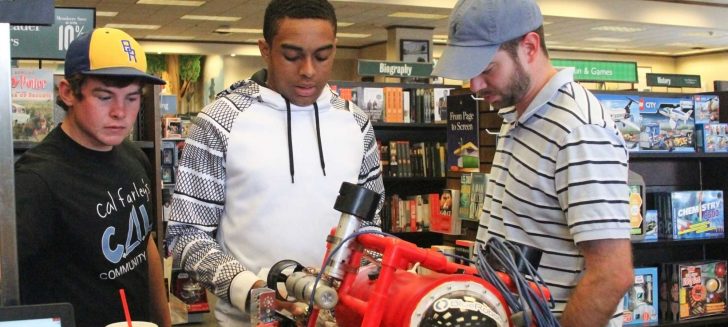 AMARILLO – Residents of Cal Farley's Boys Ranch will present their technological skills Saturday at a nationally sponsored event created to feature the contributions made to society through technological innovation.
Participating in their third consecutive year, youth in Cal Farley's Experiential Learning Program and Community-as-Lab will display some of their projects at the Barnes & Noble Mini-Maker Faire from noon to 6 p.m. Saturday at the bookseller's Amarillo location at 2415 Soncy Road.
This weekend, the youth from Cal Farley's Boys Ranch will be displaying remote-operated vehicles built by our youth and furniture they created using 3-D printing technology.
E.L.P. is a program fosters innovation and provides our youth with a more individualized learning experience in fields of study that may provide a potential career option. Cal Farley's youth participating in E.L.P. can even earn industry certifications that make them more desirable to post-secondary educational programs or potential employers after they leave Boys Ranch.
Developed in 2010, Community-as-Lab expands on ideas Cal Farley's young people have learned in the classroom and applies it to real-world projects. C.A.L. learning labs subjects are as diverse as rocketry, 3-D design and robotics.
"We remove barriers to learning by creating fun science, technology and engineering experiences where youth can engage in creativity and exploration," said Keely Miller, director of experiential learning.
Important to these programs are the emphasis that is placed on letting youth choose their learning projects based on their personal interests. By doing so, youth become more engaged in their activities and learn how their unique talents can contribute to a larger community.
Learn more about Cal Farley's Experiential Learning and Community-as-Lab programs on our website at calfarley.org/boysranch. More information on the Barnes & Noble Mini-Maker Faire is available at barnesandnoble.com/h/makerfaire.