Boys Ranch youth, staff prepare for annual cardboard boat races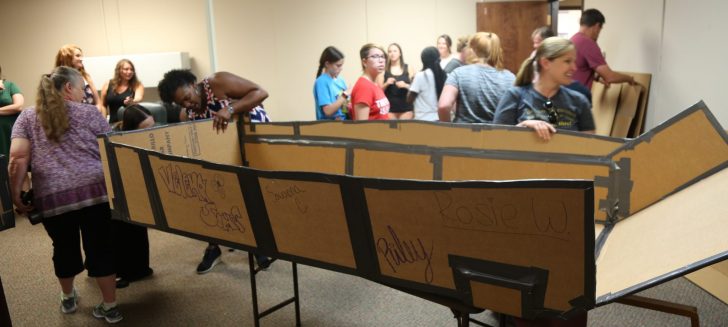 A group of Cal Farley's youth enlisted workers at Cal Farley's corporate headquarters Wednesday to sample a project the youth at Boys Ranch have been planning and working on for some time — building cardboard boats.
The youths' hands-on demonstration was a way to involve Cal Farley's employees who may not work at the Boys Ranch campus in an annual event that's become a favorite experience for many Boys Ranch youth, the annual Boys Ranch cardboard boat races.
At Boys Ranch, many cardboard boat creations already have been built and await their maiden voyages. They will finally be put to the test Friday morning. Hosted each summer by Cal Farley's Adventure Program, the cardboard boat races give Cal Farley's residents a chance to learn teamwork, express and build out-of-the-box (pun intended) thinking and, of course, to be cheered on by their peers and mentors on the Boys Ranch campus. Every resident is encouraged to build a boat. Some even help make two or more.
Creativity is encouraged, but our youth and their staff mentors do have a few rules to guide their construction:
Corrugated cardboard and tubes are the only building materials allowed. Other materials may only serve a decorative purpose.
Any color or form of duct tape is permissible.
A painter's plastic drop sheet is permissible as a covering for the boat's bottom, however it can only go 3 inches up the sides of the boat.
Decoration is both allowed and encouraged, so long as it follows the other construction guidelines.
Any tape that is on the boat may not be wider than three inches from any cut or edge. (In other words, the boat cannot have large areas taped to act as a water sealer.)
Watch Cal Farley's Facebook page at facebook.com/calfarleysofficial Friday morning to view a live-stream of this year's frivolity. Coverage will begin at 10 a.m. Central time.