Boys Ranch to hold anniversary gala Saturday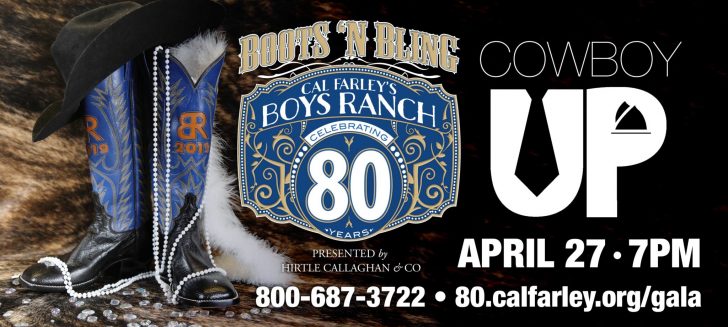 More than 350 supporters of Cal Farley's Boys Ranch will gather at 7 p.m. Saturday at Embassy Suites, 550 S. Buchanan St., to celebrate the organization's 80th anniversary.
"Eight decades is an incredible legacy," said Dan Adams, Boys Ranch president and CEO. "I believe if our founder were alive today, he'd acknowledge both the successes and incredible changes that have marked the last 80 years. I think he'd be profoundly proud of what Cal Farley's Boys Ranch has become."
Saturday's gala has drawn the interest of friends, donors and alumni of Boys Ranch from as far away as Pennsylvania to a delicious dinner, dancing to the musical talents of local band Comanche Moon and a live auction to benefit Boys Ranch's life-changing work. Since its inception, Boys Ranch has been entirely donor-funded, and does not seek state or federal funding for its work with children from across the United States.
Opened in spring of 1939, nine boys and a single married couple were the first residents of Boys Ranch. The campus, 36 miles northwest of Amarillo, was at that time the site of a defunct frontier town, Tascosa. Western icons the likes of Billy the Kid, Bat Masterson and Pat Garrett had walked its dusty streets. On land that had seen gunfights and barroom brawls, Boys Ranchers learn integrity, perseverance and faith in God.
In the last eight decades, Boys Ranch programs have expanded to include girls and to help our children's families obtain the emotional tools they need to create and maintain a warm, nurturing environment for their children.
"A lot has changed at Boys Ranch in the last 80 years," Adams explained. "We've gained a better understanding of a child's neurological development and created opportunities for our youth to gain real-world experience that's invaluable as they become independent adults."
Saturday also will mark the public debut of the new Cal Farley's Boys Ranch brand, the end result of nearly two years of preparation, research and stakeholder interviews.
"Our new brand image reflects what this organization is today," Adams said. "It honors our past, and looks to a very exciting future for Boys Ranch. I think everyone present Saturday will be very pleased with the course we're on for the next 80 years, and beyond."