Boys Ranch children shop with Lions Club members for 50th year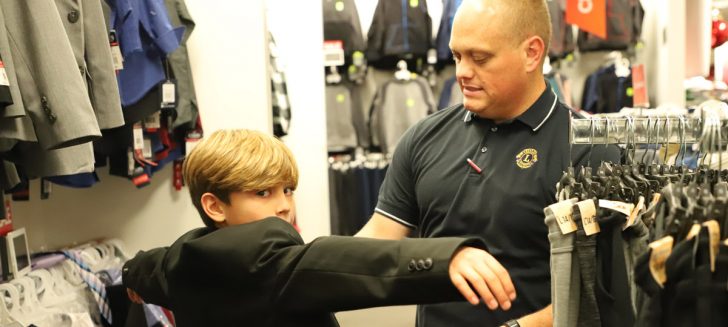 "Oh my, this is so soft and pretty," exclaimed Daniella as she placed a fuzzy pink sweater up to her cheek. "I might have to get this," she told her shopper helper.
Big smiles like Daniella's filled the Amarillo's Kohls store yesterday afternoon as 50 preadolescent boys and girls from Cal Farley's Boys Ranch were matched with Lions Club members for the 50th annual Lions Coat & Shoe event.
Like the other children, Daniella wanted to explore all her options before she put anything in her shopping cart.
Lions Clubs from all over the Texas Panhandle do fundraising each year for this annual November event. Working off of a list prepared by the child and house parents, the Lions help our children pick out much-needed clothing items in preparation for winter weather.
"When I went to check out, we had picked things so well that I only had 30 cents left," said a proud Malakye, 12, who shopped for chapel clothes, jeans, socks and shoes.
Richard Beal, a Lion from Canyon who helped 13-year-old Joe was impressed with how careful his young man was to pick out things of value. The two spent more than an hour in the coat area, selecting the perfect dress attire for the upcoming cantata. Joe picked out school clothes as well.
"Joe knew what he needed, and he wanted to make sure he made really good choices," said Beal.
Ending the event, a heartwarming scene of Boys Ranch youth leaving Kohls emerged toting large bags to their home vans. Each child was now ready for cold temperatures, attending Sunday chapel — and excited to have new clothes and shoes to replace their old and outgrown apparel.