Senior players recognized at special ceremony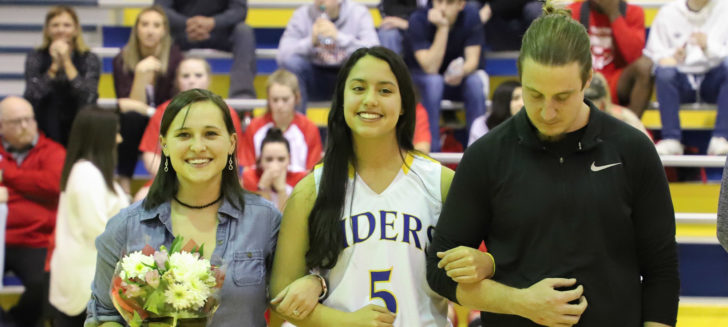 Recently, senior Roughriders in wrestling and basketball at Boys Ranch High School were recognized for their participation and final year in our healing community. A large crowd gathered to share this special moment with our youth during one of the last games of the season against West Texas. As their names were announced, eleven boys and girls were escorted down center court by someone special to them. The seniors lined up with their teammates and peers as highlights of their season were shared and their future plans announced.
Following the recognition of the seniors, Lady Riders boasted a win for the evening while boys varsity fought it out to a gripping end, losing 53-50 with only seconds remaining. The last home game of the season for boys basketball is Friday, Feb. 8 as they take on Stratford. The Lady Riders have made it to the playoffs and play their first game against Panhandle Monday, Feb. 11.
The evening's honorees included:
Senior wrestlers: Al, Garrett and Tony
Senior girls basketball: Sarah, Sara, Emily, Tazia and Aubrey
Senior boys basketball: Jose, Simon, Canyon, Chris and Ryan
Pictures from the ceremony: