Boys Ranch Next Level Café reopens as coffee spot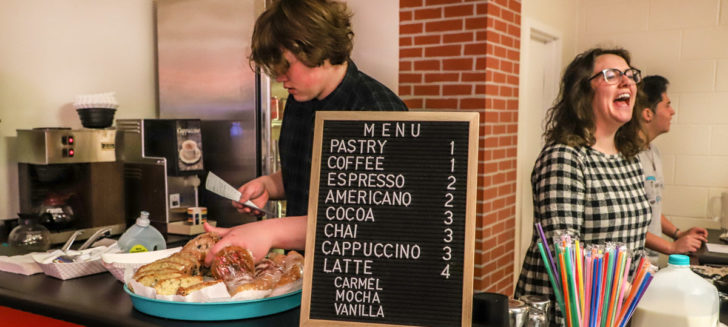 On a particularly special Sunday evening, the aroma of coffee filtered through the air as Boys Ranch youth and their supportive mentors gathered around a 50's style counter to chat and order drinks in a recently rejuvenated space. As café-goers filled the retro red and white leather booths, games of UNO or battles of Hangman began to pop up around the room.
The Next Level Café had been given new life!
This heartwarming scene was complemented by the baristas, Garrett and his recruited helpers, Chris, 17, and Caitlyn Colbert, chapel immersion program specialist. The three served from behind the café bar making lattes, espresso, cappuccinos and cocoa – all the fare needed to create that special coffee shop atmosphere.
The rebirth of the café is the brainchild of 18-year old Garrett, a senior heavily involved in ministry work on campus, including participating in a mentorship with Chaplain Mike Wilhelm through our Experiential Learning Program.
Garrett's vision of the café imagined the space as it was always meant to be used.
"My hope is that (the boys and girls at Boys Ranch) will come to the café, put their phones down and talk to each other, maybe play some games while they are here," Garrett said. "It is also one more opportunity to have kids walking in and spending time in the chapel."
"Our goal is not to be different but offer something that the kids at Boys Ranch don't get to experience normally," added Colbert, who worked as a barista during college and even roasts her own coffee. "It is an additional way for the kids to organically hang out. Another opportunity to be outside of their homes and interacting face-to-face."
To prepare the café, chapel staff came together to clear out the space that had quietly become a storage area over the years.
"The chapel interns loved bringing (Garrett's) vision into a reality," said Colbert. "And, it also helps that most of us love coffee!"
As the café project evolved, Colbert began teaching the two boys barista and management skills needed to open and run the café — skills they could one day use in a future job.
"I'm proud to know Garrett and get to work alongside him," Colbert said about the teaching experience and creation of the café. "Garrett has a knack for service. He is always willing to help and has such a big heart."
Colbert is already envisioning the next phase for the café, which will make the experience even more special for café-goers by serving coffee from beans that have been roasted at Boys Ranch!
For now, the Next Level Café, which is located on the second level of the chapel at Cal Farley's Boys Ranch, will be open one Sunday a month. Those involved in the project hope to eventually expand its hours.
And, if Garrett has any say in the matter, this will happen sooner rather than later.
Photos from the café's grand opening