Boys Ranch and area Lions clubs celebrate 50-year shopping tradition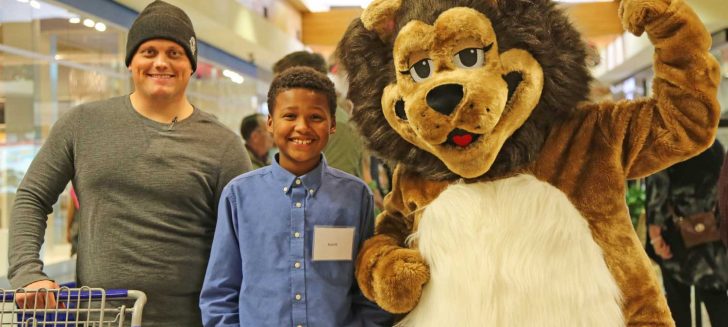 This year marks the 50th year members of Texas Panhandle Lions clubs will accompany children from Cal Farley's Boys Ranch in a fun-filled shopping trip. This year, the event takes place at Amarillo's Kohl's department store at 2 p.m. Sunday.
Each year, area Lions Club members help at-risk children from Boys Ranch, making sure each has all the winter clothing items they need. Area Lions clubs support the life-changing work of Boys Ranch by raising funds each year to provide these essential items to several dozen Boys Ranch residents. As in past years, each Lions Club volunteer shopper will be paired with a child. The shoppers and children select clothing items from a shopping list of the child's most-needed items.
Boys Ranch President and CEO Dan Adams said support from individuals, businesses and organizations like the Lions Club provides important help for the children at Boys Ranch.
"We're grateful to the Texas Panhandle Lions clubs for believing in the work we do and for supporting our children year after year." Adams said.
Kohl's department store also will provide a 20 percent discount on the purchases to allow the dollars spent to be maximized for each child.
"Fifty years represents a beautiful commitment to the children we serve, and this is one of our longest-standing traditions," Adams said. "The Lions have been so good to Boys Ranch. Our young people look forward to this event every year. It's extra special because the Lions not only give, but they spend their personal time to be with our young people and this truly inspires our children."
Lions Club member Bill Craddock said the time spent with Boys Ranch children continues to make an impression on Texas Panhandle Lions as well.
"It's a great opportunity to visit with these young people and just to get to know them better, to see where they've come from," he said. "The kids get a benefit from it, but I think the Lions do as well. You can listen to the ones who've been a part of it through the years, and they always talk about … what a blessing it is and how much fun they have."
Nearly 250 boys and girls live, learn and play at Boys Ranch. In a nurturing, Christ-centered environment, at-risk children ages five to 18 participate in a variety of therapeutic, academic and spiritual activities at no cost to the families we serve and without seeking state or federal funding.