Boys Ranch youth take time to reflect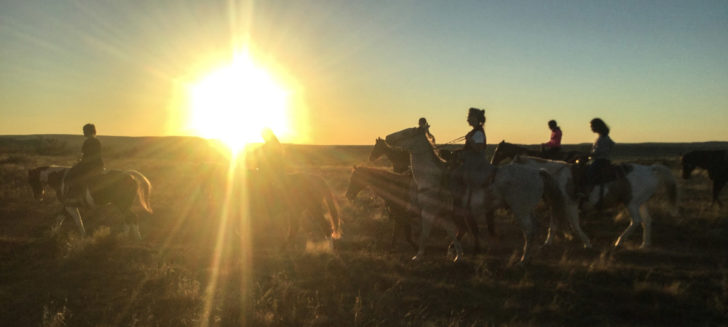 A group of Boys Ranch girls recently set out on a picturesque prayer ride over the rugged mesas of the Texas Panhandle. As the group rode towards their destination, the crisp autumn air poured over the countryside and the glow of the setting sun blanketed the riders with a quiet peace.
At their destination, an overlook of the Canadian River called "Edge of the World," the young girls bowed their heads and took a moment of solitude to reflect on the events in their lives. As if to say goodbye to old pains, the girls then wrote their prayers, often taking the form of questions, on a rock they had collected along the way. Then, those reflections were placed with other stones that have gathered over the years from Boys Ranch youth who have taken similar voyages.
As the ride drew to an end, the night gave way to evening stars, and the air filled with the sounds of crickets and the rustle of horses' hooves moving through tall grass. And, all was how it should be.
The following week, a group of boys embarked on a similar spiritual journey. While no excursion is never the same, youth can find comfort in the recurring elements of each ride.
Each ride is dedicated to connecting with God through their thoughts and prayers. In a somehow perfect opposition, prayer rides are a time when Boys Ranch youth achieve great solitude, yet also strengthen their connections with peers and caring mentors.
Throughout the year, experiences like prayer rides provide vital moments of healing and reflection for our boys and girls. And, they are a time when a child's connection to Christ helps them seek guidance or simply feel His presence, knowing they are safe and cared for while they continue their journey at Boys Ranch. At Boys Ranch, each child will embark on their own healing journey and have the chance to build a happy, successful future.