Nate finds good people, who truly care for and appreciate him
When Nate first heard he was going to live at Cal Farley's Boys Ranch in 2014, he envisioned a place at the end of a dirt road, with a big shabby house, where he'd have his fair share of manual labor to do.
"Then I arrived and found out I was very wrong," the 18-year-old high school senior said. "It's actually a very advanced place. I really connected with the STEAM lab."
Nate is referring to the science, technology, engineering, art and math learning facility on campus, which is part of the larger Experiential Learning Program. The STEAM lab gave Nate his first taste of computer programming at age 15, and he now plans to pursue a career in coding with the dream of one day creating his own video game.
"Boys Ranch has provided a place for me to achieve my goals without judgement or ridicule," Nate shared.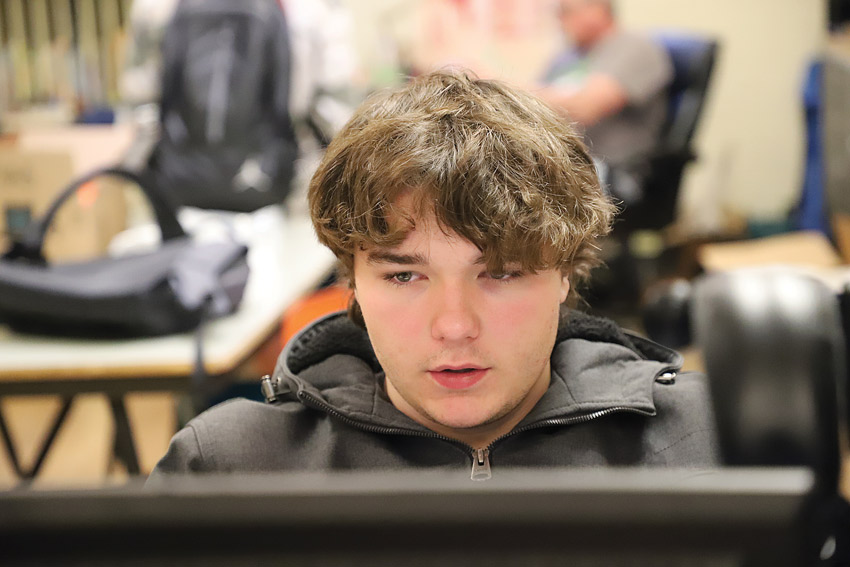 Before Boys Ranch, Nate's life was tumultuous. He and his sister were living with good Samaritans who had helped care for them on and off since they were very young. His mom had stepped out of the picture long ago. At the time, his dad was incarcerated. The Samaritans were friends of the children's paternal grandparents and had been given guardianship.
Nate's younger sister was content with her place in life, but Nate had no real attachment to anything or anyone. He felt secluded and disillusioned with life in general. Despite being told otherwise, Nate believed his guardians had never fully accepted him. One thing he seriously lacked was the security of a positive parent relationship. When he arrived at Boys Ranch, he was an isolated, independent introvert with deep trust issues.
"Nate was a shy and quiet boy who loved his saxophone," recalled houseparent Emily Thompson. "We quickly learned he loved band, animals, playing video games and watching anime. We could see a tremendous amount of potential that I don't believe he even knew that he had."
The Thompsons and others began working hard to build trust with Nate and to help him gain healthy attachment. At every turn, he was encouraged to be his true self. Hours were spent taking drives, walks and spending time with the animals in the community garden, all things that helped Nate learn to self-regulate.
Once in high school, Nate wanted badly to get into Future Farmers of America and raise a pig. Much to his dismay, the team overseeing the program decided he needed to wait a year.
The small, older FFA barn at Boys Ranch, sadly, only has space for 20 animals. Twice this many of our residents would like to do an animal project each year if space allowed. The lack of space made the decision easier.
"He didn't quite have the responsibility level to care for the pig," Thompson explained. "This was a big eye opener for Nate! But, he put his mind to it, dug in deep, kept his chores done, kept his room cleaner than I had ever seen it, got along better with others in the home and by the time the 10th grade rolled around, there was no way to say anything but yes to that pig!"
With a solid routine, healthy boundaries, opportunities to succeed and be recognized and a whole lot of love, Nate grew tremendously that sophomore year. Fast forward a few years, and he's shown a pig three times, including once showing the grand champion winner in his breed class.
Today, Nate still has a very independent spirit and he continues to struggle at times to affiliate with others. The programs and opportunities he's been given through Boys Ranch are helpful in this regard and have turned him into a super achiever with an adoring fan base of peers and adults. He works daily to solidify positive relationships with trusted adults including house parents he knows love him, accept him and want only the best for him. This has allowed him to reach achievements and boost his confidence.
When it comes to problem solving and analytical thinking, Nate teeters on brilliance. He loves a new challenge.
"The thrill of doing something I couldn't do before and having it all of the sudden go correctly is very rewarding," said Nate.
He said that there was a time when he would not do certain things because he feared he would fail.
"I like to be presented with problems and then overcome them," Nate said, noting he always chooses to solve the most difficult problem presented first.
As a leader in the classroom and in extracurricular activities, Nate recently was on the Boys Ranch team that competed in a regional egg-drop competition. His team won the most-creative-design award.
The last two summers, he helped Phillip Miller, who runs the STEAM Lab at Boys Ranch, teach a basic 3D design and printing software class at nearby Amarillo College. Nate has mastered several industry-standard design programs.
In 2017, Nate and a fellow resident won first place in an FFA ag/mechanics large woodworking category competition when they made a 27-part waffle bench.
"Nate did nearly all of the computer work on the project and the judges were totally impressed with the unique design," Miller said.
Nate has also learned computer coding, including JavaScript. He is certified in several programs.
Boys Ranch has taught Nate to be more confident, to be responsible and fulfill commitments.
"Programs like ag and my STEAM mentorship are both prime examples of having to fulfill commitments," he explained. "If I don't wake up and go and feed my pig, I'll lose him. I've learned to prioritize things and to always make sure to get things I said I'd do done."
Nate credits his houseparents, School Support Specialist Christy Reeves and Clinical Intervention Specialist Carol Humbert for the positive changes he's been able to make. He looks forward to graduating this May and will transition into the Boys Ranch Alumni Support Independent Living Center and begin pursuing a career in computer coding.
"I want to become the best human I can," he said. "This place made me open up to explore things, to face my unique personality, as well as my interests and passions."
But even more importantly, Nate, said, "This place made me realize for every bad person on this planet, there are plenty more good people who care and appreciate me."