Mitchell: Building on his successes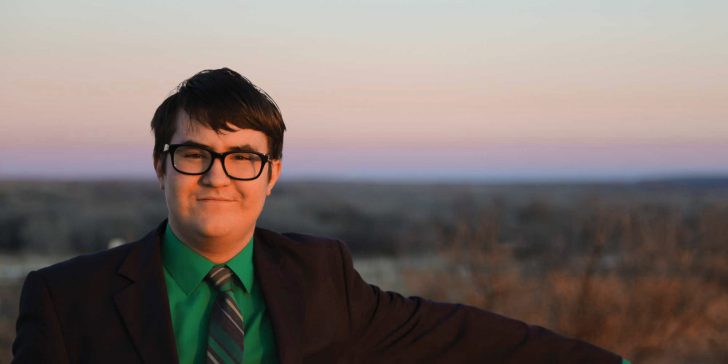 "I may not dress like a cowboy, but I call myself a cowboy at heart," explained Mitchell, 16. "I've been in the country most of my life."
Mitchell was born into a small, rural family, not unlike countless families across the country. His parents divorced when Mitchell was four years old, and Mitchell's earliest memories are of staying with his mother in his grandmother's home.
Mitchell's mother initially worked at a supermarket as she got herself back on her feet, ultimately pursuing a career in nursing. It was hard for Mitchell at times, with his mother always away trying to provide for the family.
Eventually, Mitchell's mother remarried and life seemed to get back on track.
"I never felt closer to my mom than when she got married to my stepdad," Mitchell recalled.
Mitchell's new step-father provided the discipline his mother hadn't always been able to, and that he'd never received from his father. Mitchell's reaction wasn't always the best choice.
"My step-dad (and I) are not getting along, arguing," Mitchell remembered. "I'm being disrespectful to him, cussing out him and my mom."
Looking back, Mitchell said he felt abandoned as his mother was busy working to create a new life for them after her divorce.
"I felt like she wasn't doing enough," he said, explaining his mother often compensated for her inability to spend time with him by showering him with material possessions. "I was starting to get to the point of being a spoiled brat. She would basically give me what I wanted."
Somehow, Mitchell said, his mother's marriage brought those feelings out more than ever before.
"There were times I felt excluded. I felt like the only time I could get their attention was by being bad in school," he said. "That's the only actual time I got their undivided attention."
But, of course, the attention Mitchell was drawing was only negative. On Christmas Eve 2014, Mitchell's parents welcomed the arrival of Mitchell's baby sister. Mitchell was thrilled to finally have the younger sibling he'd always wanted. But, having a new baby in the house only meant there was even less time for his needs.
Mitchell's behavior grew worse. The disrespect and dishonesty were constant. Once, Mitchell said, he even stole his mother's credit card. The purchases he made were minor, but it was a troubling escalation in his behavior.
The last straw, though, came one day when Mitchell arrived home from school before either of his parents. Mitchell wanted to go inside to watch TV, but he was locked out with no way inside. Instead of waiting for his family, Mitchell came up with an idea.
"I busted the glass with my fist," he said, adding that he cut his finger in the process.
Mitchell sought help bandaging his finger from the neighbors. He made matters worse by lying, claiming he'd arrived to find his home had been broken into.
Mitchell's parents soon told him about a potential solution they'd found.
"They said, 'You have a school here. They help you with goals. A lot of (youth who) graduate here return to their families or get released because they've completed their goals."
In more than two years at Cal Farley's, Mitchell has found a sense of belonging that gives him the positive attention he craved. He enjoys spending time with his house parents and peers. He's found success on his high-school tennis team. And, in the last year, he's joined a group of young people to find belonging as they learn the fundamentals of construction in Cal Farley's Experiential Learning Program.
"I like being able to (learn) with other people," Mitchell said. "I feel like if I'm working by myself, I'm going to mess something up. So … this helps me to get ready for (adult life), working with other people."
Mitchell and his peers learn the theory behind construction techniques in a classroom setting, then apply what they've learned at what's affectionately known as "the tiny house," a small two-room structure built by Cal Farley's youth and their construction mentor.
"We helped make the framing itself," Mitchell said of his peer team. "The part I got to do was putting the roof over and getting the shingles put on, putting the sheet metal (siding) up, making the door frame itself."
In addition to basic concepts and hands-on training, Mitchell and his peers are learning the latest techniques used by engineers in the field.
"The beginning of this semester in my Engineering Presentation and Design class … we started working on computers," he said, excitedly.
With the exterior essentially complete, Mitchell is now tackling projects for the inside of the tiny-house structure, beginning with a built-in storage box with working hinges and a locking pin.
Mitchell is excited by his contributions to the tiny-house project, and likes to share his progress with his parents, to whom he speaks about three times a week.
"My relationship with my step-father is much better," Mitchell said. "There's stuff we still need to work on … but, I think things have improved."
Many things have improved for Mitchell in his time at Cal Farley's. In addition to the sense of belonging he's gained in E.L.P., he credits activities like counseling, neurofeedback and rhythmic riding in helping him understand — and control — his past behaviors.
"I'm able to listen more," Mitchell said. "The activities that I've been involved in … have helped me become who I've become."
Like all the young people at Cal Farley's, Mitchell is still becoming the responsible, independent adult he'll one day be. He's grateful for the opportunities he's had at Cal Farley's, and for the many friends who make it possible.
Mitchell looks forward to completing high school and moving on to college, but for now, this self-described cowboy knows he's right where he needs to be, "living out in the country right next to fields and cows" in the calming environment at Boys Ranch.
"You know how some people are drawn to certain places?" he asked. "(At Cal Farley's,) I feel connected with everything around me … Boys Ranch has been a really great help to me."
"
They said, 'You have a school here. They help you with goals. A lot of (youth who) graduate here return to their families or get released because they've completed their goals.