Michael: Living his dreams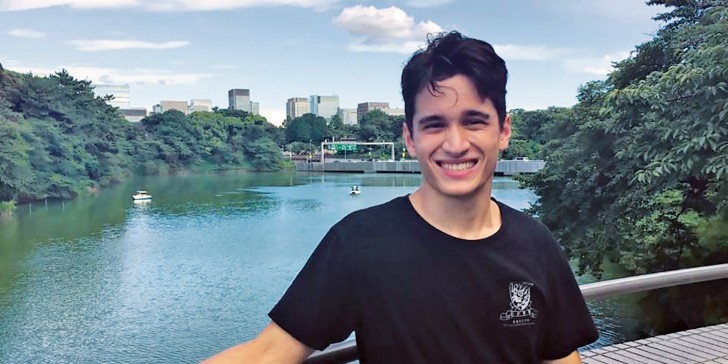 In the last year, Michael, 21, has been living part of his lifelong dream. He's traveled to nine countries as he studies economics and global finance.
"I've … always wanted to come (to Hong Kong) since I was young, and coming here has literally been a dream come true," he said. "Living alongside different cultures has a paradoxical effect of letting you see past differences. Instead of focusing on what makes you different, you start focusing on what makes you similar (to) others."
What makes Michael similar to the many people he's met around the world are his hopes for a happy, successful life. But, at one point in his life, Michael never would have believed he'd experience a globetrotting adventure like this.
As a high school student in Texas, Michael did well academically. But, other parts of his life weren't so promising. Having lost his father at age 2, Michael's mother became the sole provider in their household and was often gone while Michael was growing up.
"(At first,) it was just me, my younger brother and my mom," he said. "My mom … was always working (to support us.) And, I wasn't doing anything good with my life. I started hanging out with the wrong crowd."
Michael was 16, taking risks and entering a critical period when his choices would greatly influence the man he would become. He needed a change, one that could help him build a foundation for a better and brighter future.
That's when a family friend suggested Cal Farley's.
Michael's family recognized the opportunity Cal Farley's could offer — not only a fresh start with more positive influences, but a chance to have the structure he needed to prepare for independent life.
In short, Cal Farley's offered the possibility of an incredible, life-altering adventure.
"What I learned at (Cal Farley's) gave me building blocks to build on," Michael reflected. "I would have never gotten to where I am without it."
The foundation of Michael's time at Cal Farley's Boys Ranch campus was the group home, where Michael said his house parents provided him much-needed role models.
"They taught me life lessons. They were really good examples that I could look up to," he said.
Michael thrived at Cal Farley's. He participated in many programs from sports to Youth Leadership Organization, student council, even the Boys Ranch Rocketry Club. Finally, having the opportunity to pursue academics and his interests without the distractions of his home life, Michael found purpose and drive in the activities he participated in.
"(The programs at Cal Farley's) allowed me to put my hobbies and interests to use," Michael said. "Stuff I learned in school I was able to (apply) in person, to actually use what I learned and see it come to life. It was really motivating to see.
"It really helped out with my college career (because) it gives you applied knowledge that you can use in school, as well as the motivation to learn."
And, while the programs for youth at Boys Ranch all have an element of fun, their ultimate purpose is both therapeutic and vocational, helping inform and guide youth towards future goals.
"(Cal Farley's) taught me useful … skills, which definitely is handy and guarantees me a job virtually anywhere I go, (but it also helped by) guiding me into college," he said. "I'm the first generation in my whole family (to attend college) … (Cal Farley's) really helped me learn that I don't have to think small, I could look big and set my goals really high."
Building on the relationships he formed and the lessons he learned at Cal Farley's, Michael is establishing more cornerstones for his future through financial opportunities offered by his college and the assistance of a Cal Farley's merit scholarship and the alumni support program. A senior at the University of Texas, Michael is anticipating his graduation — and all the potential his future holds.
"When I was young, that was just a dream — college, traveling. To actually see it come to life from where I used to be … that's a really big step I wouldn't have been able to do without Cal Farley's help."
Michael is grateful for the thrilling turn his life took. And, he knows it was made possible by the generosity of Cal Farley's supporters.
"I believe that I stand with everyone at Cal Farley's when I say, 'thank you' (to Cal Farley's supporters). Not everyone is born with the same circumstances," he said. "Giving someone an opportunity to change their future is priceless.
"I can definitely say that you have helped me change mine."