Mia: Patience & perseverance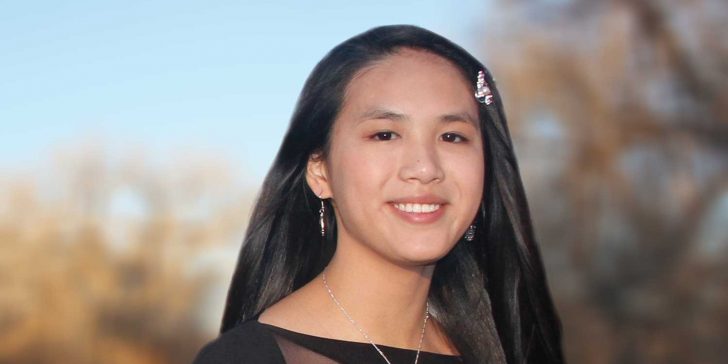 Every day a new adventure
"Every day is a new adventure, that's what I like about (Cal Farley's)," said Mia, 15. "(Every day is) a new day … and you can always do better tomorrow."
For Mia, life is about embracing whatever tomorrow brings, like something new to learn or accomplish.
It was just that sort of desire to try something new that drew Mia to the Cal Farley's wood shop, one of many Experiential Learning Program areas for our young people to explore.
There was a time when Mia would have avoided trying something new, something without the guarantee of success. Mia was adopted when she was 4. Little Mia enjoyed life with her new mother and little sister. About a year later, though, the family moved and Mia's personality and behavior began to change.
Mia began lying and became inflexible, even defiant, with her mother.
"My mom and I were fighting a lot," she said.
"
"(That's) the most important (thing that I've learned), patience and preserving," she said. "(In woodworking), if you're going to start a project, you're going to finish a project … and (the others in the class will) be right there to (help)."
As Mia's dishonesty grew, so did the gulf between her and her mother. Mia's response to the failing relationship was to withdraw.
"I (was) a very reclusive person. I didn't do too much and I'd read," Mia explained. "That's how I developed my love for books. It ended up being a bad thing, (though), because I wouldn't talk to anyone."
There was more to Mia's behavior, though, than her dishonesty. As a gifted student, she also had incredibly high expectations of herself, to an unhealthy extreme that caused her great anguish when she didn't live up to them. In those times, she'd lash out angrily.
"Before, I came to Cal Farley's, (my focus) was all about my grades. I'd get really upset over getting so-called bad grades," she said, adding that, to her, a "bad grade" was anything below an A.
As time passed, Mia's grades fell as her poor behavior continued and, with them went Mia's self-esteem.
"At that point in life, I had given up because I (couldn't) deal with a lot of the stuff (that was happening)," she said.
Mia's mother began getting her help from a counselor, but very little changed for Mia. That's when the counselor made a suggestion that would make a tremendous difference in Mia's life.
"(The counselor) was telling us that Cal Farley's Boys Ranch was a really good place to go, because it's a place where you can be safe, where you can grow and develop (to be) who you're supposed to be," Mia said.
A turning point for Mia
Initially, Mia had very mixed emotions. While she was excited for a fresh start, the news brought fear of not being wanted by her mother, who she knew deep down only wanted the best for her.
"(I was) scared because I had been adopted," she said. "It kind of raised the anxiety level for me, because it feels like you're not loved anymore, you're not wanted anymore and you're just getting sent away again."
Again, Mia's reaction was to withdraw.
"When I first came (to Boys Ranch), I only read books. I barely said a single word. I stayed in my room, and at school, I wouldn't do very much," she said.
Mia's mentors at Cal Farley's knew that for her to thrive again, she needed to overcome her self-imposed solitude.
"(My biggest struggle) was opening up, opening up and actually talking to people," she said.
Mia's child care team — her house parents, caseworker and other mentors — had an idea to get her more actively involved in life at Boys Ranch, something that would let her open up to relationships while she learned a fun new skill.
It was called the Experiential Learning Program, or E.L.P., and, though it was called a "program," it really was more than a dozen areas in which she could choose to learn.
Mia thought over her options, and even tried one or two. Finally, she settled on the wood shop. Making things with her hands from wood was a completely new concept to her. Before long, Mia knew the proper way to cut wood, how to use a lathe and how to properly measure and develop a project from start to finish.
One of the projects Mia is most proud of is a set of cabinets that will ultimately be used in another E.L.P. area, the tiny house project being built in E.L.P.'s Fundamentals of Construction area. The experience also gave her an incredible insight.
"While I was building those cabinets, the nail kept sliding out and it looked really bad," she explained.
At first, Mia was devastated. But, the more she tried, the better her skill with those nails grew. She began to understand the value of having patience — and perseverance.
"(That's) the most important (thing that I've learned), patience and preserving," she said. "(In woodworking), if you're going to start a project, you're going to finish a project … and (the others in the class will) be right there to (help)."
With each success, Mia's self-confidence is returning. And, as Mia completes her woodworking curriculum, she's earning school credit. She noted the skills she's learned working with wood has improved her performance in school, too.
"(It's helped me with) measurements," she said. "It's just easier (now). I can just immediately (figure the answer)."
Mia has had a lot of help along the way from her Cal Farley's mentors and teachers. The connections she's formed with them have even inspired her future career path.
"(I want to become) a college professor … because I love teaching people things. I plan on majoring in math, because it's one of my strongest subjects," she said. "Cal Farley's has prepared me for what's going to happen in the future … (through) a sense of persistence, along with partnership and understanding conversions."
Mia is learning so much at Cal Farley's, and, she's thankful for the Cal Farley's' friends who have helped her experience that tremendous growth.
"Thank you so much for all you have done," she said. "Thank you for believing in the people who are here. Thank you for believing in the goodness inside of them, and for trusting that they are going to end up doing good things."