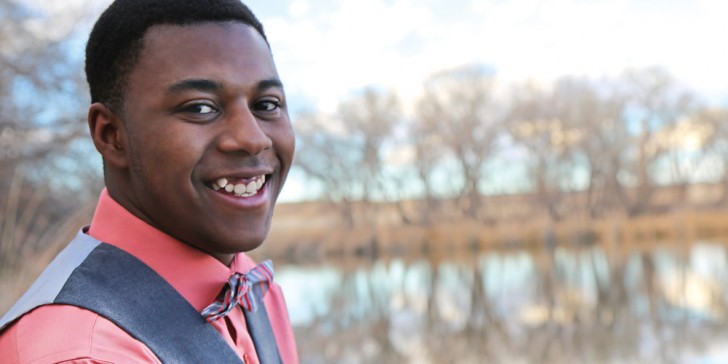 McKenzie is a reserved, unassuming young man.
"Mac," as his friends know him, experienced a lot of upheaval as a young child. His home life often was difficult, as his parents faced some daunting struggles in their relationship. But things only grew worse after their divorce in 2011.
"At first, I was doing well in school," he said. "Then, I started getting in trouble with my grades … I think it's because I had different settings, going back and forth, living with my mom and dad … I used to always (be on the) A honor roll. Then, when my mom and dad split up, I went to Cs and Fs."
Sadly, the former honor student's troubles went far beyond his grades. After the divorce, circumstances forced his mother's living situation to become unstable. Not only did Mac go back and forth between his parents, but often to unfamiliar and less-than-ideal environments.
Mac responded to the upheaval like many youth his age — rebellion.
"(I was) hanging around the wrong people, kids that were always getting into trouble," Mac acknowledged.
But, while the influences may have been far from ideal — his temptations ranged from the fairly benign staying up too late to offers of drugs and other unacceptable behaviors — Mac found acceptance and a momentary respite from his troubles at home.
Whatever their own struggles, Mac's parents were deeply troubled by their son's behavior, and each tried to provide what stability they could.
"They were both disappointed," Mac said.
For his part, Mac wasn't happy with the situation, either. Despite acknowledging his role in his own behavior, he didn't enjoy the life he now was living. At school, Mac's teachers tried to reach him, asking about the source of this change in him. But, Mac closed them out, responding with a simple 'I'm good' or 'no problem.'
Soon, though, Mac had no choice but to admit there was a problem. He and some friends had gotten caught shoplifting. Mac participated in a short-term program to encourage a change in his behavior, but his parents and other adults around him were concerned it might not be enough, especially if he were still surrounded by negative influences. They were looking for somewhere Mac could change his life's trajectory, a program with a proven track record of success.
One of those people pushing for Mac's success knew just the place — Cal Farley's.
At Cal Farley's, he said, young people like Mac could be surrounded by positive influences. He could learn skills that would help him not only in the classroom, but maybe in a future career field, too. And, the caring people at Cal Farley's would help Mac identify and understand what motivated his unhealthy behaviors, and equip him with the tools to be the young man he deep-down hoped to be.
Before long, Mac was touring Cal Farley's Boys Ranch campus and taking part in his pre-placement assessment, a thorough interview to determine a child's needs and whether Cal Farley's services are appropriate to meet them.
Mac was nervous, of course, in his new surroundings. But, even before his tour was complete, he was feeling like Boys Ranch was going to be a great place to live.
"We went to one of the houses," Mac recalled. "As soon as we got to the door, there's a bunch of people there to greet me! After that, we went to the Dippel (Activity Center), and there were … more people there."
It was more attention and momentary celebrity than Mac knew what to do with.
Soon, Mac was accepted and settling in at Boys Ranch.
"(My house parents) talked with me about how the house is," he said. "After a couple of hours, after I had unpacked all my stuff into my room, we went to a basketball game."
Still half-expecting Cal Farley's to be some kind of prison, Mac was surprised when his house parents allowed him to leave their side to go sit with his housemates across the gym.
"I was shocked at first, because I thought I was going to be kept close," Mac said.
It was only a small gesture, but it was just the spark Mac needed to buy into Cal Farley's strengths-based philosophy. As he became accustomed to the nurturing environment of an entire community built to meet the needs of youth just like him, Mac began to realize his identity didn't need to conform to his peers' expectations of him. At Cal Farley's, he was taught to be true to himself and to give others the same acceptance he wanted.
"
Here, I just have to be myself," Mac said. "(Being at Cal Farley's) helped me realize you can just be yourself, and people won't judge you."
Four years later, Mac is a high school senior, and knows his life could have had a much different outcome, were it not for Cal Farley's.
"I'd probably be failing … getting into trouble," he said.
Instead, Mac is looking forward to a career in law enforcement, where maybe one day he can be a positive influence in the life of someone who needs the kind of help he once did. For that child, he has a very personal message of hope.
"Just know that you can change your way, and it'll be like your old background didn't exist," he smiled. "You can create a whole new (life)."