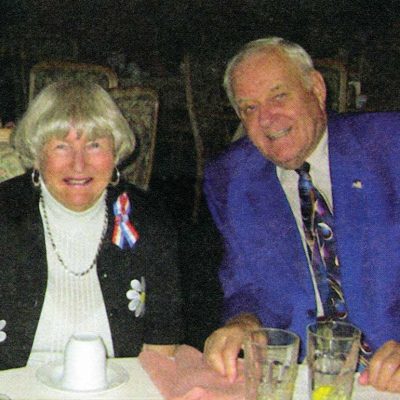 Lt. Col. & Mrs. Schaefer:
A Lifetime of Commitment
When Lt. Col. and Mrs. Alvin P. "Bud" Schaefer made out their annual Christmas list each year, there was always one name on it that held special meaning for them. The Schaefers knew their gift to Cal Farley's at the end of the year would immediately make an impact on the life of a child who mattered to them.
The Schaefers began their annual tradition of making a year-end gift to Cal Farley's in 1962 when they were stationed at the Amarillo Air Force Base. Lt. Col. Schaefer was a B-52 maintenance supervisor for the Strategic Air Command. He and Mrs. Schaefer learned about Cal Farley's from the men in his bomber wing and decided to visit the organization's Boys Ranch campus at their first opportunity. Immediately impressed with what they saw, the couple was inspired to help.
Over the years, the Schaefers were stationed in Panama, Japan, Ohio, Texas and California, where Lt. Col. Schaefer was a flight instructor, teaching young pilots to fly transport planes. The many miles they traveled and the distance from Cal Farley's never caused their commitment to the children and families to waver. Mrs. Shaefer once remarked, "We believe the spiritual dimension to the programs and services provided (at Cal Farley's) are vital to the lives of the children who come for help."
Lt. Col. and Mrs. Schaefer were a very special couple, committed to one another and to causes they believed in deeply. They were married for more than 50 years, and their devoted support of Cal Farley's was marked by their annual year-end gifts for more than 40 years.
Cal Farley's lost a dear friend and advocate when Lt. Col. Schaefer passed away. Only a short time later, Mrs. Schaefer passed away as well. But their tremendous legacy of caring and providing for the children of Cal Farley's has continued. We were greatly honored to learn the couple had provided for a very special gift through their estate plans to continue their generous support. It was truly a wonderful Christmas gift, one that will make a difference in the lives of many children in the future.