Laura: Lighting up her world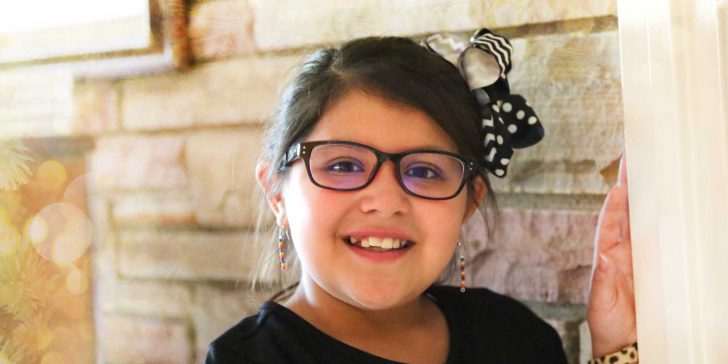 Laura, 10, stared intensely at the candles on the Boys Ranch Chapel stage. Their warm glow made her smile at being in her new Cal Farley's home.
"They light up the whole place," she said, closing her eyes to picture them again in her mind. "It's very beautiful when I see that back there. It makes me feel special, and that God will always be there."
Laura has a lot to benefit from at Cal Farley's — the structure, constructive group activities and supportive one-on-one interactions help her feel safe and lay a foundation from which she can one day discover her purpose. More than any of that, right now, Laura enjoys chapel. The songs speak to her, and she understands each message in a way that helps her see its application to her life.
"(Chapel is) more (understandable) and not really boring," she said, comparing the weekly chapel services and home devotionals to her religious activities at home. "Here, they show us videos, they show us examples. They make paintings (to accompany the chaplain's message). We have Sunday school, and what we talk about in Sunday school, most of the time they talk about in chapel, so I understand it more and more."
The easy-to-understand messages and tangible connection between the music, message and devotional activities is no accident, explained Ray Martinez, music director and a core member of the chapel staff.
"Daily prayer from (selected) scriptures gives birth of the message and the song selection," he said. "Each week the worship … is centered around the message."
Sunday school, too, is designed to be understandable for younger children like Laura, but also a lesson in responsibility and empathy for older residents. Jennifer Hipp, director of Christian education, explained how using teenagers to lead Sunday school for their younger peers serves those purposes.
"The atmosphere helps the (younger) children feel more at home and safer to ask questions and explore the story for the day," she said. "(Chapel staff) provide a discipleship program for those teen leaders, and encourage them to be mentors to the younger children they teach."
Laura said the messages she learns in chapel are reinforced in her group home, too, where her house parents are helping her learn to pray about whatever concerns she may have.
"
"(The candles) light up the whole place. It's very beautiful when I see that back there. It makes me feel special, and that God will always be there."
Laura grew up in a small community, where she and her six siblings shared a small home with their mother.
Life wasn't always easy, but the siblings and their mother were together and happy.
Laura's grandfather, who lived nearby, helped their mother make things work, taking Laura and her siblings to school or watching them while their mother worked at the laundry.
Laura was especially close to her grandfather. She enjoyed sitting with him, or chuckling at the funny face he made when he accidentally fell asleep on the sofa. And, she enjoyed the time they spent together each morning on the way to school. Sometimes, the trip involved an extra treat, too.
"He always bought me this biscuit," Laura said, cupping her hands in front of her face as if holding the buttery breakfast.
Sadly, Laura's grandfather lost a battle with cancer. It was a devastating blow to Laura and her family.
"When he died, everything started to go apart. I can … sometimes be very sad," Laura said. "My feelings can really (push through) a lot."
As difficult as the loss was emotionally, losing the support he gave Laura's mother became a fearsome burden. Laura's older brother moved in with other relatives, but that still left Laura and five of her siblings home alone for long periods.
Laura's mother couldn't see a way around working long hours to eke out a living, but leaving the children unsupervised wasn't working, either.
"Things were going," Laura paused, her bubbly smile fading a bit, "not that good."
Laura's sisters rebelled. Laura herself began struggling with following her mother's rules. Sometimes, Laura said her sadness even turned to anger, usually directed at her brothers.
"I struggled with anger with my siblings," she said. "But, mostly (I was) sad."
Laura is still sad sometimes, but she's also a warm, outgoing child who enjoys making new friends and learning new things at Cal Farley's. She's looking forward to learning horsemanship and being involved in group activities that encourage young ladies to express their feelings to one another.
She's even able to be more tolerant of her younger brothers. Cal Farley's offers regular events for young people to interact with their siblings on campus. Such activities are designed to be fun, but also offer valuable lessons about life and relationships.
"I learned … that if you give your brothers a headache, they're going to give it right back," she chuckled.
Laura's time at Cal Farley's is just starting. But, all things considered, Laura already expects her future to be happy — and successful.
"I want to be the president," she grinned. "I'm first going to become a lawyer, and then just keep on going."
Who knows? With the education, life skills and values she's learning at Cal Farley's, maybe one day Laura will do just that.