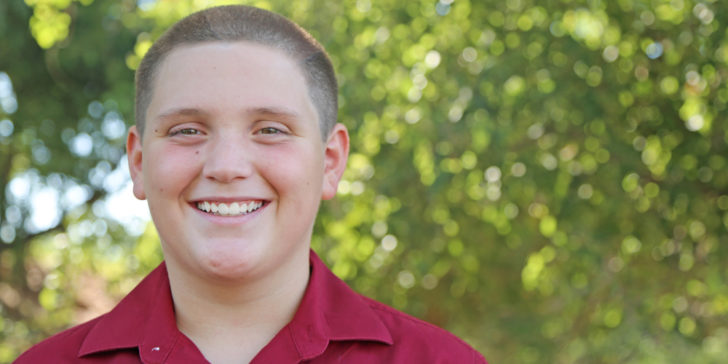 A year after he first came to Cal Farley's, Landon still recalls his first trail ride across the vast, rugged landscape that surrounds our Boys Ranch campus.
He'd been on campus barely two months, but he'd been waiting for this opportunity. He'd hoped to go horseback riding since before learning he was coming to live at Boys Ranch. At the same time, he had to admit the horses were a little scary.
But, Landon's fears were unfounded. His first trail ride proved a memorable thrill.
"We went uphill and downhill, and all kinds of stuff!" he exclaimed.
At 13, the Krum, Texas, native still exudes youthful energy. If he could, he'd occupy himself with an endless smorgasbord of outdoor and athletic activities. He loves basketball, soccer and spending time with his friends riding bicycles or skateboards.
But, as exciting as those activities are, they haven't been as crucial to the changes taking place in Landon's life as others he's experienced at Cal Farley's. And, it didn't take long for Landon to see just how different life at Cal Farley's was going to be.
"
We have a really close relationship. I think it's much better. We don't argue as much as we did.
"The day I got here, my house parents went to get me a fan to plug into the wall," Landon remembered. "We came back to the house to move all my stuff in. I knocked down this thing that was really breakable, and it broke."
Immediately, fear gripped Landon. His struggles with authority had landed him in plenty of trouble before. His mother hadn't even finished helping him move in yet. Would his first day at Boys Ranch also be his last?
"I remember telling my mom, 'Oh, I'm going to be in so much trouble,'" Landon said.
Except, of course, Landon wasn't in trouble. The incident had been an honest accident, and Landon's house parents knew that.
"They said, 'it's fine,'" Landon remembered, his voice still sounding awed by the reaction a year after it occurred.
The experience was one of a number of interactions that have helped Landon understand the people of Cal Farley's truly want to help him, to see him become the best person he can be. Rather than looking to condemn him, they want to see him grow and mature.
As the weeks passed, Landon's child-care team encouraged him to pursue his initial interest in horseback riding by attending weekly lessons in horsemanship. For eight weeks, Landon learned how to groom and care for a horse. He improved his riding skills. The horses became far more approachable. And, most importantly, he learned how to interact with an animal that would give him instant feedback about how he approached others.
"We cleaned our horse, brushed it, rode it and played games with it," Landon explained. "My horse was calm."
He recalled one session in particular. Landon and his peers played a game that involved persuading their horses to move from one location to another using only their voice. And, it wasn't easy.
"We couldn't touch it with our hands — we had to get it into a certain area," Landon recalled, smiling.
It took a bit of trial and error, but Landon eventually created enough trust with his horse to convince it to move where he wished.
Landon is still learning, of course. Learning to trust, to open up to those around him. But, he's also quick to point out the positive progress he's already made, especially an improved relationship with his mother.
"We have a really close relationship," he said, emphatically. "I think it's much better. We don't argue as much as we did."
Landon also has begun to dream about his future. And, he already knows exactly what he wants to be.
Well, sort of.
"I want to be a food deliverer," he said, sticking his chest out with self-confidence. Then, pausing to think a moment, he added, "Or an engineer. Or a police officer. Or a builder. Or a truck driver."
Fortunately, Landon has plenty of time to decide on a direction for his life. In the meantime, Cal Farley's will continue to encourage him to grow into the happy, responsible young man he can be. And as he grows older, he can explore different potential careers in Cal Farley's Experiential Learning Program to see what fields might best suit his interests and talents.
Landon said it's a lot like the difference between his initial fear of horses and how he relates to them now.
"Horses aren't scary," he said. "I couldn't get on them at first, but now I can get on them really easily."