Keaira: A life that shines for all to see
At Cal Farley's, Keaira is discovering the bright young woman within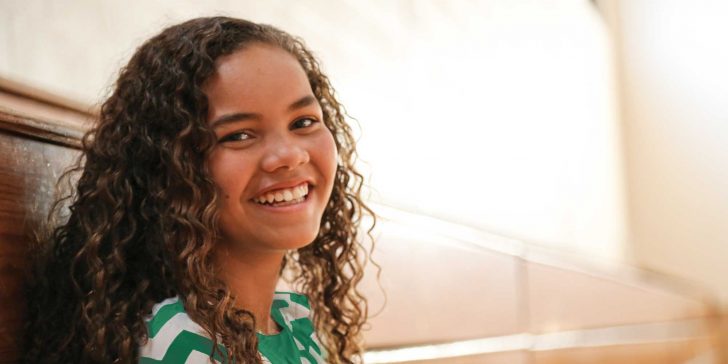 Sitting beneath the tree that bright Christmas morning, watching the lights reflect from its shiny surface, Keaira stared lovingly at the most beautiful thing she'd ever seen. Keaira held a gift from her mother, a silver heart-shaped necklace.
It was split down the middle, with "mother" engraved on one side, and "daughter" on the other. Each side hung on a delicate chain so Keaira and her mother each could wear their respective half of the pendant. Wearing her new necklace to church that morning would be the perfect finale to a special family Christmas.
"My mom bought us all (one-piece) pajamas," she remembered. "We went to sleep in those Christmas Eve and we woke up Christmas morning and opened our presents … I've always been really close to my mom … I liked that necklace because I knew I would always have that memory of my mom."
Staying up, drinking hot chocolate with her mother and sisters was a happy time. But, it was a bittersweet memory from a brief period when Keaira thought things were finally better. When Keaira thought things would finally stay better.
Keaira's mother had already battled drug addiction, but had sought help and even been through a rehab program. It was a dark time that left its scars on Keaira, her mother and her sisters, Alexis and Taylor, but the girls believed their mother had overcome her problem.
Sadly, they were mistaken. The girls were shocked and saddened to learn their mother had returned to her destructive habit.
Keaira, who was particularly close to her mother, was crushed.
"It was really hard for me … I kind of felt," Keaira paused, "betrayed."
Keaira became increasingly withdrawn. And the necklace, that once symbolized the close bond between Keaira and her mother? Well, it was lost somewhere among the family's moves.
Hers was a family facing enormous problems, and Keaira couldn't see a way out.
Keaira's mother was preparing to return to rehab for her addiction; she needed to entrust her daughters to someone who would do more than just keep them safe. They deserved a happy, rich life, a place they could heal and learn to be vibrant young women. She was familiar with Cal Farley's, and it seemed the perfect solution.
"It's been a lot better since we've been here," Keaira, now 11, affirmed.
Some would say it's been much more than better.
When she arrived at Cal Farley's, a shy, mistrusting Keaira wore a dark, hooded sweatshirt, the perfect look for a young lady who just wanted to disappear into a corner somewhere.
"When I came here, I didn't like talking to a lot of people," she said. Keaira, just 10 years old when she arrived, certainly lacked self-confidence and her self-value was in question in her mind as well.
"I've really never thought that I was pretty before I came here," she said, the broad smile on her face not fitting her somber words. "My sisters … would tell me that I'm not really that pretty, so I kind of struggled with the way I looked."
Among the ways Cal Farley's caring staff reached out to Keaira was a program called rhythmic riding. In rhythmic riding, young people remain silent with their thoughts as they ride horses to a musical soundtrack. The young people guide their horses' pace faster or slower in rhythm to both the music and their emotional response to it. Doing so helps our youth learn to better regulate their emotional states. Cal Farley's professionals stand ready nearby to help them work through issues that inevitably work their way to the surface.
"I liked that when we're in rhythmic riding, the adults, they … tell us that we can take time to just talk to the horses and calm down. We can tell them about our day, and we can ask them about their day," Keaira said. "I also feel very safe."
As Keaira has learned to process her feelings, she's begun learning to risk trusting the adults around her.
Keaira's interest in matters of faith, which she explores each week at chapel, is growing, too.
"My relationship with God has changed a lot since I've been here," she said, explaining her family didn't often go to church. "Now that I'm here, we go to church every Sunday."
More than that, Keaira said the chaplains at Cal Farley's help her understand God's love in a way she never had before.
"(At home) … I didn't really understand (church) because it was kind of boring, so I didn't pay attention. But, chapel … it's fun while we're learning.
Keaira knows she still has a lot to change. Together with her house parents and caseworker, she's working on building more trusting relationships with the adults around her. But, she knows she's already left behind the young girl who lacked confidence.
"I've realized it doesn't … matter how you look. It matters how you feel on the inside, your personality. Everyone says I have a really good personality. I don't worry about my looks anymore, I worry about how I act towards people."
As she nears her first Christmas at Cal Farley's, Keaira is grateful for the self-discovery she's experienced in her first year here, and she's looking forward to creating new Christmas memories, like decorating and spending time with her housemates.
Keaira often speaks to her mother, and she dreams of waking Christmas morning to another mother-daughter necklace.
And this time, the necklace would not only symbolize the love between mother and daughter, but the hope Keaira sees for her future — a future that, like the necklace, sparkles with possibility.
"
"I've realized it doesn't … matter how you look. It matters how you feel on the inside, your personality. Everyone says I have a really good personality. I don't worry about my looks anymore, I worry about how I act towards people."