Kato: 'I'm going to do something positive'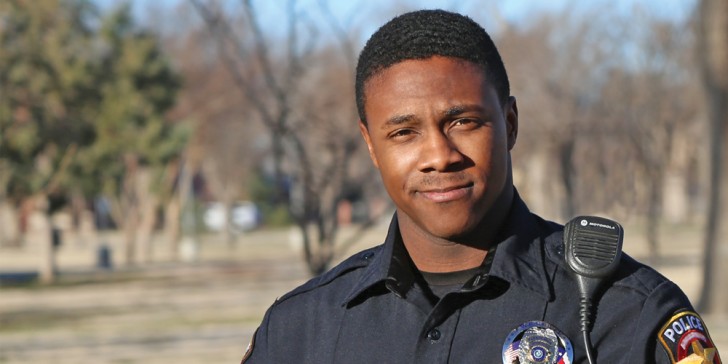 "
I love it. It's everything I thought it would be.
A year into their chosen career, many young people are still finding their way, figuring out where they fit in life or even reassessing their plans. But, that's not the case for Kavoza, or "Kato" as his friends call him. The 2012 Cal Farley's graduate described his law enforcement career as a perfect fit.
Kato's words reveal a young man who knows what he wants in life, and is on track to achieve the goals he's set for himself. It's a far cry from the impoverished middle school-age boy who struggled to establish an identity for himself among his family and peers.
"I didn't know if I wanted to be a cool guy, or a nerd, or a jock … I was really trying to fit in with other people, and do what other people did."
Kato was angry his parents were always working, trying to provide for the family, yet never seeming to gain traction in life. And, trying to fit in, as it turned out, didn't bring young Kato any happiness.
"That caused a bunch of behavioral issues, (lashing out) at home," Kato remembered. "Being in the neighborhood that I was in and the environment that I was in wasn't (a foundation) for someone to succeed."
To his parents' dismay, Kato followed the example set by some of his more troublesome peers in their distressed community northeast of Tallahassee, Fla.
"I would skip class … set off the fire alarm," Kato said. "(I was) just an extremely immature middle schooler."
Kato described himself as defiant in school, challenging his teachers' authority, and not caring one whit of the consequences. At home, though, his love for his mother usually overrode the bad-boy persona he cultivated at school.
"I was a very good kid at home. But school, I didn't like it …. I needed a change of scenery."
On that point, his parents agreed. Their efforts to change the trajectory of Kato's life weren't working and, as his rebellious attitude grew, they became fearful for what the future might hold. At this rate, would he even finish high school?
Desperate, they began searching for help for their wayward son. An out-of-state relative had heard of an organization that specialized in reshaping the lives of young people like Kato, helping them find new focus and purpose for their lives.
"I'm not sure how that conversation went," Kato said. "(My mom) thought Cal Farley's was the best (place) for me."
Arriving at Boys Ranch, Cal Farley's original residential campus, Kato was overwhelmed. For a boy of 14, used to Florida's lush, green landscape, the vast swaths of rugged, arid terrain might as well have been an alien world.
"It was crazy!" Kato said with a grin. "I got off the plane, and we were driving (to campus) …. I was seeing nothing but dirt."
While his first encounter with the Texas Panhandle was a bit shocking, Kato quickly recovered.
"As soon as I got to Boys Ranch, I fell in love with it. Just the hospitality of all the people there is so welcoming. … It was a pretty life-changing experience."
Life-changing, indeed. At Boys Ranch, Kato came to realize his behavior had been attention-seeking. He'd sought to make up for the perceived slights of his two working parents by acting out at school.
At Cal Farley's, though, he got plenty of structure, positive discipline and healthy channels for his energy. The course of Kato's life didn't straighten out all at once, of course, but over time, he began to focus less on what he thought he'd missed out on, and more on all the blessings he did have.
"I had a lot of different struggles," Kato recalled, wistfully. "(But) Boys Ranch, it was just so many different personalities, and so I felt right at home.
"I think it was good for me to meet people from different places and learn about their backgrounds, and learn about their culture. You know, there I am thinking I had it bad, but I was listening to some of their stories … they had it worse than I. So, it was really like a wake-up call to me, a reality check. That really changed my attitude toward everything."
As Cal Farley's has for more than seven decades, the caring people at Boys Ranch nurtured Kato's new mindset and equipped him with life skills he'd need to reach the goals he soon began to set for himself.
"Cal Farley's did play a major part," Kato said. "Having (staff and mentors) teach us about responsibilities and saving money … and with the bank program and how they have it set up, that's definitely a huge step.
"
It's all about what you do with what you're prompted with," Kato said. "Everybody has a decision. (Cal Farley's) cannot choose for you, they can only give you the tools to help you make a decision.
Kato's decision was to serve others. He graduated from high school at Boys Ranch, then went to a nearby university to pursue a criminal justice degree. And, already, he showed a determination to keep his focus on his long-term goals.
"I was supposed to play (football), but it kind of brought my grades down," Kato said. "So, I just stopped playing football and focused on school."
Today, Kato is fueled by his own experiences with poverty and the temptations that ensnare children like him. He knows his calling isn't to just enforce laws, but to positively influence the next 'Kato' out there.
"Living in a poverty-stricken environment (and the crime that often comes with it), I would always see the police in my neighborhood," Kato said. "Police stopping by and taking pictures and giving me a plastic badge. And to be a kiddo, man, that meant everything to me … that one little second, that one little time to change someone's life."
And, now, it's Kato's turn.
"It's awesome to just think, 'Wow, I made it.  I can change somebody›s life. Sometimes I wake and say, 'Wow. This is me.' … I definitely love the position I'm in. … I'm going to do something positive with it."