Josh: A new land, a new life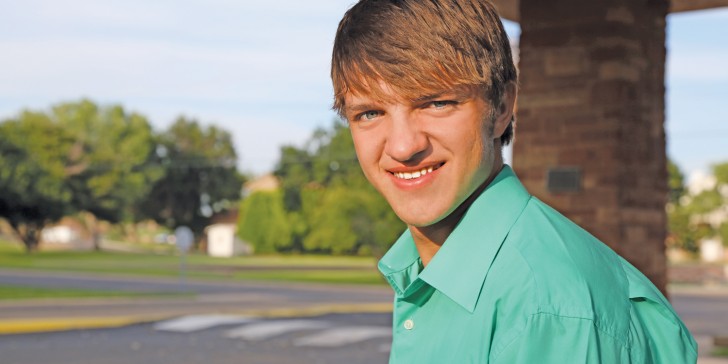 There's a lot about Josh's story that's uncertain. A child's memory can be a foggy mix of fact and emotion. What is certain is that Josh, now 17, was born in Ukraine, where his life led him, and later his sisters, too, to an orphanage at an early age. He recalls feeling alone, despite being surrounded by so many people, and often barbaric living conditions.
"I was living in a home of 100 kids in one little room," Josh recalled. "We didn't have that much freedom."
He went on to explain that his biological father's temper made home life difficult for young Josh and his mother, but his father's choices eventually landed him in prison and Josh's mother remarried. Gaining a step-father, though, didn't bring Josh any relief, as the man struggled with substance abuse. The burden became too much for Josh's mother to bear.

At an age when most children haven't yet learned to tie their shoelaces, Josh had lost one parent to prison and another to suicide.
If life with his family had been difficult, life in a Ukrainian orphanage was even more so. When his younger sisters joined Josh at the orphanage, he took care of them. And, he urged his caretakers and potential new parents to keep the siblings together.
Around 2009, an American couple from Amarillo, Texas, rang the doorbell outside the orphanage.
"All of us were just running over to the window to see who was there," Josh said. "They were just two random people we'd never seen in our life before."
Soon, Josh and his sisters met the couple who would become their new parents.
"They didn't want to split us apart – my family is really nice."
At the ripe old age of 11, Josh and his sisters departed their homeland to start new lives in the United States.
"We took three planes to get us over here," Josh said. "My first time ever being on a plane was scary. I was shaking … whenever it took off. By the time we got on the third plane, I (just fell) asleep. It was about a 21-hour flight."
Josh was happy to have a new family, and that he and his sisters would remain together. The siblings adjusted well enough to life in a new country. But, Josh struggled with the memories of everything he'd been through back home.
"I still remember everything. I remember my family problems," he said.
And, though, his new parents were good and kind, Josh struggled to let go of the caretaker role he'd assumed over his sisters. He had some difficulties in school, as well. He arrived in the U.S. unable to speak English, though classes helped him pick that up. But some bad habits had made the journey to his new home, too.
"I did have problems sometimes … stealing, lying," Josh acknowledged. "It was kind of hard for me to figure everything out."
Josh's family tried to help him adjust to his new home and its new expectations as best they could. Ultimately, the solution presented itself in a unique way.
A family friend had placed his own son at Cal Farley's, and Josh's family joined him one evening to watch the young man play football for Boys Ranch High School. Sometime later, the memory of that night would trigger an idea for which Josh is very grateful.
"About a year later, my dad talked to me about (that night)," Josh said. "He said, 'would you want to go out there?' And, I immediately said yes. I know I'm going to be missing y'all, but if this really helps, I would love to go. And, so far, it's helped me greatly."
Josh's parents began the application process, and it wasn't long before he was living on our Boys Ranch campus. Josh said the transition couldn't have been easier. He found much to like about the close-knit community. And, what could be more inviting to an athletic young man than the hope of playing sports?
"They'll teach you how to do things," Josh said. "Here, you can learn. You can be part of a family. Me, I'm a part of cross country, part of history, part of a tradition that's been going on."
At Boys Ranch, Josh is a part of many storied traditions. He's one of thousands of lives touched by Cal Farley's over more than seven decades. At Boys Ranch High School, one of four campus schools that work hand-in-hand with Cal Farley's therapeutic programs, he is a part of a cross country team with a history of athletic excellence. And, this year was his second time to compete in Cal Farley's longest-standing tradition, the Boys Ranch Rodeo.
"I (thought) wow, that would be fun!" Josh said of his introduction to rodeo. "I enjoy having that opportunity to say in my head that I can win."
The potential for high achievement (goes hand-in-hand) with the healthy adventure Cal Farley's works to provide the youth we serve. For young people who haven't always experienced a lot of wins in life, it's a powerful experience.
And, ironically, establishing a pattern of achievement often empowers kids like Josh to see that life isn't all about winning, after all. In Josh's case, that perspective has developed into a strong desire to serve others.
"
"I'm an open person, I'm here for anybody, because these people were here for me," Josh said. "I just want to be there for somebody else."
As he learns how to put his desire to serve others into action, Josh is learning a great deal from Cal Farley's chapel program, too.
"One thing that will never leave you is God," he said. "He won't leave you, that's what I had to learn."
Josh said his family has been an encouraging part of his time at Cal Farley's, too, saying he talks to them every week.
"They're something. They're really godly people," Josh said. "They're great parents."
As Josh looks toward next year's high school graduation and the next step of his life's adventure, he's grateful to his family for allowing him to come to Cal Farley's. And, he said he's grateful for the thousands of people across the country who've cared about his future enough to support Cal Farley's life-changing mission.
"Thank you for changing my life for the best," he said.