Jonny: From chaos to order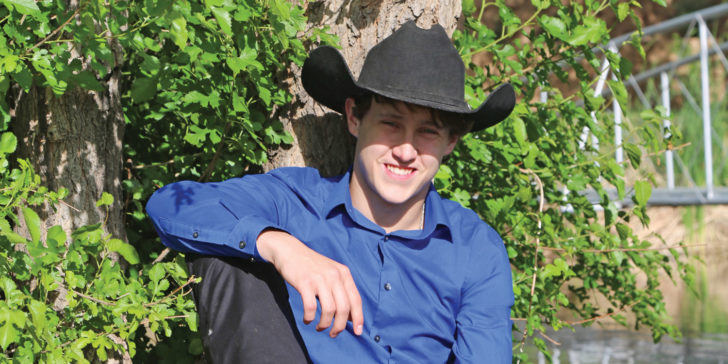 Finally, I'm getting away from this family.
Those are hard words. And, coming from a boy of just 8 years makes them even harder. Yet, that's exactly what Jonny thought when he heard his parents planned to place him with Cal Farley's. He was old enough to feel the palpable tension his trouble-making behavior had created within his family.
Jonny had taken to stealing and lying at the drop of a hat. He acted out when he didn't get his way, starting fights with his three siblings or his classmates. And, his inherently hyper personality didn't do him any favors, either, landing him in heaps of mischief. He displayed a lack of respect for authority and a generally carried a bad attitude, Jonny remembered.
Discipline naturally followed Jonny's actions, but his parents and teachers were unable to break the negative behavior this wild colt of a boy was displaying. Jonny's parents turned to grounding as a means of discipline, but instead of correcting his behavior, it just pushed him farther away. As his punishment snowballed, Jonny said he started feeling like he didn't even belong in his family.
"I felt like I was being left out of everything. I was grounded forever when I was little," Jonny recalled. "I'd never get anything everybody else got … They'd go out to a movie, and have a babysitter stay with me (because I was in trouble)."
While Jonny initially didn't understand why he was misbehaving, he eventually started misbehaving solely to get attention. But, of course, such acting out just made things even worse.
"I stole from the school once or twice," he recalled. "I stole this (handheld video game). As soon as school was out, I got in the car and said, 'Mom, look at what I got today.'"
Jonny's parents were at a loss to help him. They had one option left: they turned to Cal Farley's. Jonny's father had explained to him how difficult his own childhood had been, and how he wished things had been different for him.
"He always wanted to come out (to Boys Ranch) because he thought it would help him a lot. But, he never got the chance," Jonny explained.
Now that he was a father, he was going to make sure Jonny had the second chance he didn't have for himself.
"
I used to be all over the place, hyper, jumping up and down. I would never calm down, never be quiet … Horses helped me out because of how calm they were.
Jonny's excitement at coming to Boys Ranch wasn't only at the prospect of getting away from his parents, of course. He knew, deep-down, something needed to change. After eight years, Jonny feels Cal Farley's has helped him make those changes. He's especially appreciated his experiences with Cal Farley's horse programs.
"Horses are calm animals. They keep people calm. Something may go bad later on in life," he reflected, "and you can look back at what you did with the horses, and you can apply those lessons to what you're facing now."
Jonny hadn't spent any time around horses before coming to Boys Ranch, though he'd always kindled an interest. Early on in his stay at Cal Farley's, some of his peers invited him to join them on a trail ride. One horse he met that day, in particular, roped Jonny for good.
"I met this horse named Junior," Jonny recalled with a smile. "It was a great experience, because that horse followed me for some reason. He liked me … He's still a little puppy dog (that follows you around)."
Junior's response to the young Jonny helped fill his need for acceptance and belonging. In more than eight years since he was first placed at Boys Ranch, Jonny has participated with Cal Farley's horse programs in one form or another. As he's gotten older, he's taken to riding bareback and learned to ride bucking horses. He competes in the annual Boys Ranch Rodeo, and is even considering following in his step-father's footsteps with a career as a professional rodeo athlete.
But, caring for and learning about horses at Cal Farley's has done so much more for Jonny than point him in a potential career direction. Interacting with these gentle giants helped Jonny focus his energies into something constructive. Jonny's mentors at Cal Farley's have helped him use what he's learned from these animals — about himself and his own reactions to other people — to reign in his emotions, relate with other people and handle life's difficult situations.
The number one lesson, Jonny said, was the importance of staying calm.
"I used to be all over the place, hyper, jumping up and down. I would never calm down, never be quiet … Horses helped me out because of how calm they were."
These lessons helped Jonny turn around his relationships with his family, too.
Today, Jonny's trips home to visit his family in Oklahoma are now positive experiences. And, while Jonny's behavior in his younger years caused tension in the home, frustrating his parents and putting a strain on their relationships. The calmer demeanor Jonny has developed has helped the whole family reconnect and rebuild strained relationships.
Jonny beamed: "I have a great connection with my mom and dad now!"