Joe & Josh: A precious gift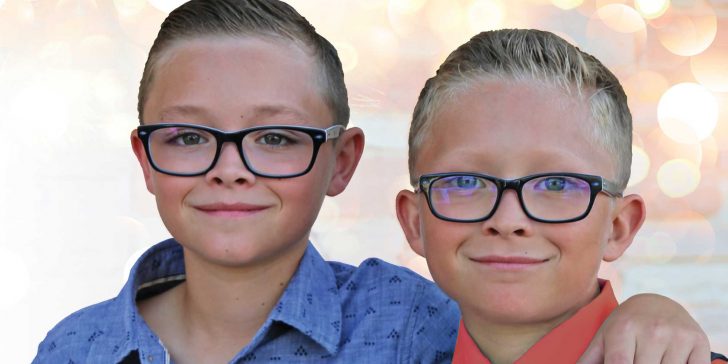 Christmas is a season of giving.
And, of course, the most precious gifts of all aren't the kind that can be bought. Joseph, 10, and his brother, Joshua, 11, have received just that sort of gift — not once, but twice.
Joe and Josh, as they prefer to be called, spent their earliest years in and out of foster care.
"We had food, but we didn't have that much money," Josh remembered.
They weren't always sent to school. Other times, they awoke to an empty home. When the family fell on especially hard times, an old friend suggested his mother, Angie, might be willing to help them get back on their feet.
Angie tried to help the boys' mom, but, it wasn't enough. Eventually, their mom went to jail and Angie, still trying to help all she could, volunteered to take care of them in her place. Angie knew the boys deserved a stable home. She was granted permanent status as their guardian.
With Angie and their new home, Joe and Josh received the gift of hope for a better life.
"Angie … set up good boundaries," Josh explained. "She saw something (special) in us."
They knew Angie cared for them, but the transition wasn't easy.
"When I was with Angie, I did not listen to her. I'd just go wherever I'd want," Joe said.
He acted out, trying to get away with whatever he could, when he could. And, he struggled to be truthful. Josh, meanwhile, fought with his anger at their mother.
"It was hard for me to open up to people," Josh acknowledged, remembering the struggles he took with him to each foster home and, ultimately, to Angie as well. "I always thought that every person who tried to take me in as a mom would (neglect) me, so it became very hard for me to open up to people."
Additionally, both boys rebelled against a more structured environment than they were used to with their mother. For her part, Angie treated the boys like they were her own. She provided gentle discipline, plenty of positive family interaction and took them to a therapist for help.
"We spent seven years with (Angie) … I liked it," Joe said with a smile.
Things were certainly better for Joe and Josh with Angie. The reality though, was that Angie was struggling. She was in poor health and working hard to care for two very energetic, often obstinate young boys on her own, and with no financial support from their mother.
"Angie couldn't pay for all our clothes. She didn't have that much money," Josh said. "Every now and then, she would just get really sick to where she couldn't get out of bed."
On those days, Joe said, he and his brother would work together to cook eggs just as they'd seen Angie do. Or, there was that wonderful beef stew she prepared, with a slice of buttered toast on the side.
They prepared food for Angie, then for themselves.
It was an act of love, but an unstable, frightening time.
"I was really scared," Joe said. "I did not know if she was going to have a stroke or something."
As her health declined, Angie needed to give the boys another gift. As much as she wanted to keep Joe and Josh with her, she knew they needed a caretaker who could better meet their needs.
"(Our counselor) suggested Boys Ranch," Josh remembered. "Angie was talking to them, trying to find us some help, a place where we could be safe."
Angie visited the Cal Farley's website, www.calfarley.org, where she shared with Joe and Josh the pictures and stories of other boys and girls like them who needed a place to heal, to learn and to grow.
"She thought coming here would give us a better chance, more opportunities," Josh said.
"
"Faithful is like trying to walk on the ocean," Joe said. "If you don't have faith, then you'll just sink. If you have faith, then you'll float."
neurofeedback, an advanced activity that helps young people like Joe and Josh train their brains to focus and respond appropriately to a given situation or stimulus.
Josh has also participated in Rhythmic Riding, a type of equine-assisted therapy in which he rode a horse to music, matching his pace to both the music and his emotional reaction to it.
The activities employed by Cal Farley's to help Joe and Josh allow them to obtain a sense of safety in their relationships and develop greater internal control over their powerful emotions. As a result, the boys have seen greater success in school and their Cal Farley's home.
"(At Cal Farley's), so many people have talked to me and helped me overcome (my struggles)," Josh said.
Joe agreed.
"People encourage me," he echoed. With help from their house parents, chaplains and other caring Cal Farley's mentors, Joe and Josh are overcoming their fears and learning to trust others, day by day.
Joe is pleased with the success they've found in school, too.
Where Joe struggled to get Cs or Ds before, the support and help he gets from his teachers and house parents have helped him pull those grades up to As and Bs. Josh has maintained his high grades, but said his growth is in personal responsibility.
"I've become much more responsible in what I do," he noted, adding he often takes care of his responsibilities around his group home without having to be told to do so.
While these are noteworthy changes in the boys' lives, perhaps the most important change in Joe's and Josh's lives is the commitment they've each made to Christ while at Cal Farley's.
"I think (God and I) have a really good relationship," Josh said, adding, "I doubt Him sometimes, but I guess that's normal. I do my best to stay in touch with Him. I pray to Him every night before I go to bed. I try to make sure that I'm always in touch with Him."
Joe nodded his agreement.
"My life has changed," Joe explained, adding that he's even been baptized. "My behavior has gotten way better since I've been here."
Joe credited part of the change in his life to the easy-to understand lessons he hears in Sunday school, which are reinforced in the weekly chapel services and throughout the week in his home.
"I like chapel because I get to learn about God," he said.
The boys talk to Angie every couple of days, telling her about their lives at Cal Farley's, or what they learned in chapel that week or something interesting they accomplished in school. Most recently, they've been sharing how excited they are to participate in the upcoming Christmas cantata at the Boys Ranch Chapel.
"I would like to be the narrator," Josh said.
Joe, meanwhile, wants to take part in the cardboard testimony (to learn more, see page 10) tradition at cantata's end.
During cardboard testimonies, children display for the audience a word or phrase that defined their life before Cal Farley's, written on a piece of cardboard. Then, they turn over the card to reveal a more hopeful characteristic that represents the new life they're creating.
So, what does Joe say will be written on his card?
"I would write 'unfaithful,' and then I would write 'faithful,'" he said. "Faithful is like trying to walk on the ocean. If you don't have faith, then you'll just sink. If you have faith, then you'll float."