Jayson: December Graduate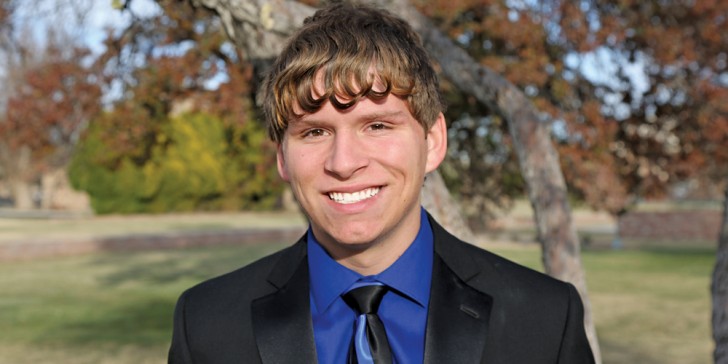 After facing the crises that led them to Cal Farley's, some children need some time before developing a strong sense of individuality. Others arrive with a very developed identity, and need help learning how to apply their innate desire for independence.
Jayson definitely falls into the latter category.
"I just want to be my own person," the December graduate noted. "I've always been super mature for my age … I'm just living life, trying to catch up on what I missed."
What he missed is a healthy childhood. While Jayson's early years are a bit foggy, he recalls issues of substance abuse and instability in his home.
"I don't remember a whole lot," Jayson reflected. "(Our family) was me, my mom and dad, (my two sisters) and there were some people who came and lived with us on and off … friends of my parents. I really didn't understand a lot of what was going on."
Jayson recalled the gloomy, cloud-filled day when his family told him of the decision to place him with Cal Farley's. He couldn't know then that at Boys Ranch, Cal Farley's residential campus, he would find acceptance, belonging and a path to the independence he sought.
"I was kind of excited – I never really remembered going anyplace different," he said. "My first houseparents out here … just took me in and I became part of the family. (They) taught me a lot about respect for yourself."
In addition to caring Cal Farley's staff, Jayson made friends among his fellow residents, many of whom came from similar backgrounds. He became particularly close with a young man named Devon.
"He didn't have a really good childhood, either. He learned really fast how to take care of himself, and I (thought) 'Wow, I want to be like that.'"
Seven years after coming to Cal Farley's, Jayson is ready to do just that. He cited the houseparents and mentors at Cal Farley's with helping him find ways to develop coping skills learned as a child into positive emotional outlets, such as portraying the world as he sees it through his passion for photography or developing his mind through music and literature.
I moved around a whole lot (before coming to Cal Farley's). I read a lot then (as an escape)," Jayson said.
Now, though, reading has become an engaging pastime.
"I read even more now," he said, adding that he often occupies himself with as many as six books at a given time.
As Jayson prepares to leave the Boys Ranch environment, he does so knowing he's ready to stand on his own – and that those he loves will be in good hands.
"(Cal Farley's staff) taught me how to be my own person. I used to be worried about my sisters. … (Now), I know they have a safe place to sleep, they have warm food, they have friends here their own age. … I know they're going to be taken care of out here without me."
So what's next for Jayson? Well, there's choosing a college and course of study first. Beyond that, who knows? But, thanks to the photographic talents he developed as member of the Boys Ranch Photo Club, Jayson knows he has the skills for a professional career.
"I would love to keep doing photography," he said. "You see these sports photographers with lenses that are four feet long. … It'd be fun to get paid to do (that and) … to travel.
"My dad graduated high school when he was 16, and he didn't really do anything with himself after that. … I want to go to college — I've already been accepted."
So, is it daunting, facing the next turn in his life's journey?
"College isn't what scares me … I don't want to end up behind some desk all of my life, all day, every day. I'd rather be out doing something."
Thanks to a determination focused and honed at Cal Farley's, it's safe to say Jayson will be out there doing something — successfully.