Jamie & Cheyenne: Hope from hopelessness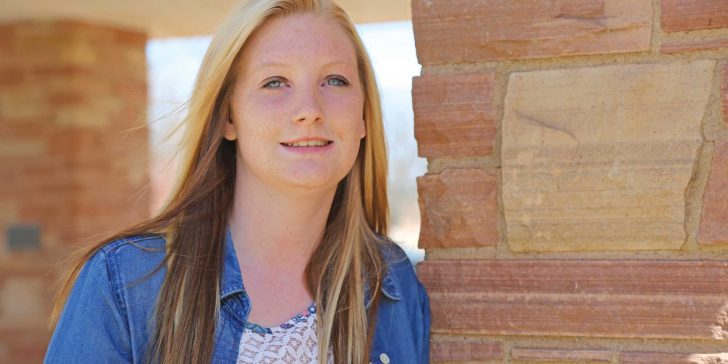 Things aren't turning out for Jamie's family the way she expected — and that's a good thing.
"Before I came to (Cal Farley's) … I didn't really have high points. I wasn't going to school. I didn't care," she said.
For years, Jamie and her older sister, Cheyenne, lived in constant upheaval. Their father was incarcerated, and their mother's substance-abuse issues forced them constantly to new living environments throughout central Oklahoma. The girls' grandmother, Ann, did everything she could, including taking them in for many years.
"I raised the girls for eight years," Ann recalled.
Eventually, though, their mother called for their return, and Ann could do little besides watch as the girls struggled.
"
"It was a godsend, when (Cal Farley's) came into our lives … what she's doing now, I never dreamed that she would do it," Ann said about Jamie's progress.
"(They) started having anger issues, a lot of depression," Ann said. "Their grades fell. This went on for probably two years. We knew something had to be done with Jamie, because she was so angry."
That anger prompted Jamie to make some questionable choices. Cheyenne even dropped out of high school. But, Ann had learned about Cal Farley's from her brother-in-law, who credited his time at Boys Ranch with changing his life.
Fortunately, Cal Farley's operates seven community offices to help families like Jamie's, including one in nearby Oklahoma City. It was there they met Felicia Kellett, director of Cal Farley's Oklahoma City Family Resource Center. She showed the girls' mother that Cal Farley's could offer stability they desperately needed.
"(My mom and I) have always been on rocky roads," Jamie remembered, "because she's never really been there like a mom should."
It took a bit of work to gather the necessary records and life details, but things came together for Jamie to live at Boys Ranch. Eventually, Kellett helped the family navigate their decision for Ann to take custody of the girls.
But, there was still one problem: Cheyenne was too old for placement at Boys Ranch. Following the girls' pre-placement interview, Cheyenne was somber as the car drove away from Boys Ranch to an uncertain future.
"She made the comment from the back seat of the car: 'I just feel like it's too late for me,'" Kellett recalled. "I looked in the mirror, and I smiled at her. I said, 'sweetie, it's never too late. I promise you, it is not too late.'"
But, just as Jamie had much to learn at Boys Ranch, Cheyenne needed to realize she could let go of years of frustrations. Her age might've been an obstacle to her living at Boys Ranch, but that didn't mean Cal Farley's couldn't help her.
Far from it.
"I've been (helping families) for more than 25 years," Kellett said. When I met Cheyenne, she was very angry, very guarded. She looked at me as if (to say) 'what are you going to do for me?"
Looking back on it all, Ann said the change has been remarkable.
"Felicia has really done a great job with Cheyenne, because Cheyenne had built a wall up, and she wouldn't let people get close to her. It took a while to wear her down, because I think she felt like Felicia was her enemy at first."
Jamie echoed: "I'm proud of my sister!"
The key, Kellett said, was finding a way to prove to Cheyenne that she could trust Cal Farley's to follow through.
"She told me she was kind of interested in going back to school. I said I'll go find out about it, and we'll see what we can do," Kellett said.
Cheyenne had her doubts. They were erased, though, when Kellett found an alternative school where Cheyenne could catch up and obtain a degree. She even helped Cheyenne find vocational training that led her to get a job in the medical field.
"I think that surprised Cheyenne. She told me later that she was used to people making promises to her and not following through," Kellett said. "So, I think one of the most important things I did for Cheyenne (was) I followed through with what I said I was going to do."
Today, Cheyenne has a stable job and a home of her own. And, she can rest easy, knowing Cal Farley's is helping her sister create a better life for herself, too.
"I think it's better for me to be out here," Jamie said. "I want to be an orthodontist. I want to go to (college.)"
Her grandmother agreed.
"It was a godsend, when (Cal Farley's) came into our lives … what she's doing now, I never dreamed that she would do it."