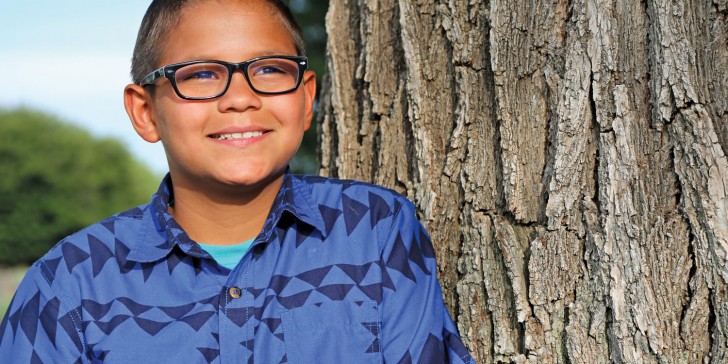 Our founder, Mr. Farley, often said, "It's easy to smile when someone cares." And, if that's true, then Jake, 11, has a lot of reasons to smile.
Jake has lived at Boys Ranch, Cal Farley's flagship residential campus, since January 2014. He and his sister, Savannah, were struggling in their Austin, Texas, home. There was a great deal of discord at home, which put stress on the relationships between all the family members.
Whether it was fighting at home or bullying at school, Jake and his sister weren't happy, and their responses weren't always the best, either.
"I would get into trouble a lot," Jake said. "Sometimes, if I did something … I would lie."
Jake's family recognized that a change was needed to help the siblings succeed. They reached out to Cal Farley's Austin Family Resource Center, one of our community offices that allows professional caseworkers to help families right in their own homes.
"I started working with the family in January of 2013," remembered Julie Skarich, the office's director. "We worked on parent training to stabilize the family until placement."
Initially, Jake's sister came to Boys Ranch, while Jake and his family continued to work with Skarich and the staff at the Family Resource Center. It didn't take long, though, until Jake began asking to join his sister.
"When she came home on (a) home visit, she told us all about (life at Boys Ranch)," Jake said. "She told me how much fun it was."
As his family considered Jake's struggles and saw how much he, too, wanted the kinds of positive experiences his sister was having, the choice became clear.
"The family eventually decided to place Jake," Skarich said.
Jake said it took him "a medium" amount of time to adjust to campus life — medium, meaning a couple of weeks, he said.
Since his placement, Skarich and her team have worked to facilitate interaction between Jake, Savannah and their family and to help plan opportunities for positive experiences between the children and their parents during visits home.
"I see them every time they come home," Skarich said. "We are working on improving the communication with the kids. One of the things we've done recently is … some training on the child and teen brain and brain development."
For Jake's part, living and learning at Cal Farley's is a grand adventure. He attends school on campus, of course, and takes part in other activities designed to facilitate making positive choices and forming healthy relationships. And, like many residents his age, Jake enjoys the challenge of taking part in Cal Farley's annual Boys Ranch Rodeo.
"
"It feels good (to have) everybody cheering for you," Jake said. "My first rodeo, I felt nervous to be in front of everybody and riding in front of everybody. But, I got on, faced my fear."
When Jake isn't preparing for the annual rodeo or learning life skills from his caring Cal Farley's mentors, he enjoys playing with his peers.
"We play basketball, go to the rodeo grounds, ride the horses," Jake said.
But, usually, they find themselves playing some type of sport.
"My favorite sport is soccer, then football, then basketball," he beamed, adding that his dream is to grow up and play for his favorite basketball team, the Chicago Bulls.
Seeing Jake's smile is bound to put a similar expression on the face of anyone around. It's a smile that's infectious — and one he frequently wears.
"I like to smile a lot," he said, ending his declaration with an ear-to-ear grin as a demonstration.
Jake has done a lot of growing in his "one year and something months" at Cal Farley's, and he knows there's a lot left for him to accomplish.
"I've gotten a whole lot better and stronger," Jake said.
Jake expects to remain with Cal Farley's until he graduates from high school. In the meantime, he's proud of everything his sister is doing, and he hopes to make her equally proud of him.
"I'm going to do the best I can," he said.
Jake knows whatever he puts his mind to, his success is really up to him.
"It's … trying my hardest," he said, "and having fun."
And, that's sure to keep Jake smiling.