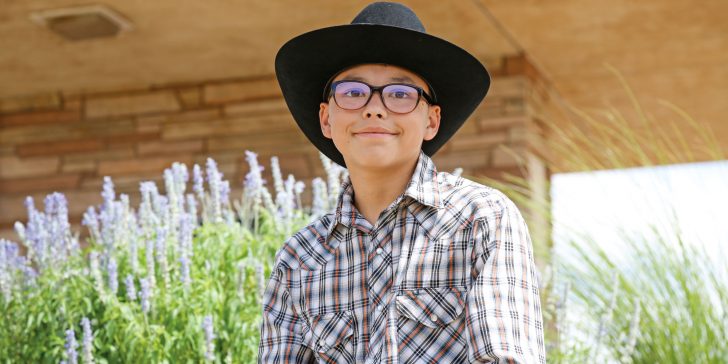 In a store full of people, Jaiden felt very alone.
And angry.
He'd just hung up the cell phone with a loved one, who'd told him he'd be unable to visit Jaiden that day because he was out of town. And, now, here Jaiden was at the grocery store — staring at that same person down the aisle.
For Jaiden, 13, anger has been a longtime companion, one of the few he had left after his family lost their home and moved from their small rural community to a larger city where his mother hoped to find greater opportunity.
"I have anger problems and I could lose it," he acknowledged. "There were sometimes I used to go to my room and just start throwing stuff."
Jaiden said he was angry about a number of things — not having many friends and being bullied in his new hometown, not getting his way and never getting to see his old friends. And, when Jaiden, his sister and their mother moved in with some friends for a time, Jaiden was angry at the cramped living quarters and loud atmosphere. Jaiden's temper led him to anything from mere mischief to fights that ended with the police at his doorstep.
At school, Jaiden's grades could've been better. But, more importantly, he chaffed against his teachers and started fights with his classmates. In short, Jaiden was giving his mother plenty of reason to be concerned.
"I was disrespecting her, my mom, I was saying a lot of stuff to her that I didn't mean. I kept running away, kept getting in trouble (with) the police," he said.
Like his mother, Jaiden was fearful, — fearful the path he was on would one day see police taking him away in handcuffs.
One day, Jaiden's mother sat down with him to discuss something important. She'd been talking with Cal Farley's, an organization that specialized in helping children like Jaiden. Jaiden had heard of them; he'd seen the posters for the annual Boys Ranch Rodeo hanging up in the store near his house. Still, the thought of moving away from his family was daunting.
When Jaiden met his house parents at Cal Farley's Boys Ranch campus, they assured him everything would be alright. He was in a safe place, and he'd get to regularly visit his family.
In his first year at Boys Ranch, Jaiden has found people who will listen to him and activities that blend fun and healing, often transforming group therapy into a more entertaining endeavor. Being involved in things like wrestling, kayaking or rodeo is helping him work through his feelings of aggression, Jaiden said.
"I feel like I'm being helped out here, a lot, getting my anger out and not doing anything that can harm anyone," Jaiden said. "I'm getting better at not disrespecting. … When we go to kayaking … it helps get your mind off that stuff."
Jaiden enjoys his Boys Ranch school, too. The smaller classes and one-on-one attention has helped him concentrate and improve his grades.
"
"I used to get mad, real mad, because (there were) a lot of kids. I made bad grades and got sent to the office," Jaiden said. "But, here, it changed my life, because I get good grades, mostly As and Bs."
Jaiden also enjoys Cal Farley's chapel program, which he said is helping him understand more and improve his relationship with God.
Jaiden knows he still has a lot to work on before he's ready to leave Cal Farley's. He's controlling his emotions better, but gets angry with himself when he slips up and lashes out at someone. Yet, Jaiden also sees the positive fruits that have come from his time here.
"I've stopped disrespecting my mom, stopped running away, stopped doing a lot of bad stuff," he said.
Jaiden said it's clear to him now why his family placed him at Boys Ranch, and he intends to make the most of the opportunity.
"When they sent me here, it was (for) getting me better — grades, not talking back to my mom or getting into stuff I'm not supposed to, and letting me focus on those things," he said.
Like many of the young people at Cal Farley's, Jaiden's plan of service includes one day reuniting with his family once he's ready to return to an active, healthy, well-adjusted life with those he loves. In Jaiden's case, that likely means staying with Cal Farley's at least another year. In that time, he hopes to improve his relationship with his father, who he tries to call often, and to make his much-improved relationship with his mother even better. He's also looking forward to attending safety classes and getting his hunting license so he can learn to hunt pheasant or deer, skills he sees as important to his goal of one day working on his uncle's ranch.
Jaiden, who described himself as "really sensitive about a lot of things," is also very grateful for the opportunity he's had at Cal Farley's — and for those who made it possible.
"Thank you for giving me respect and letting me learn more about getting better about my anger and learning how to walk away," he said.