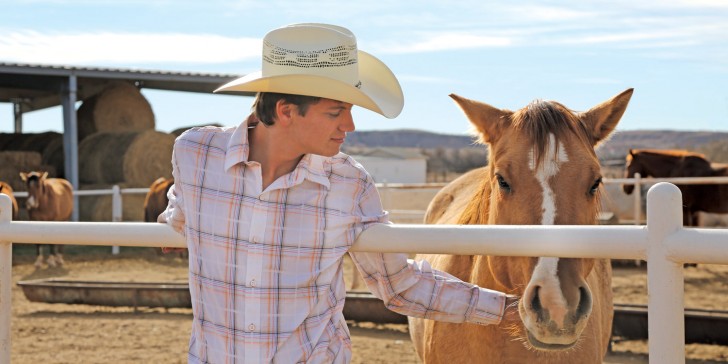 At nearly 16 years old, Jacob looks like he belongs in the rugged, West Texas hill country in which he resides. Everything about the young man says "cowboy" — from his tall, slender build to the straw hat, Western shirt and larger-than-life belt buckle. Even his quiet, plain-spoken demeanor suggests Jacob is Western, through and through.
Having grown up on a small Arkansas farm, Jacob's rural roots are echoed in the environment on Cal Farley's residential campus at Boys Ranch. But in his two-and-a-half years at Cal Farley's, Jacob has experienced things he never would have back home.
"One of my favorite hobbies would be robotics," he said, adding the equally sophisticated role of sound and lighting technician to his list of preferred activities.
Cal Farley's residents like Jacob can explore technical interests like these – among many others ranging from the agricultural to the artistic – as part of the Community-as-Lab program. It's a philosophy that augments what Jacob and his peers learn in his school classrooms with hands-on learning and experimentation.
"I actually wasn't interested in (robotics) at first," Jacob recalled. "I was messing with one of (Technology Coordinator Barre Wheatley's) robots one day. It wasn't working, and I got it to work … I'd never thought about robotics before.
But, once introduced to this fascinating new subject, Jacob was hooked.
"It turned out … I had a great mind for robotics," Jacob beamed. "I could fix problems, I could troubleshoot … I was just a whiz at that stuff."
It's just the latest turn in what's been a breathtaking journey for Jacob.
He was born in Arkansas to a single mother from Oklahoma. When Jacob was still a toddler, his mother put him up for adoption, along with his younger brother. The brothers lived in state care for a while, eventually being placed with his adoptive parents.
"Things went quite smooth for a while," Jacob remembered, "until I was about 11."
That's when Jacob's brother found himself in some trouble, which ultimately led to his being removed from the family and adopted by a family in Virginia. The separation proved to be a painful catalyst.
"My life started going downhill," Jacob said. "I started playing with fire, arson, guns … stealing … and lying, too."
His academic life was no better. As a homeschooled student, Jacob had flexibility in his schedule, and he manipulated it to his full advantage.
"Quite honestly, I wasn't going to school. It was there, but it wasn't a big thing in my life," he said. "Sixth and seventh grades I pretty much skipped. I did nothing in them."
Jacob continued to seek out trouble, and began running away from home. He knew he needed to change, but how?
"I'd been told by a judge, 'If I see you again, one more offense, and that's it, you're going away,'" he said.
Jacob sought help from a family friend who operated a sheep farm, and, while he enjoyed the environment, his troubling behavior nonetheless continued. On the advice of someone in their church, Jacob's parents called Cal Farley's for help. Soon, they were on their way to tour Boys Ranch.
"I got told I was coming to interview at Boys Ranch when I was 13," Jacob remembered. "I got accepted, and about June 30 of that year, I came out here to stay. That would've been around 2012.
At first, the decision only stoked his anger over losing his brother.
"It surprised me," he said. "I never thought they'd do anything like that … I was pretty (angry) that they were just going to leave me out here like this. … A lot of the time, what was going through my head was 'what parent would just leave their kid?'"
After a few months at Cal Farley's, though, Jacob was adjusting well to his new surroundings – and finding more positive challenges than getting away with theft.
"That's what got me into robotics and sports," he acknowledged. "I love batting especially because it's a challenge of taking a bat and hitting a ball – the right angle, the right speed. It's a real challenge."
Among all the sports he enjoys with his peers, Jacob said baseball is his favorite.
"It's a sport I've always loved. I've always loved watching it," he said. "I can throw – I like throwing. I'm really good at batting. I'm an outfielder and a first baseman."
Fun activities aside, Jacob said it's also hard to look around at the opportunities Cal Farley's affords him and then show disrespect to that.
"I just think about what I've been given (at Boys Ranch)," he said. "Why steal from the people who are giving you the best?"
And, to Jacob, "the best" includes positive relationships like he has with his houseparents at Craig Home.
"I feel that if I ever needed something, or if I needed someone to talk to, I can talk to them," he said, adding that the staff at Cal Farley's has found a way to inspire his self-motivation.
"I guess they see something in me," Jacob said.
There's a lot to see — and a lot to be proud of. Jacob is learning to let go of his hurtful behavior, and is finding new challenges. Whether it's building a robotic arm, a drone to carry cameras aloft or modeling positive relationships for his peers, Jacob is paving a path to a very successful future.
A future in which he hopes to one day settle down and start his own family.
"I want to be the role model people follow," Jacob said, "because I didn't really have a role model. … I want to be the role model that (my) kids want to follow."
Until then, Jacob plans to continue working hard in his last two years at Boys Ranch High School in order to prepare himself for the career he'll ultimately choose. (Right now, robotics and welding are high on the list.)
"I'm just trying to open up windows and doors," he said, "opportunities for later in life."
Whatever he chooses, Jacob said he has Cal Farley's – and the generous friends who support it – to thank for helping him succeed. He knows without their commitment to Cal Farley's, his future would look very different.
"So, I'm happy," he said. "And thankful."