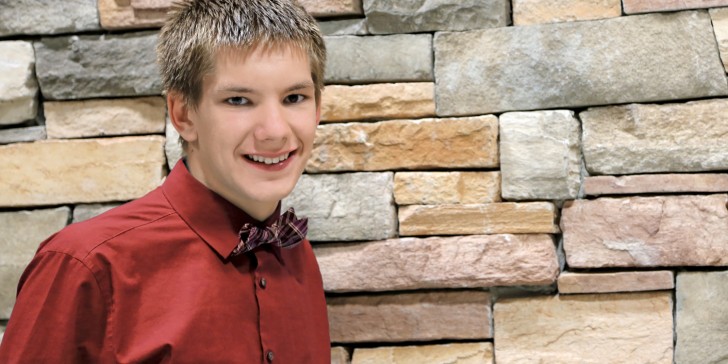 Most of the young people Cal Farley's serves find their way to our transformative services thanks to the loving concern of a relative. But, a handful see for themselves that life isn't everything it could be, and take it upon themselves to seek us out.
Such was the case with Jacob.
Jacob and his parents were living in a very rural area, where he said his folks faced struggles with finances, substance abuse and poor decision making.
"It wasn't going that great. A lot of times, we didn't have electricity or water, utilities," Jacob said. "We had to fetch rain water."
Jacob pleaded with his parents to do something, anything, to change their situation. He was tired of being hungry and living in conditions that were inhospitable.
"I actually buckled down and cleaned the living room three or four times, but it just ended up getting trashed again."
When he was hungry, but found no food in the house, Jacob found creative ways to buy himself something to eat, including panhandling at the local convenience store.
"I kinda grew into trying to support myself a lot of the time, trying to go out and get money for myself — wash people's cars, (mow) lawns."
The tumult surrounding him affected Jacob's concentration at school, too, though he still managed to earn solid grades.
"I would like to say (it didn't affect my school work), but it probably did, in pretty low-key ways. I passed. I never failed, like As, Bs and Cs."
And tragically, Jacob's older brother, Danny, returned from combat with the Marine Corps in Iraq's Anbar Province carrying his own inner burdens. On New Year's Day 2008, he committed suicide.
If there was any refuge left in Jacob's life, it was his church, where Jacob formed some strong friendships. Over time, he befriended a family who let him share their meals, prepared lunches for him to take to school and let him spend his free time at their home.
"I would hang out there a lot of times and work on cars," Jacob said. "They told me about (Cal Farley's), and I looked it up. It seemed like a pretty good place."
Jacob pleaded with his mother to make the phone call. Eventually, she agreed.
"(Jacob) was distraught over his living situation, and knew that he needed to make a better life for himself," recalled Emily Weatherall, a family case manager at Cal Farley's San Antonio Family Resource Center.
The San Antonio office is one of seven community offices Cal Farley's operates across Texas and Oklahoma. These offices, staffed by caring social service professionals, allow Cal Farley's to serve more people and provide a broader range of services. Sometimes, Cal Farley's staff can work with the family in their own home, alleviating problems and preventing the need for placement at our Boys Ranch residential campus.
For Jacob, though, Boys Ranch was the best option.
"I met them at their house … We went to a little restaurant in town and had lunch and talked about what the options were," Weatherall said.
Though Jacob's parents wanted to keep him close, they saw how badly Jacob wanted to go to Boys Ranch.
"They realized that this would be Jacob's best chance to make it," Weatherall said.
The best news, though, was that Cal Farley's could help Jacob's parents, too — if they were willing to work for it.
"They were very thankful for the help, very eager to participate in services, even after Jacob was placed … still some hesitation, but, willingness."
Weatherall talked with the couple about the different ways she could help guide them in stabilizing their home life. She wasn't offering a handout, but a hand of friendship and support as they cleaned up their chaotic lives.
"That is one of the hardest parts of our job," Weatherall said. "We can't force people to participate, we can't force them to make changes. I can give them suggestions, and I can give them resources, but unless they actually do something about it, there's nothing we can do. So, having that willingness and that wanting to improve their lives and the life of their son, that's really what it's all about. And, that's what makes my job so rewarding, is when they do take those steps to make a change and they see that positive things can happen in their lives."
So, as Jacob settled into life at Cal Farley's, participating in extracurricular athletics and getting involved in home devotionals, Weatherall was back in San Antonio, spending time with his parents, advising them on practical matters, such as preparing resumes and looking for good jobs, and on healthy parenting techniques.
"She helped us get a stronger relationship with each other," Jacob said. "She would set goals for us to try to meet. For example, … 'Talk to each other. Have 30 minutes of conversation this many times a week,' or whatever. We'd have little mini-competitions to see who would initiate conversations the most."
For Jacob, life at Cal Farley's has offered a safe haven, one in which he can enjoy activities with his friends, focus on getting good grades and learning about a God Who loves him.
"(My relationship with God has) gotten stronger because, when I was at home, I would … beg and beg and beg (God to make my life better)," Jacob said. "And, here, I don't have to beg all the time. I can just have a normal conversation with Him … but, when I was home, it was hard to do that because there was so much bad stuff."
Thanks to committed support from across the United States, Cal Farley's is helping Jacob and his family return a sense of order and stability to their lives. It's often a slow process. Both parents and child must choose to establish a pattern of positive behavior.
"Right now, it's really just one day at a time," Weatherall said.
For his part, Jacob is determined to make the most of the opportunity he's been given.
"It's the biggest blessing I've had in all my life," he said.