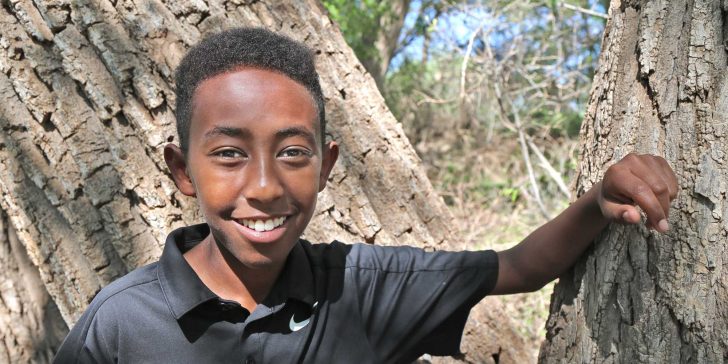 "I'm really proud of myself for (moving) past how I felt they've treated me," said Isaac, 12.
In almost a year at Cal Farley's, Isaac said he's already seen some remarkable changes in his attitude about life. The resolute defiance that led his concerned family to seek Cal Farley's help is fading, day by day. Most importantly, he feels more connected to his adoptive parents.
"Back home, they didn't talk to me, I didn't talk to them," he said of life before Cal Farley's. "Now, I feel like I'm able to talk to them if something goes wrong. I'm able to tell them what's happening. Before, I didn't even care to talk to them whatsoever."
It's an attitude that took a long time to develop. Isaac spent much of his youth in Colorado with his large family, but he said he often felt like he wasn't getting the attention he needed.
"I was arguing a lot, trying to prove a point all the time," Isaac said. "They had their own kids, so I always felt like I was being treated unfairly."
And, although Isaac found school work easy, he began taking out his frustrations there, too. His defiance grew to the point his teachers couldn't give the rest of the class the instruction they needed. That meant emails to his parents — and more frustration at home. His parents quickly grew concerned at the life Isaac's negative choices were creating.
Their concern led them to seek help outside the family and, eventually, to Cal Farley's.
"Before I came to Boys Ranch, they told me my dad had been looking at websites. When they brought up (placement outside the home), I acted worse, because I didn't want to go," Isaac recalled, chuckling at his own misgivings. "They said, 'we want you to go to Boys Ranch.' I said, 'I don't want to go.'"
But, Isaac had a quick change of heart when he came to Boys Ranch for his pre-placement interview. From the moment his parents' car drove onto the campus, Isaac realized his mental image of some child prison was completely wrong.
"I saw kids walking to different buildings," Isaac said, recalling his astonishment. "They actually have some freedom. This isn't going to be so bad."
To Isaac, the potential at Boys Ranch was beyond appealing.
"I (thought) … yeah, this place is pretty cool."
After the interview, Isaac and his family returned to Colorado. When the day of Isaac's big move arrived, it brought an eight-hour car ride to Cal Farley's. But, still, Isaac remembers it as a good day. Once on campus, he met his house parents and the other boys in his home.
"We played outside and ate ice cream," he said. "Everybody was … really nice to me."
As the days passed and Isaac became accustomed to his new environment, the real work began. Isaac had struggled most in his relationship with his mother. Improving that relationship has been a top goal for Isaac, his family and the caring Cal Farley's professionals working with them. Isaac said having a caseworker to help bridge the communications gap between him and his parents has been a very helpful first step to mending the broken relationship.
"My caseworker has been a really big help," Isaac acknowledged. "She talks to (my parents) every week. She says they want to call more, they want to talk more. I (thought) OK, that's good that they actually want to talk more. She says when she calls them, they like to listen to what's going on and what's happening."
In addition to keeping Isaac and his parents up-to-date on each other's goings on, Isaac's caseworker helps the family by encouraging Isaac to remember his own calls home every week.
"My dad puts it on speakerphone, so (Mom is) also listening to what's going on … On her birthday, I called her. On Christmas, I was there with her. On holidays, I'll call."
Opening the lines of communication seems like such a simple thing. But, Isaac said just restoring that basic level of communication has made an important difference in how he feels about his relationship with his family. Before he came to Cal Farley's, Isaac said, he sometimes felt unloved. But, that's not the case anymore.
"The fact that they call me more, they talk to me more — they say 'how are you doing?' They never really did that stuff before," Isaac said, smiling.
In addition to his improving relationships at home, Isaac's studies continue to be a point of success. His improving relationships affording him the confidence to perform his best in school.
"I've had all As all the six weeks except one," he said.
As he grows older, Isaac looks forward to applying his academic talent and natural interest in technology in one of Cal Farley's many learning labs. They're part of the Community-as-Lab program, which utilizes the entire Boys Ranch campus as a real-world learning environment catered to our residents' individual interests.
"There's this one, the (3-D Design Lab)," Isaac beamed, his speech racing to keep up with his thoughts. "You have to do a lot of math in it, and I like math and figuring out what's happening."
So much has changed for Isaac in such a short period of time, changes that are giving him increasing hope for his future every day.
"
I didn't like my life at home. (I thought) my life's miserable," he said. "Now, I'm here, and God opened a door with me coming to Boys Ranch. He could've just left me at home, miserable, not enjoying my life whatsoever. But, He opened up the door to Boys Ranch. Now I've so many more opportunities."
As Isaac looks ahead, he sees his relationship with his parents, especially his mother, only growing stronger now that he has a better understanding of the importance of those relationships and a restored belief in his parents' love for him.
"I'll try to work through problems one step at a time, not burdening myself with problems that I don't need to. It's just not right to burden yourself," he said. "It's not going to be easy. Not everything in life is going to be easy. Life's just not perfect like that. I expect (my future) to be good."
Whatever his future holds, Isaac is determined to make the most of it. And, he said he's grateful to the many friends of Cal Farley's who've given him this tremendous gift.
"Thank you for giving us the opportunity. It's not every day that somebody gets to be in a place like this," he said, adding there are so many more children like him in need of Cal Farley's help. "There's always somebody whose life is harder … We get to be in this place and (Cal Farley's does) their best to make it like a family environment. … They do a great job. It's a great place."