Hollie: Alumna finds forever home in Texas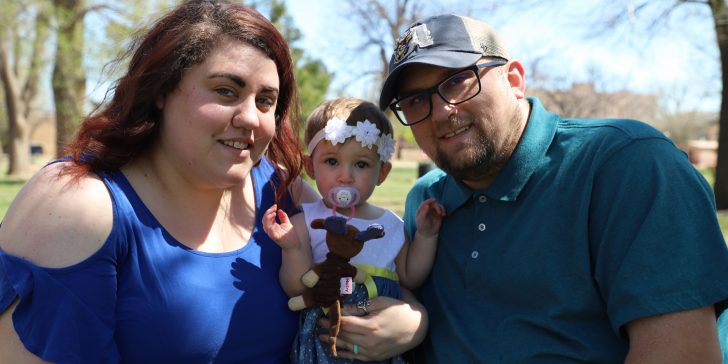 This California transplant remembers well when she and her great-grandparents, traveling in a motor home, pulled into the entrance of Boys Ranch in 2003. She was just 12 years old. They had traveled to Texas in search of a better life for Hollie.
This September marks 17 years that Hollie has lived in the Texas Panhandle.
A vibrant child with a zest for life, Hollie had been living with her great-grandparents since things at home had gone sour. 'Home' was a house where her dad and his new wife, three step-brothers and a younger sister lived.
Prior to his remarriage, it had just been Hollie and her dad for six years. Hollie's birth mom battled a medical condition and wasn't prepared, nor inclined, to be a mother. Her dad was given full custody at her birth.
Initially, Hollie and her dad had been an unstoppable team.
While Hollie thought she welcomed the idea of a bigger family, issues arose and each year, they became bigger.
"My new mom was a stay-at-home mom, and my dad worked, was the sole provider. There was a lot of stress involved," she said. "Not only economic stress, but relationship stress. It was hard to be with my step-mother and step-brothers. It was just rough."
She was the second oldest child in the house. After fifth grade, Hollie asked if she could live with her great-grandparents, which she did her entire sixth-grade year.
"
This is always home. It will continue to be home for me.
"They couldn't keep me long-term. I had another great-grandmother who knew about Boys Ranch, and she suggested we look into my coming here," Hollie said.
Relieved to be in a new place with new possibilities, Hollie quickly became integrated as much as a seventh-grader can at Boys Ranch. She made friends, built relationships, did well in school and participated in every activity offered to her.
"I was involved with every sport I could do. Cross-country, basketball, track, I did them all, plus band and choir," Hollie said.
At the start of her eighth-grade year, Hollie made a trip home, during which time her step-mother officially adopted her. The family celebrated the occasion together before Hollie returned to Boys Ranch.
"Talking to my parents recently, I believe they just wanted the best for me, and they knew it wasn't good, the situation they were in," Hollie reminisced.
In the six years that followed, Hollie fell in love with the Texas Panhandle and the people at Boys Ranch, who poured love into her all that time. They're the same people who continue to be her de facto 'family' today.
After graduation, Hollie moved to the city and lived in the alumni housing for a short time while she entered the workforce. She had utilized the alumni support services to help her find a job and she remembers how her caseworker, Debbie Holman, would come and have lunch with her to make sure things were going well. She worked for more than four years as a bank teller.
During a prolonged illness, a period during which she found herself too ill to work, Hollie remembered the words she'd heard many times: "If you need help, ask us." She reached out to Boys Ranch, and was invited to live with a family with whom she was close until her health improved.
Back on her feet and ready to work again, Hollie became aware of an opening at the Boys Ranch campus headquarters; she came to work for Boys Ranch in February 2016.
During this transition in her life, she met her husband, Christopher. The two are happily married and are parents to a beautiful little girl named Kymberlynn.
Hollie stays in contact with her California family. Since having Kymberlynn, the connection with her mom and dad has grown even closer.
Hollie said some of the best advice she ever received while a child at Boys Ranch came from the words of Boys Ranch Senior Chaplain Mike Wilhelm.
"Chaplain Wilhelm always told the girls, 'you are beautiful, valuable and worthy of love', and this has always stuck in my mind," Hollie said.
It's this love, nurtured at Boys Ranch, more than anything else that has made the rugged Texas landscape home.
"This is always home," said Hollie. "It will continue to be home for me. I love my family in California and my family has come a long way, but I consider the Texas Panhandle my home."
Hollie said she is closest today to her Boys Ranch family. She knows they are literally a phone call or text message away.
"They'd drop a hat, give you the shirt off their back, open their home, whatever you need," she affirmed.
Hollie said she can't even begin to express how grateful she is for all she's received from Boys Ranch and its supporters. She chooses to work for Boys Ranch in hopes of being able to give back to other children a portion of what has been gifted to her.