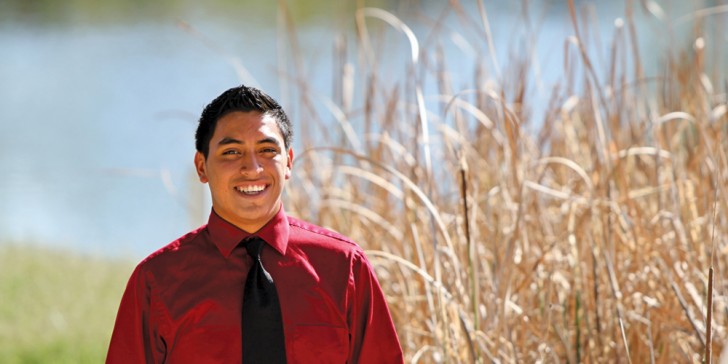 People around the world are preparing to recognize Christmas as the day God sent a very personal Gift that would change the world. At Boys Ranch, Uriel, or "Oody," as he prefers to be called, says God changed his world in a very personal way, too.
"I think … He brought me here to change my life, I'm very grateful," the humble teen said, reflecting on the events that took him from the streets of San Antonio to the rugged beauty of Boys Ranch.
Before his life at Boys Ranch, Oody was living alone with his mother, Emma. His parents had divorced a few years before, and, adding to the loneliness, his older brother had married and moved on to a new life. After the divorce, Oody and his mother battled continual poverty. Their situation weighed heavily on Oody, and he struggled to concentrate on other daily matters.
"It was hard for me to keep up in school," he recalled. "I just … stayed behind. My surroundings, it was a bad school. (Other students) didn't care about school. It was a lot of negativity around me."
Emma saw what her son was going through and longed to help him. But life as a single mother trying to make ends meet was hard, and she feared society would scorn her if she needed help.
"I couldn't see the door, I couldn't see our way (out of the situation)," Emma said. "I didn't want people to know what happened or what we were going through. I wanted to get out of this alone, without anyone's help."
One of Oody's friends, Josh, was familiar with the struggles Oody faced. He and Oody had grown close in San Antonio, but Josh had found a place that offered him a haven away from the hard life he'd known. And, he thought it might be the right place for Oody, too.
"He told me about Boys Ranch, and I just started thinking about it, and then I asked my mom," Oody said.
Though she hated the thought of living apart from her son, Emma could see the promise Boys Ranch offered her son's friend. It was the promise of a better life she wanted for Oody, too.
"(Josh) kept having doors open for him, and that is what (Oody) was looking for, new doors to open," Emma said. "I became friends with the boy's mother, and she would ask me to accompany her on their visits to Boys Ranch …. (Oody) liked it from the moment he walked on campus. … He began to realize he, too, could be released from making poor choices."
Emma and Oody talked with the staff at Cal Farley's Family Resource Center in San Antonio about his coming to stay at Boys Ranch. It was a thorough interview and application process. For months, FRC staff worked with Oody and Sylvia to make positive changes in their life in San Antonio, then one day the family received an invitation to formally tour Boys Ranch. It's one of the final steps before a child comes to live on campus.
"It was amazing!" Oody said. "It was amazing how the kids were outgoing. They wanted to get close and see where you were from and tell you how (Boys Ranch) works."
For Emma, not having Oody with her was bittersweet. But as she saw her son grow and mature, it made her more determined than ever to create a better life for herself – for Oody's sake.
"He was my motivation to wake up every day, to get ahead in life," she said. "He injected me with an energy that keeps me going daily."
For his part, Oody was excited. He had heard so many good things about Boys Ranch from his friend, who he was excited to see again.
"When I first came here, it was awesome," Oody said, remembering his excitement. "It made me more comfortable with (Josh) here."
The two remained close, but eventually, the time came for Josh to be reunited with his family in San Antonio. While Oody would miss his friend, he didn't think long about leaving the Boys Ranch environment.
"This place is amazing, and I wanted to stay," he said.
As Oody made new friends and continued enjoying the learning and adventures of life on campus, Emma remained in San Antonio, where FRC staff are helping her as she pays forward what she's received, working with area senior citizens.
"I continue looking for something better," Emma said. I want to move to these apartments … so I can be closer to downtown. I'd still take care of the elderly …. I want to get my GED."
Oody smiles when he thinks about his mother's dedication to him and her determination to make life better for their family.
"I love my mom," he beamed. "She's my best friend. She calls me and says 'I love you' … I can't wait until the next home visit, when we can see each other."
Between home visits, Oody has his houseparents, Mr. and Mrs. Thompson, to look after him. More than just caretakers, Cal Farley's houseparents serve as mentors to the boys or girls in their homes. Oody said his houseparents have helped him let go of negative attitudes and habits.
"The Thompsons helped me a lot," he said. "They really helped me realize the stuff I was doing wasn't good."
That kind of self-reflection is a big change from the shy, hesitant young man who came to Cal Farley's little more than two years ago.
"Oody was very quiet … and wasn't quick to make relationships or want anyone to have much input into his life," recalled Marie Thompson, Oody's house mother. "Where Oody is now is a full turn-around from the boy who came to Pierce Home."
Oody remains grateful for the gift his mother gave him in letting him come to Boys Ranch, but he also acknowledges her sacrifice wouldn't have been possible without the selfless gifts of the many friends who support Cal Farley's work with families like his.
"(Cal Farley's supporters) donated a lot more than buildings and programs," he said, the passion evident in his voice. "They gave kids a brighter future. They really opened doors for us."
It's another precious gift he's grateful to receive. But Oody looks forward to the day when he and his mother are ready to take the next steps in their lives. Moving forward and growing stronger as a family, to Oody, there's no better gift.
"Just to … spend time with my mom and my family," he mused, "knowing that there's people who really care about me, care about my future."