Greyson: Old soul, new life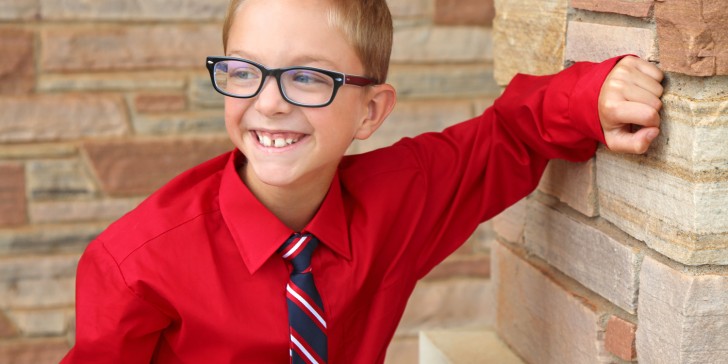 At just nine years old, Greyson looks like a typical boy his age — tall and lanky, he's full of nervous energy and fidgets a bit as he speaks. But, Greyson already is an old soul.
Within minutes of sitting down, the eager fourth-grader is entertaining people with stories of the P-40 Warhawk and death-defying bravery over the skies of Europe and North Africa during the 1940s.
Though not the usual stories one might hear from a child his age, Greyson's grandfather, or "Papa," has raised him since he was just 3. For years, he has enthralled the boy with tales of his great-grandfather's World War II exploits.
Indeed, Greyson's fondest Christmas wish this year is to get to meet his great-grandfather.
"He's interesting," Greyson explained. "I was only a month or (maybe) 2 years old when he died. He died from old age. My papa said if his dad was still alive, he would really like me, because I know a lot about World War II."
Though his outward appearance might not show it, Greyson's life has seen its own battles. Papa obtained custody when Greyson's mother became caught up in her personal issues and could no longer care for him. Greyson's grandmother had died when he was just 2, meaning Papa would have to face the challenge of caring for Greyson by himself, and on a fixed income.
"(Life with Papa was) pretty good, but if we didn't have anything to eat, we'd have to eat some things we didn't like," Greyson said.
At school, Greyson earned high marks academically, but he struggled to relate socially to his classmates. He quickly became the object of their ridicule and scorn.
"Sometimes (classmates) would race to get the bigger scissors and they would (jab) people with them," Greyson recalled, somberly. I was one of the kids who got (jabbed) a lot … They would push me down, they would say a lot of cuss words and all that, (call me) stupid and dumb.
"I liked going to school, but not when I was getting picked on."
Greyson had few friends, and he began acting out to express his growing frustration.
Papa, though, knew Greyson needed better opportunities to form healthy relationships with children his own age. And, there often wasn't enough food in the house to meet their needs.
Greyson wasn't sure what to expect when Papa told him about his decision to seek placement at Cal Farley's. But, he trusted his grandfather, and Papa said it was the best place for him. In some ways, Greyson took to the change right away.
"The first two days, I remember when I came out here, I moved into my friend C.J.'s room," Greyson explained. "He's my best friend."
Greyson also said he enjoys going to chapel at Cal Farley's and learning about God.
"They sing songs, and they have Holy Bibles on the back of (the pews), where you can read the Bible," he said. "I like reading about it, basically the whole thing where I get to learn about God and Jesus."
It's been only a year since Greyson came to live at Cal Farley's and, though there have been some early successes, Greyson still has challenges to overcome. His emotions can still get the better of him sometimes, but he knows his houseparents and other Cal Farley's mentors will help him improve his behavior in time.
For now, he's excited at Christmas' arrival. His first Christmas season at Cal Farley's was an enjoyable one, and Greyson, the former social outcast, can't wait to join his friends in seasonal activities.
"(Last year,) we would usually gather up and play with my whistle football," he said. "We got to go outside and play in the snow. We tried to build an igloo, but it wasn't very good. We got in it and it collapsed on us. It was hilarious! After that, we went sledding."
Greyson's looking forward to visiting Papa for Christmas, too. He has lots of new friends and fun stories to share.