Greyson: Growing inside and out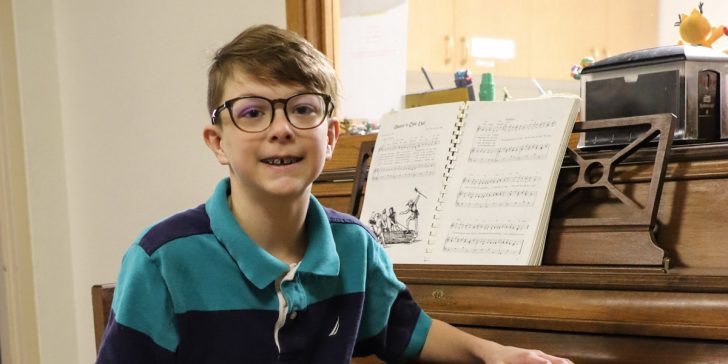 In his best low, growly voice, he says, "Why have you grown so much? You're going to be taller than me soon!"
Greyson, 12, is imitating what his grandfather, Papa, said to him during a recent visit.
Papa was amazed to see a few more inches added to his grandson's thin frame. The kid is growing like a weed.
We first introduced you to this delightful young man in 2015. You may remember his story.
Greyson was placed at Boys Ranch in 2014 by his maternal grandfather, who in his 70s and on a limited income, knew he could not provide all that this young, all-American boy, needed in order to thrive.
Greyson came here with a head full of knowledge about World War II airplanes, nurtured from stories his Papa had told him about Greyson's great-grandfather, a military pilot.
While this young string bean still loves to share what he knows about military history, he's expanding his horizons at Boys Ranch, almost daily.
Greyson is a seventh-grader now. A typical child, he loves sports, making friends, and doing well in school. He recently completed wrestling season, where he competed in the 89-pound division, soaking wet. He made it to the district competition. Additionally, he is a manager for the Boys Ranch High School varsity boys basketball team.
And, that's not all. Greyson is enjoying the great outdoors, too.
"I went hunting three weeks ago and I got a deer," Greyson says, referring to a program he participated in where a select group of children from Boys Ranch get to go to a hunting preserve.
As part of its annual conservation program, the Cal Farley's youth are able to learn to hunt and in the process, help reduce a certain number of bucks and does.
"I'd never fired a gun before. We had to try out for our guns, so I shot one," he explains.
Adult mentors made sure the gun fit Greyson's body size. He and another boy his age were the two youngest allowed to go on the trip. Training in gun safety, as you might expect, is a huge part of the hunt. His next shot, Greyson says, happened out in the field during the guided hunt, when he took down a doe. He described the trip as being very interesting.
Like a typical pre-teen, Greyson moves right on to say that he is looking forward to playing paintball this summer. He even hopes to join the Boys Ranch Junior Fire Crew soon. As part of that group, Greyson will learn the skills needed for a career as a firefighter or other public-service field.
"I want to join, but they have to ask," he says.
Naturally, he's made sure the right people know he wants to participate.
For now, he's making good grades in school. He likes math and science, and his history class is learning about the Holocaust right now.
"We read a certain number of pages and then we write a half-page paper about what we read," Greyson explains. "We do this, so we don't forget."
Greyson says the thing he loves the most about Boys Ranch is making friends.
"Meeting new people and new friends," he said, has been what's greatest about his four years on campus.
He continues to love to spend time in the chapel, and he likes the Sunday school class held in Edwards Home prior to chapel services each week.
Like the clothes he wears, his circle of friends and the young faith he's developing, Greyson's life experiences are growing – bigger and stronger every day.