Gift wrapping a tradition of love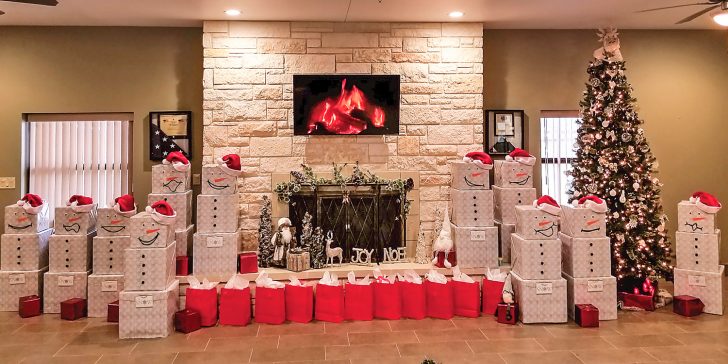 Pretty paper and a perfectly placed bow make even the smallest gift seem even more special.
The birth of Jesus Christ is a huge celebration for our children and our community. From the beautifully directed and performed cantata celebration to the decorated homes across campus, our healing community does much to make each of our children feel loved during this special time each year.
Individual homes are given a modest budget each year to cover decorating and gifts for each resident. The children are invited to write out a want list. Some newer residents want something as simple as new socks or a bottle of lotion.
With so many children's gifts to prepare, houseparents once struggled to get items wrapped in time for delivery by Old Saint Nick.
"When Josh and I were house parents, many years ago, we struggled with the gift wrapping," explained caseworker April Sprock, recalling her and her husband's time houseparenting at Veigel Home.
When Sprock became a caseworker, she understood from personal experience how daunting it could be to wrap several presents for each child in the house.
"I would help the house parents at Veigel Home wrap presents while the kids were in school."
Four years ago, Sprock and her husband, Josh, together with several other staff members, decided to include more of the Boys Ranch community in the annual giftwrapping ritual. Several days in December became wrapping days in a designated area and, as the saying goes, a tradition was born.
"It's been such a good way for the community to get together and share their talents," Sprock noted. "Now, some of the wrappers dress up as elves and we serve hot cocoa and cookies. Each year, we get a bigger turnout. Some of our adventure staff come and wrap gifts beautifully! We've actually discovered some hidden talent among us."
Each home at Boys Ranch has its own time-honored Christmas traditions. Sprock said for children living in Veigel Home, for example, mystery is an important part of the Christmas fun. Many presents are placed under the tree, but none bears a name.
"On Christmas morning, a swatch of wrapping paper is placed in each girl's stocking, and that's how they finally know which presents are theirs," she explained.
Having volunteer gift wrappers helps add to the camaraderie for Boys Ranch staff. But, more importantly, this new tradition helps make things a little easier during what can be a very busy time for everyone in a Boys Ranch home, Sprock said.
Children love to open a wrapped gift and there is a real sense of excitement on campus when the youngsters know it is "wrapping week."
And, when it comes to bows, Sprock said, the bigger the better!