Garrett: Called to service
Garrett discovers a new purpose in putting others' needs first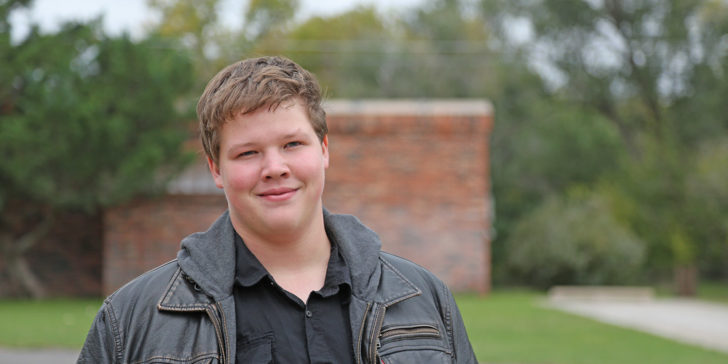 "
I want to serve God. I want to do the most soul-satisfying thing while I'm still alive.
Garrett's life should have been finally falling into place.
After years of moving from town to town and state to state for his mother's work, his mother had married a nice, stable man who Garrett admired. They'd settled into their Virginia community, and peace and a sense of togetherness had started to take root. It seemed like the missing piece had been found, and his family was complete.
But then something swept Garrett's idyllic family dream away.
And, from Garrett's perspective, the worst part was it wasn't even his problem.
Garrett's sister had become the target of extreme bullying at school. As her struggles grew, Garrett watched his family's newfound structure pushed to the breaking point amid all the stress and frustration.
With a constant "pit in the bottom of my stomach," Garrett didn't fully understand what had happened to their lives. Everything had been on the upswing since his mother had remarried, but now life was taking yet another downturn — and he felt powerless to stop it. How had everything gone so wrong so quickly?
As his sister's trauma impacted Garrett's entire family, his once-good grades began to slip. He withdrew from social interactions in favor of video games, which allowed him to "get away from it all." He became defiant and disrespectful at home, refusing household chores and often displaying angry behavior.
Eventually, the family's problems became so great, Garrett's parents began searching for alternative schooling options. When Garrett's grandfather told his parents about Cal Farley's Boys Ranch, they saw an environment could help both their son and daughter heal their individual emotional wounds while providing the stability they needed and a solid education.
Today, about a year after coming to Boys Ranch, Garrett said he sees his life as on the mend.
"We've recovered a lot since we came to Boys Ranch," he said. "The chaos has definitely died down."
But a happy family life isn't the only thing Garrett is trying to recover at Boys Ranch.
His grades are back up. And, he's made some positive friendships and enjoys socializing again.
While recovery has been a strong theme for Garrett over his first year at Cal Farley's, growth and discovery have been, too, especially in his desire to follow Christ. Garrett said he wants to become a missionary when he's older.
"My goal is to be a missionary, to do well at seminary and further my knowledge about the Bible and Christ — and to bring a lot more people to Jesus," he said.
That's a goal Cal Farley's can help Garrett prepare for, too.
Through our Experiential Learning Program, Garrett was able to learn at the campus chapel under our chaplains what it might be like to have a career in ministry one day. E.L.P. enables youth to explore potential careers through hands-on experience in a variety of vocational fields.
"I ended up doing everything from learning what a missionary does and what a pastor does, to setting up a sound system, to sorting markers and colored pencils and crayons for Sunday school, to cleaning out light fixtures," Garrett smiled, his eagerness written all over his face.
But Garrett's favorite experiences have been the mission trips in nearby Amarillo, Texas, where he's learned to serve others the way a missionary might — in both large and small ways.
"Recently, I went on one where we were serving cupcakes to everyone," Garrett explained.

As he happily served cupcakes, Garrett's heart swelled with the knowledge he was making even a small difference in someone's life.
"It was that kid's smile after he ate his cupcake. There was a kid with his mom and big brother, and his eyes lit up when he ate that cupcake," Garrett said, explaining his desire to live a life of service. "I want to serve God. I want to do the most soul-satisfying thing while I'm still alive."
Serving others is something Garrett has seen modeled all around him at Cal Farley's. With children and adults from all walks of life around him, he hopes God will use him to impact his peers, now and in his future as a missionary.
"How am I supposed to melt frozen hearts? Only God can change that. I can't do that," Garrett said. "I know God will lead me."
Garrett is thankful for the opportunities he has at Cal Farley's, and for the people whose support has let him live someplace where he can rebuild his life and discover the passions that will shape his future.
"Thank you for making this place what it is today through your funding and prayers," he said. "The lives of the children out here wouldn't have been saved if it wasn't for your help."