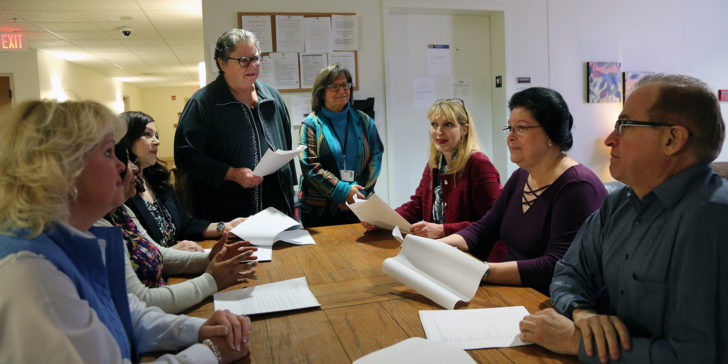 In a small office tucked away inside Cal Farley's organizational headquarters, Debra Holeman, a longtime employee, sits across her desk from a man enjoying his retirement years. Each sips on a Styrofoam cup of coffee, the conversation as warm as their tasty beverages.
A few doors down, Scholarship Coordinator Susan Miller fields a phone call from a recent graduate of Boys Ranch High School. Yes, she's doing well in school and getting along well with her college roommate. She's a bit concerned about her budget this month because her tires are looking a little warn, but she plans to pick up a few extra hours at work to take care of it.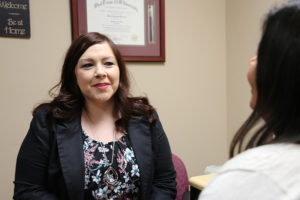 Thirty-six miles to the northwest, Boys Ranch alumnus and director of transitional living Don Hipp is counseling a high school student. The young man is looking ahead to life after Boys Ranch, and Hipp is helping him decide between two fields of study that pique his interest.
Like life itself, relationships aren't static. They're constantly changing as the people in them grow and mature.
That's true for the relationship between Cal Farley's and the young people we serve, too. Like the parent of a grown child, the men and women of Cal Farley's alumni support staff are available to our alumni with a listening ear, words of wisdom or the occasional helping hand.
"They know you're not biologically their mom and dad, but in a lot of aspects, you stand there in the place as the mom and dad they wish their biological mom and dad would be," said Cal Farley's Life Coach Shirley Eldridge. "But, you're the next best thing."
Longtime friends of Cal Farley's are familiar with our scholarship program, which helps Boys Ranch alumni pursue their educational goals, ranging from trade school to graduate degrees. Eldridge and her husband, Robert, manage Cal Farley's Alumni Support Independent Living Center. The ILC works hand-in-hand with other alumni support services, providing 11 dual-occupancy apartments to alumni who need short-term, low-cost living assistance as they attend college, establish their professional lives or who have no family to turn to as they transition into adulthood.
"I would say 90 percent of our work is kids who are just out of Boys Ranch that have maybe been gone two or three years. That's going to be the majority of our caseload," said Kim Reeves, Cal Farley's administrator of admissions and alumni support.
Like many young adults, it's not unusual for recent graduates to contact us with their successes – college honor roles, first jobs or meeting that special someone. But, Reeves' staff fields their share of struggles and questions, too.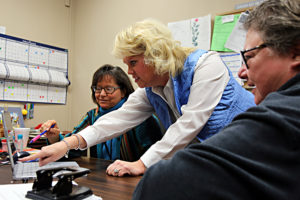 "How do I negotiate my first car purchase?"
"I have no idea what to do with this financial aid form."
"I'm facing a tough decision. Can I talk with you about it?"
The transition from Boys Ranch to the real world is an important time in our alumni's lives. Having an eager sounding board just a phone call away is an important part of ensuring their success, Reeves said.
"Life doesn't go according to plan," she said. "You just need some resources to get through."
According to Reeves, it's not unusual to hear a tear or two on the other side of the telephone line. Independent life in a great big, adult world can be pretty intimidating at times for a young man or woman just starting out.
"That is a very scary period of time. They're still figuring out what they want their lives to look like," she said. "They want to be independent, but they're still children in so many ways."
Whether a young man or woman wants to talk through a problem or needs assistance getting past a particular hurdle, Reeves and her staff provide the most appropriate care for the situation.
"We try to see where there are legitimate needs, and we fill them," Reeves explained. "We teach and we guide, and we listen as best we can. The majority of our service is relationship-building and connecting."
Not all alumni who contact Cal Farley's are recent graduates, though. With a history stretching back nearly 80 years, a number of the people who enter Reeves' office are in their golden years.
Whether it's sharing that occasional cup of coffee or giving a few tips to help polish a resume, each act of support is of supreme importance.
Regardless when a man or woman graduated or left Boys Ranch, Cal Farley's is still their home – their family.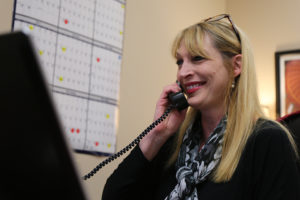 Occasionally, there are very sad times. A Cal Farley's alum who has outlived his friends and family may turn to us again at the sunset of their life – to get to a doctor's appointment or find a new home for a beloved pet after they're gone.
Or, to have a hand to hold when the end comes.
"They matter, they matter," Reeves said. "It's important to them. It is precious to us, too, to get to be a part of that. Those moments are really sad, but I would not trade it for a minute. It's a sad piece of what we do, but I'm glad that we are able to be a part of it."