Wendy: Focused on success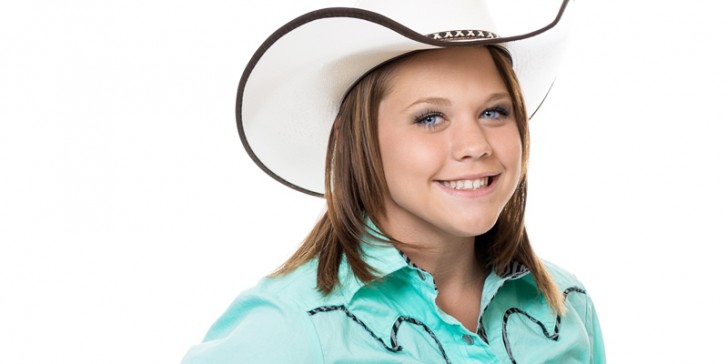 Wendy, 17, still recalls moving to Boys Ranch from Dallas as a seventh-grader. Up to that time, she'd lived with her parents, her aunt and her grandfather, attending six different schools in eight years.
As the youngest girl in her Boys Ranch home, she initially was nervous, but quickly settled in. She said her housemates joined Cal Farley's staff in making her feel welcome. Wendy said her time in Cal Farley's equine-therapy programs has taught her self-control and how to apply to her life the lessons presented by everyday circumstances.
"You can use anything that you learn – any day," she said. "After I realized how much progress I'd made (with horses), I had enough courage to say, 'I want to try out for rodeo. Maybe I have a chance.'"
One program, rhythmic riding, in particular, was of value to her, she said.
"You learn how to control yourself, but also how to control your horse — according to the beat of a certain song," Wendy said. "I wanted to do it every day … That was always fun."
Wendy competed this year in barrel racing, a longtime rodeo favorite, and goat tying, one of the new events in this 70th annual Boys Ranch Rodeo +adventureFEST. She said she's enjoyed perfecting her skills and enjoys the satisfaction these events give her.
[slideshow_deploy id='974′]
"It builds my confidence," Wendy explained, "because I see where I began, and I see where I am now. I've gotten a lot better, but I don't want to stop here. I want to keep getting better … It just pushes you that much, that little push you need.
"My favorite (rodeo) memory is when I first made a goat-tying run," she continued. "It was thrilling getting off a moving horse!"
Wendy enjoys watching the riders fly the colors to kick off the rodeo, and the sense of patriotism it gives her. She said she feels a special connection to Cal Farley's, and was honored to compete in the 70th annual Boys Ranch Rodeo, held in Cal Farley's 75th year of existence.
"(Cal Farley's has) been around a long time, longer than I've been alive," she remarked. "I feel like I'm helping with the tradition. It's special to be a part of."
Special, to be sure, but competing in front of thousands of people would make anyone a little nervous.
"It is going to be scary," Wendy predicted before her first event. "It'll be interesting, because I don't like a lot of attention. I'll pray about it … I guess I'll take a lot of deep breaths."
With the months of preparation and the intense competition, one could forgive Wendy if she had entered rodeo focused on the potential reward of an engraved belt buckle, awarded to the top three competitors in each event. The reality, however, is quite the contrary, as Wendy said nothing could be further from the truth.
"My goal?" Wendy said, "to beat myself — to beat what I've done best. That's the real prize. No pair of boots or buckle can ever take away the pride that you have for beating yourself."
Watch Wendy's interview by clicking below!