A Christmas dream come true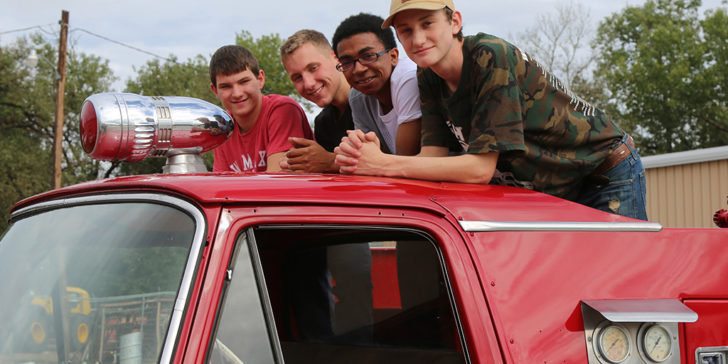 The glossy red 1962 fire truck could star on the cover of any Christmas card — just add a wreath, some snow under the tires, and maybe jolly old Saint Nick at the wheel. Classic.
The restoration of this picture-perfect fire truck wasn't very traditional at all, though. You'd never guess the time-intensive project was completed by a group of teenage boys. But, through the Experiential Learning Program at Cal Farley's, Caleb, Hauk, Kenyon, Sebastian, Tony, Hank, Joseph and Taylor have done just that.
"I think everyone is proud of what we've done," said Caleb, 16. "We're going to have it displayed one day, and we'll come back and look at it and we'll remember, 'Hey, I helped do that.'"
E.L.P. prepares Cal Farley's youth for potential careers through hands-on experience in a variety of vocational fields, including automotive repair and body work. The young people even earn industry certifications that make them more attractive to potential employers. It took the boys in the Boys Ranch body shop about a year to return this truck to its former glory.
The fire truck was donated to Cal Farley's by the Texas Panhandle Firemen's Association in 1962. Funding the donation of the then brand new truck involved 1,200 firemen in 45 Texas Panhandle communities. Some 55 years later, the fire truck, which has spent its entire working life at Boys Ranch, has about 6,400 original miles. But, over time, wear and tear played its toll on the workhorse, and newer models eventually replaced it.
But at Cal Farley's, everything — and everyone — has a purpose, no matter their past. So, this faded old fire truck was given a new lease on life as an E.L.P. project. Deconstructing the truck's body, hammering out dents and dings in its surface, sanding away years of faded and chipped paint, and meticulously applying a glossy red finish, the boys have spent hours restoring the fire truck's original 1962 luster. And, they're not finished yet. There are still wheels to paint and chrome to refinish. Through all they've learned on this project, the teens have honed skills that will serve them in future careers.
Hauk, 17, wants to own his own garage one day, so learning such skills in the auto body shop was an intuitive move for him.
"I've heard there's good money in it, and it's easy if you like doing it," he said. "It's just always something I wanted to do."
Hauk and his peers have gained valuable knowledge with practical applications: jacks can fail, so protect your limbs accordingly; don't paint too closely to the project surface to prevent runs; lift with your legs; respect the power and force of the machines around you.
But more importantly, they've learned more intangible lessons they've started applying in their everyday lives — lessons on the value of teamwork, communication, work ethic and stress management.
Kansas native Sebastian, 16, learned that walking away from a frustrating situation can help him regain his composure.
"Our mentor told me that when you get mad at something, just be patient. Walk away and go work on something else to relieve that stress and then come back to it.
Now, when someone frustrates him, Sebastian is more likely to step back and work out his feelings by listening to music or working on a project rather than acting impulsively.
Hauk said he, too, learned to channel everyday frustrations into something productive.
"After a stressful day at school, putting a lot of energy behind that torque wrench helps a lot," he chuckled.
For his part, Caleb now understands the intangible rewards hard work and dedication.
"There were days when you were really tired after school," he said. "But then you start working on (the fire truck), and you find energy. Now, seeing it when it's looking fantastic, you can tell some sweat was put into it … That feeling is amazing."
All of the boys agreed on that point: You get back what you put in to something. They've applied themselves meticulously on the fire truck so far, and their efforts are visually evident.
If they apply the same effort and care to other aspects of life, won't results follow? It's that question – and the logical answer that follows – that Cal Farley's programs are designed to inspire.
Tony, 17 and a Virginia native, certainly believes in the concept.
"For Christmas, I want to know how to get along with my family. It's something I'm working on here," he explained.