Faithlynn & Nevaeh: The best gift of all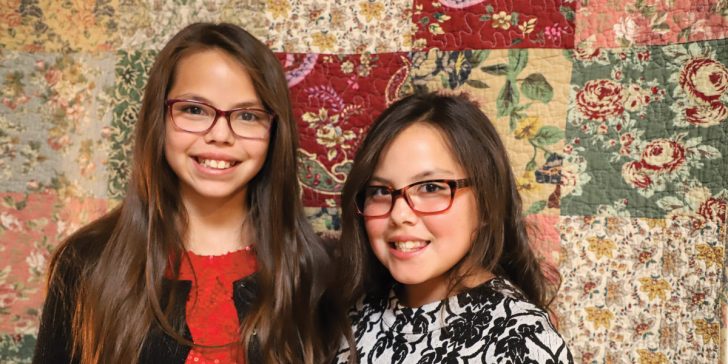 If you ask sisters Faithlynn, 11, and Nevaeh, 10, what they want most for Christmas, they are quick to give the same answer: They want to give their dad some big hugs.
For the first time ever, they anticipate spending the extended holiday at their grandmother's home with their father, whom they've only known through prison visits.
Just 10 months apart in age, Faithlynn's and Nevaeh's father has been incarcerated almost their entire young lives. They have had only occasional visits with him over the years.
Their paternal grandmother, who is also their guardian, has made sure the girls know their father. Faithlynn and Nevaeh ('heaven' spelled backward) had been living with their grandmother, who they call 'mom' in a house with two biological brothers and one uncle. Four of the children were sharing the same bedroom.
At Cal Farley's Boys Ranch, though, the young ladies have their own space. Since their arrival, the two have been working diligently to curtail some unhealthy behaviors that had crept into their young lives: talking back, being disrespectful, refusing to do chores and forgetting to use their manners.
"The growth I have seen in Nevaeh's attitude about life has been great!" said houseparent Ashley Todd. "She is taking care of her everyday responsibilities, which was a struggle in the beginning."
Todd said Faithlynn's biggest struggle has been trying to learn not to tell others, especially Nevaeh, what to do or how to do it. Faithlynn, being slightly older, had taken on a parental role, as children often do when adults are absent.
"We have seen her start living as a kid," said Todd. "She's been working hard on focusing on herself and what she needs to take care of."
Both Nevaeh and Faithlynn have been very curious about God and what having a relationship with Him looks like.
"They love to volunteer to pray at meals, during Sunday school and even before school," Todd said with a smile.
"We have talked about what the love of Jesus looks like and I have witnessed both girls show that compassion to their friends, girls in the home and others in the community," Todd described.
"Things are good since we came out here," said Nevaeh.
The girls are excited to visit their grandmother's home during their Christmas break.
"We have homemade menudo and tamales," Nevaeh shared.
Nevaeh smiled as she remembered her mother and other visiting relatives staying up into the night each Christmas making those delicious homemade tamales and Mexican soup.
"We put lots and lots of ornaments, row by row, on the tree and then we put the angel on the top," Faithlynn said. "Our angel at my grandmother's has a gold crown, beautiful white wings and a dress with pretties on it. The angel represents God."
Prayer remains a big part of their holiday. The family gathers in a circle and holds hands during a blessing.
Faithlynn, more naturally outgoing, brings her palms together and closed her eyes: "Heavenly Father, thank You for dying for our sins … and happy birthday to you!"
She opened one eye and inquired in a way only a child can, "You do know that Jesus was born on Christmas, right?"
Faithlynn further theorized about the Savior.
"Jesus knows before we do, what we will say, and he knows what we're doing right now."
Gifts come and go, the girls agree. But the special blessing of seeing their dad at grandmother's this year will be, they say, the best Christmas present ever!