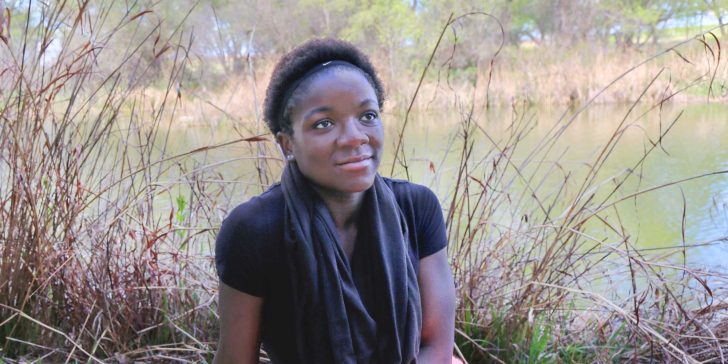 Peace. In a world filled with violence and social, religious or political turmoil, few goals are as equally noble and elusive. But, as important as the goal itself are the special people who seek to bring peace to their world, on whatever scale they're able.
At only 14 years old, Faith is just such a person.
"I want to be a person people can come to, a person people can trust," she said.
Faith's quest for peace is a very personal one. Born in Liberia during that country's second civil war, Faith spent her earliest years in an African orphanage until a missionary couple adopted her and brought her back with them to the United States.
"I spent two or three years here," she said of her new home country, "then, we moved back to Cameroon, because my mom did missionary work."
Before their return to the African mission field, Faith and her family lived in Alabama, where Faith adjusted to her new life and attended her first American school.
"It was pretty nice," she remembered. "I didn't know how to speak English at that time, so my mom had to teach me. And, I was kind of a stubborn girl. I wasn't used to my family."
Over the next couple of years, Faith's stubbornness, as she described it, grew more troublesome. Although she earned excellent grades, she became increasingly willful with her parents, who weren't quite prepared for the emotional issues faith brought with her from her war-torn country. She was especially difficult with her mother. As a result, fighting became a common occurrence in the house.
"I was stubborn and I wouldn't do what I was supposed to, so I always got into trouble," she said. "And, my family and I would fight."
Faith's family wanted the best for her, of course, and their search for the proper help led them to Cal Farley's.
Initially, Faith was hesitant about being away from her family, but she'd learned a lot about the opportunities Cal Farley's had to offer — excellent schools and lots of fun activities, like basketball and tennis. She decided to make the most of the experience.
The truth is, Faith was tired. She was tired of fighting with her family, tired of that unsettled feeling inside.
She wanted peace.
Faith chuckled, though, remembering the less-than-ideal way she handled that desire upon her arrival at her new Boys Ranch home. As Faith arrived, two of her house mates began arguing while their house parents' attention was directed at Faith.
Though it was just a minor situation, Faith wanted none of it. This Boys Ranch place was a chance to start over, and she didn't want the discord she knew at home to follow her here.
"The first words that came out of my mouth, I yelled at them: 'Stop arguing!' because I didn't like it," she laughed.
Her reaction caught everyone off guard. Faith got her point across, but she had much to learn about resolving conflict.
In the years that followed — nearly six of them, now — Faith has found herself drawn to programs at Boys Ranch that stress interpersonal connections and ways to identify the root causes of conflicts, both between people and conflicts within herself.
"
"I like … when we (serve others)," Faith said. "I like helping people out, seeing how different people live. Because, you can use that in your life. If you see someone who needs help, you can help them out."
Faith enjoys talking with her chapel staff mentors, learning about God and sharing that understanding with her younger Boys Ranch peers, with whom she interacts through Cal Farley's Experiential Learning Program — "showing them Who God really is and how He can help in our lives."
Her Boys Ranch experience has given Faith a new perspective on her past behavior.
"Now, I see that I was stubborn, and I try to be more respectful of people — the opposite of stubborn."
Though she knows she's still learning and maturing, Faith said she's working to mend her relationship with her mother. She hopes her past struggles will make their relationship stronger in the long-term.
"I try to explain the situation that's happening, so we can both understand better," she said. "I hope that we'll get our problems worked out, that we can find a way to understand each other."
As this young peacemaker grows, Faith is enjoying the accepting environment in which she lives. Like many girls her age, she enjoys cheerleading, singing in her school choir and baking cookies with her home. And, she carries a strong feeling of gratitude for the many friends she's never met, the men and women who support her Cal Farley's home.
"Thank you for all of your loving and caring for me," she said. "You're a big part of my life."