Savannah: Enjoying God's gift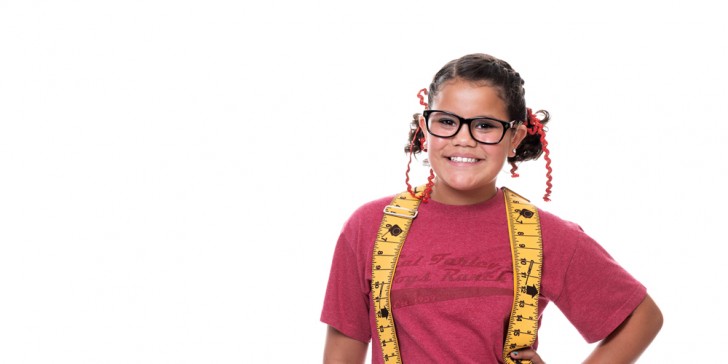 Savannah grinned from ear to ear, her outgoing personality easily matching the brightly colored attire that signals her role as a Cal Farley's funnyman.
"I like horses, and I really wanted to learn more about the horses," she said, recalling her motivation last year to get involved in the annual Boys Ranch Rodeo +adventureFEST, benefitting the boys and girls of Cal Farley's. "Learning how to saddle them up faster, going through the loping and … going around stuff with the horses" – it's all fun for this energetic 11-year-old.
In addition to her funnyman responsibilities, Savannah took on senior calves in this year's 70th annual Boys Ranch Rodeo. She said her favorite rodeo memory was last year, when she rode a calf longer than she'd ever done so before. She loved the sense of accomplishment it gave her, said Caseworker Kaitlynn Peiris.
A native of Austin, Texas, Savannah came to Cal Farley's about a year ago because she was struggling at home. She remains close to her family, and though she hopes her performance thrills the crowd Labor Day weekend, Savannah especially hopes to make her family proud.
"My mom really (wanted) me to be in rodeo, so I decided to work really hard," she laughed, adding that having the large crowd cheer for her made her very happy.
Outside the rodeo arena, Savannah is like any other girl, enjoying the time she spends with her Boys Ranch family.
"Sometimes, we play board games, do dominoes," she smiled. "We do a lot of things inside, and we do the swings and everything. (I enjoy) playing with my friends outside and inside – and making more friends. It's really fun."
Fun, too, is passing on the skills she's learned from her Cal Farley's mentors.
"(I like) teaching more people about those horses and saddles, because some people really don't know," she said. "They haven't been around horses before."
But horsemanship isn't the only thing Savannah has learned at Boys Ranch. She's thriving in ways that will stay with her forever.
"I've learned to have more confidence in myself," she said. "Sometimes, I'm scared to (try new things), because maybe bad things have happened to me before. But, I've learned to have more confidence in myself to do it again until I get it right."
It's been a remarkable year of growth for Savannah, but she's not surprised. Her mother predicted as much during the long drive from Austin.
"My mom told me it's a great gift from God, to give me this," Savannah said.