Emily: Achieving greatness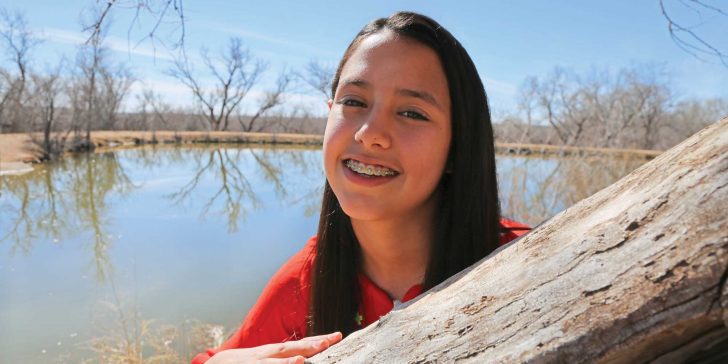 "Everything I have is based on … what (the donors have) done for this organization," Emily, 15, said, reflectively. "I'm just grateful."
Emily's gratitude is a testament to the 10 years she's spent at Cal Farley's. She and her older siblings, LeAnn and Christian, came to Boys Ranch when Emily was only five. And, while Emily does not remember a lot from that time, it's clear her grandparents made a very hard decision after receiving custody of the children.
They'd had a tumultuous start in life. Their mother's personal struggles resulted in their living with their grandparents, but Emily's grandparents grappled with worries of their own. They feared their age was inhibiting them from successfully raising three energetic children. And, worse, what if something happened to leave the children without anyone to properly care for them?
A reputation of excellence
Emily's grandparents knew Cal Farley's reputation for teaching youth life skills and Christian values. They saw in Cal Farley's the opportunity for the children to thrive.
"(Their decision) has helped me a lot," Emily said. "I don't know where I'd be without (Cal Farley's)."
And, Emily is flourishing. Now a high school freshman, she receives straight-As and is very athletic. She also participates in Boys Ranch's Youth Leadership Organization, a program that is instilling the importance of making meaningful contributions to one's community.
"You're supposed to be a role model to others and … set a good example," she explained. "So, I like that."
Faith & structure
Emily also said Cal Farley's provides structure that has been vital to her growth. She appreciates faith's integration into daily campus life.
"As I got older, I (wanted) to know more about God," she said. "I do more activities now that involve God because I'm trying to get closer (to) Him."
With Cal Farley's help, Emily looks forward to putting the skills and tools she's gained here to work in an independent life, just as her brother and sister now do.
She summed up her philosophy quite simply: "Give it all you have in everything you do … Strive to get better."
"
"I don't know where I'd be without (Cal Farley's)."