Elizabeth: Changing her outlook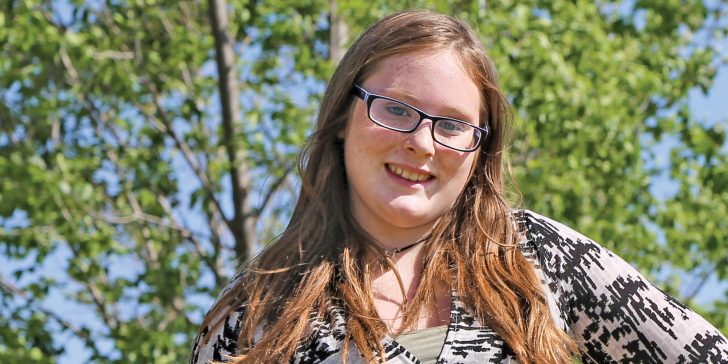 One day, solving problems will be a piece of cake — a cupcake, that is.
There was a time, not that long ago, really, when Elizabeth, 15, withdrew from difficult situations. Once, she even locked herself in her family's bathroom for an hour to avoid a situation she didn't like, being coaxed out only with a favorite cupcake.
"My biggest struggle, dealing w/other people," she acknowledged. "It's complicated, because you have to live with that person — Every. Single. Second. Of your life! But, it's really pretty cool, because you get to learn (each other's ways)."
That recognition already is a sign of the changes taking place in Elizabeth's life. In her short time at Cal Farley's, all 10 months and four days of it (see inset*), she's learned to identify some of the root causes of conflict in her life, and is beginning to understand how to better avoid or resolve those issues.
But, life wasn't always so hopeful for Elizabeth. Her family moved to Austin, Texas, when she was four years old. In her schools there, Elizabeth experienced rejection and, later, harsh bullying from her peers. Her daily encounters with other students grated on Elizabeth; over time, she grew increasingly isolated, stressed and angry.
"I've always been bullied, my whole life," Elizabeth said. "(I) was stressed, pulling out (my) hair — I mean, so mad. I would get so much pressure on me, I would (act) out in school."
As the pressure compounded with Elizabeth's own internal frustrations, she began expressing all that pent-up anger in unproductive and even self-destructive ways at home, too.
"I would go and hide food from the cabinets. (My parents) started locking up the cabinets and the refrigerator," she said. "(It caused) a lot of conflicts at home. I would get mad about every little thing because I was so stressed. I would have these fits where I would go around knocking over everything."
Elizabeth's behavior did more than just cause frustration for her family. It drove a wedge between her and them, as she perceived favoritism directed toward her better-behaved sister. Her mother became a convenient focus for Elizabeth's frustrations and, before long, their relationship was in tatters.
Her parents sought professional help, but Elizabeth's psychiatrist suggested a new option — placement at Cal Farley's.
Fortunately, Cal Farley's operates a community office in Austin, where her family met Amanda Martin, a family case manager who assisted the family in assessing Elizabeth's needs and helping her parents understand the motivations behind their daughter's behavior.
"(Elizabeth's parents) … participated in adolescent brain-development training," Martin said, "to get a better understanding of how children's brains develop and why some behaviors come at certain stages of development."
To Elizabeth, though, the idea of placement was understandably intimidating.
"I worked very closely with Elizabeth to prepare her and the family for transition to placement and the adjustments they could expect to have," Martin said.
When Elizabeth arrived on campus, the sight of a variety of animals — especially the horses — began to open her mind to this new opportunity. The welcoming atmosphere from both staff and residents, too, helped her settle in. Elizabeth, who hopes to attend college and one day become a veterinarian, found she enjoyed her Boys Ranch school, and was able to explore her interest in the arts, too.
"
I love any animals whatsoever. I love them … I love the experience out here," she said. "They have so many animals (and) they have literally one-on-one time with the teachers. … I'm learning things that I didn't even know about myself."
One of Elizabeth's most memorable experiences at Cal Farley's was the brisk evening when she joined a group of girls on a "prayer ride." During prayer rides, groups of boys or girls venture on horseback across an arid, rocky expanse adjacent to the Boys Ranch campus. There, they spend time in reflection, self-commitment and prayer.
"It was just peaceful … It was like an experience you get to do once in a lifetime," Elizabeth said, adding with a sly grin, "unless you live at Boys Ranch. And then, you get to do it a lot."
During one prayer ride, Elizabeth did have a close encounter of a very unexpected kind.
"I was going off to get a rock (Residents write personal struggles or subjects of prayer on small stones, then build them into a pile.), when all of a sudden, this random owl comes out of nowhere and … just took off (right over my head)," she said.
It's one of many experiences at Cal Farley's Elizabeth shares with her family, with whom she speaks once or twice each week.
"There's no more conflict. We talk a lot," she said.
In addition to learning ways to resolve conflicts with others, Elizabeth is gaining valuable skills she can use in the real world one day, thanks to Cal Farley's vocational training program, as well as basic life skills like teamwork when cleaning the room she shares in her Boys Ranch group home.
"Since you have a small part of the room, with three other girls, you're learning to do your part of the job," she said.
Elizabeth's first 10 months have been filled with learning, but she's already seeing the impact of her time at Cal Farley's.
"(My outlook), it's changed a lot, actually … It's really good."