Dusty: A turn for the best
Dusty determined to make the most of opportunities at Cal Farley's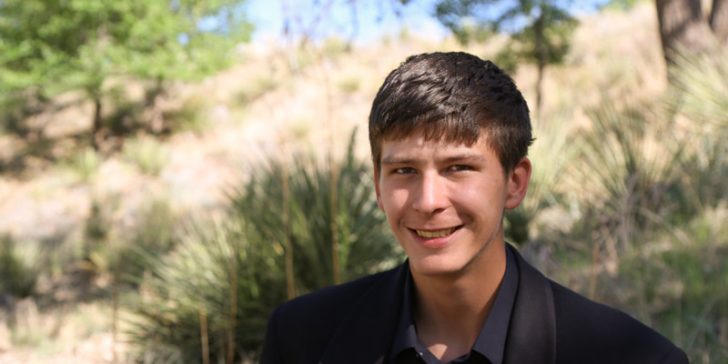 "I came (to Cal Farley's) stubborn, wanting to do my own thing," the young man said, considering the person he was. "I thought the world revolved around me, but it didn't."
Dustin, or Dusty as his friends know him, brushed his hand through his dark brown hair, his eyes widening as his thoughts brought him forward in time — forward to the more responsible 17-year-old he is today. He looked up with a soft smile.
"Boys Ranch changed that."
Dusty's parents' relationship was a rocky one, and ended when their son was only a few months old. While Dusty initially remained with his mother, he went back and forth between his parents during his early years. By the time he was 10, both his parents had remarried. Young Dusty didn't bond with either of his step-parents.
Aside from these relational struggles at home, Dusty grew up much like any young man in Central Texas. He learned to hunt deer and became a skillful angler, pulling bass, carp or catfish from his local fishing holes.
Where Dusty wasn't skilled, though, was in his school classrooms. He struggled to keep passing grades, and recalled skipping class on occasions as a way to avoid facing his problems.
"I would show up and leave my stuff," Dusty recalled, explaining how his absence went unnoticed. "I went to a (large) school … I would ask to go to the restroom, and then leave."
Dusty's lack of effort at school — not finishing some assignments, while not bothering with others at all — quickly grew out of hand.
"I didn't know a lot (that was going on) at school. I failed a bunch of classes. I was behind academically," Dusty said.
Instead of heading into his third year of high school with years of academic success under his belt, Dusty's lack of achievement saw him enter the school year missing some of the classes he'd need to graduate and, more importantly, lacking the motivation and self-esteem to do anything about it.
"I was missing quite a few credits. I barely qualified to be a junior," he said. "If I wouldn't have (come to Cal Farley's), I would have failed all my classes."
Dusty's parents knew their son needed purpose. He needed help finding the drive to pursue the accomplishments he was capable of. As they considered how to best help Dusty, they remembered a former family babysitter once talking about an organization she knew about. Cal Farley's, she'd said, was a place where young people could find purpose and the power to achieve their potential.
Could Cal Farley's help Dusty, too?
A change on the horizon
At first, Dusty wasn't so sure. He and his father came to see Boys Ranch. Dusty was surprised by the colorful stone buildings and all the activities available for the young people living there.
"They were just so sweet and nice and welcoming with open arms," Dusty remembered.
More than a year later, Dusty is still astonished at the opportunities Boys Ranch offered him.

"I think about what could've happened, who I would've been," he said.
Not long after coming to Cal Farley's, Dusty began pursuing his interests in rodeo and horticulture. Learning close beside his Boys Ranch mentors, Dusty began to see how concepts he was hearing about in his new Boys Ranch classrooms were applied in the real world.
Dusty still recalls his first day learning to ride a horse, naming it among his favorite Boys Ranch memories.
"You're always a little nervous when you first get up there … I did alright. I didn't do the best. I didn't do the worst. But, I got it done."
For the first time in years, Dusty wanted to succeed in something. It was enough to light a spark.
"
"You have to take advantage of what you're given. You have ample opportunities at Cal Farley's. There's no day like today!"
"I got my work done. I got my credits back," Dusty said, admitting that he took a little while to fully come around. "I went in there … still rebellious. But, I grew up."
As with so many of Cal Farley's programs for young people like Dusty, the key was helping him form strong relationships with people who could model behavior for Dusty to emulate.
"I made a lot of new friends out here, have close relationships with teachers," Dusty acknowledged. "I have people to talk to now."
From his caseworker and house parents to his experiential learning mentor, Cal Farley's provides Dusty with caring people who offer a sounding board and sound guidance as he plans for his future.
The relationships Dusty has formed at Cal Farley's opened his mind to the role of God in his life, too.
"(Before Cal Farley's), I didn't have time for Him, didn't care," Dusty said. "Then I moved here … A friend of mind is a real die-hard Christian. He just kept talking to me about Him."
At first, Dusty was firm in his rejection of faith.
"I kept telling him to go away. Then, he just got to me one day. I sat down and we talked about Him for two or three hours."
From that conversation in a Cal Farley's home, Dusty began to recognize God's presence in his life and began to open himself up to a more personal relationship with Christ.
"God's here, and He's here to help," Dusty confirmed. "I've just been … diving into the knowledge of God."
Dusty's time at Cal Farley's has equipped him with the promise of a solid education, a strong sense of belonging and a purpose he never had before. As he looks ahead to that day when he strikes out on his own, Dusty knows he's prepared to pursue his dream of becoming a firefighter and emergency medical technician.
And, then?
A grin crept across Dusty's face.
"I plan to go … where the work takes me."
Dusty knows his life would have been much different, were it not for Cal Farley's. Instead of an uncertain young man lacking direction and struggling to succeed, Dusty is determined to make the most of the chance Cal Farley's gave him to change his life.
"You have to take advantage of what you're given," Dusty said. "You have ample opportunities at Cal Farley's. There's no day like today!"