Dustin: A growing faith promises a better future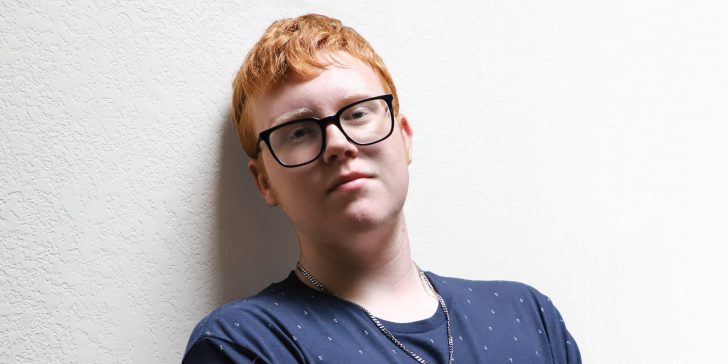 Dustin is learning to venture out of his comfort zone
As one of the tallest boys in Jefferies Home, Dustin, 16, will likely put the star on top of the tree this Christmas. It will be his third year to help his Cal Farley's Boys Ranch family celebrate the birth of Christ. With a faith that is growing as strong as he is tall, Dustin's life is demonstrably better than it was in 2013.
"I wasn't doing good in life. I was depressed," he recalled.
A virtual swarm of family issues were causing him stress. Dustin's grandmother wanted to help him. She knew Boys Ranch offered him the peace and stability he needed. Yet, Dustin was worried.
"I didn't want to leave my grandmother, who was the only mother figure I'd ever known. I was scared of a whole new world," he admitted.
But, Dustin faced those fears, agreeing to join his grandmother for a campus tour to discuss a possible move to Boys Ranch. The day after his visit, Dustin himself made the call to the caseworker asking to move forward.
"It was the best decision I've ever made," he declared.
Dustin was in dire need of finding peace in his life. In his loneliness and pain, he'd had fleeting thoughts of hurting himself. He needed a place where he would fit in and where trusted adults could help him work through his teenage baggage. He'd been with his grandmother since infancy. His relationship with his mom, who battled serious issues of her own, was more like that of siblings; his father lived three states away.
Growing up, Dustin had centered his life around his grandmother — and video games. He struggled with friendships because he never wanted to leave the house. His bright auburn hair had made him a target for bullying as far back as he can remember.
"My grandmother would tell me that I had to go and make some friends, try new things," he remembered.
She knew the isolation was not a good thing. Dustin's insecurities usually brought on conflict in the form of an argument or a tantrum. Luckily for him, Boys Ranch is a place where healthy conflict usually gives way to productive growth.
"My life here, at the ranch, has been astonishing and amazing," Dustin shared. "Before ranch, I was antisocial. I didn't feel like I fit in. But, I'm loved here! I have tons of friends. I'm not sad anymore. I'm so much better here. I've fallen in love with this place. I've experienced so many things. It has changed me mentally, physically, spiritually. I've tried so many new things. It has been quite the journey!"
In our healing community, Dustin participates in counseling groups and therapeutic activities.
Dustin said being around some godly, good men at Boys Ranch has been key to helping him return to a place of mental peace and self-love.
"(Equine director Mike) Lowe, (houseparent Jon) Grantham and (former houseparent Cliff) Goss have all been great father figures for me and helped me connect," Dustin noted, referring to three house dads he's lived with.
Senior Chaplain Mike Wilhelm has also been a change agent for this high school freshman.
"He's taught me so much about maintaining a relationship with God, staying close, keeping that relationship good, holding on to that relationship and the purpose of it." Dustin said.
For his part, Wilhelm described Dustin as having a warm heart and strong character.
"He is particularly kind and thoughtful, consistently showing respect to others and always quick to say 'thank you,'" Wilhelm said.
Dustin said he knew about Jesus long before he came to Boys Ranch, and he loves going to chapel and participating in home devotionals. Being among others who make serving the Savior a priority has only strengthened this young man's dreams for the future he now knows he will have.
"My grandmother is pretty devout, and she had me going to Sunday school as a preschooler," he said.
Christmases were important and Dustin remembers them as being happy times growing up.
"It wasn't until I arrived here that I realized the real impact Jesus has on my life. This place has brought me way closer to God. I now fully realize my life is out in front of me and I have so much to look forward to."