Dillan: 'The man I need to be'
Dillan beginning to see a new future taking shape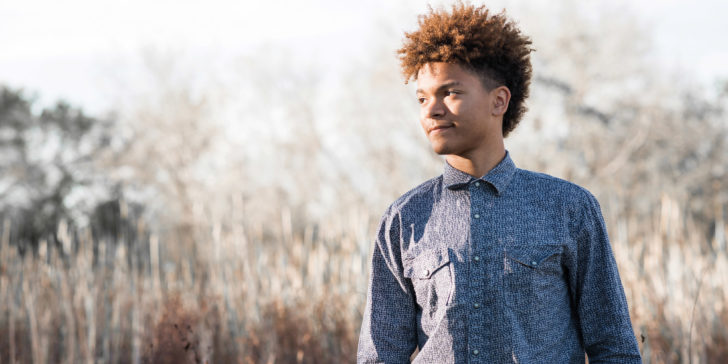 Here, I'm reading the Bible every day," Dillan, 15, said. "Talking to God all the time — praying to Him about anything and everything."
Brand new to Cal Farley's, Dillan is still settling into life at Boys Ranch, learning to feel comfortable reaching out to our caring staff and making friends with his peers.
But, the Plano, Texas, native said he is also discovering Christ to be a faithful companion.
"When I feel like I can't talk to anyone else, I can talk to God," Dillan reflected. "No matter what's going on, Christ is always there in the midst of it."
"
I thought, I need to go. This is something I need to do to change who I am, to form me into the man I need to be.
In our Christ-centered environment, Dillan is exploring what it means to have a relationship with God. He said experiences like weekly chapel services, his group home's mid-week devotional studies and prayer times make that much easier. Dillan said talking with God is helping him focus on life's bigger picture and make the right choices, something he said was lacking at home.
"I wasn't focused. I didn't know what I wanted to do," Dillan admitted. "It wasn't like I wanted to do bad things, but I didn't not want to do them."
Dillan's devil-may-care attitude and general lack of focus led to his getting himself into all sorts of trouble, both at school and at home.
Dillan was incredibly bright and insightful. But, his refusal to complete class assignments or homework brought a mountain of below-average grades. And, over time, Dillan grew to become a disruptive force in the classroom, which led to frequent conflict with his teachers. He even joined a sort of "fight club" at school, where participants shoved and punched each other for sport.
At home, Dillan defied his parents' authority at every turn. Taking advantage of a lack of supervision when his step-father traveled on business, Dillan would sneak out of the house to meet up with friends. At one point, he even took his mother's car on a joy ride. Such repeated transgressions destroyed whatever trust his parents had left in their son.
"They didn't believe I could make the right decisions," Dillan recalled.
Tensions within the household continued to rise, and the family could only agree on one thing — they needed help. Dillan's parents were desperate for a solution to reach their son. He was so smart, yet he seemed unreachable.
When they learned about how Cal Farley's worked with young people just like Dillan, how our caring professionals meet their needs in a Christ-centered environment and without asking for payment from those we serve, it seemed the perfect solution for their family's frustrations.
For his part, Dillan was excited by the opportunity.
"I thought, I need to go. This is something I need to do to change who I am, to form me into the man I need to be."
Dillan has only been at Boys Ranch a short time, but he already knows the man he 'needs to be' must have a healthier, more constructive mindset. Inspired by the example around him at Cal Farley's, Dillan is exploring his relationship with God, hoping to mend his relationship with his parents and is beginning to see the success that comes with applying himself in school.
Dillan knows his journey is just starting, and he has many issues left to address. But, his outlook on the future is quickly changing.
"Back at home, I didn't see myself going anywhere," he said. "I was just worried about what I was doing — I wanted to go to this party, I wanted to have fun. Now, I'm thinking about where I want to go to college. Now, I can actually see a future for myself."