Desiree: The promise of change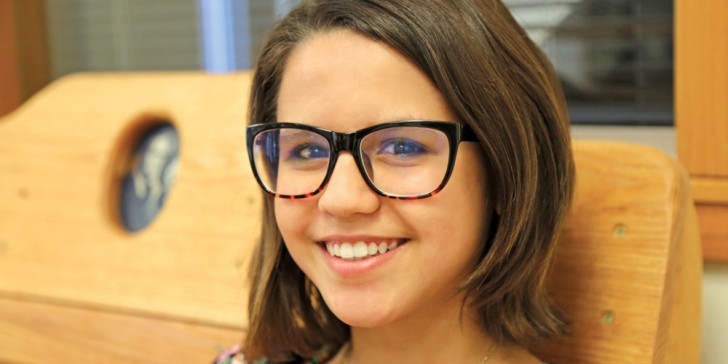 From the moment she set foot on Cal Farley's Boys Ranch campus, just six months or so ago, Desiree has had some big expectations of us — and of herself, too.
"I wanted to come here," she said, going on to describe the choice her family gave her — to stay with them, or to try to change her life by coming to Cal Farley's.
"My (adoptive) mom would always cry because of me, and I didn't like that," Desiree said. "I'd end up crying because they're my family. … Every time I would do something bad … either at home or school … it would really hurt my mother. It would make my mom cry, and I hated that."
Desiree didn't like to disappoint her family. And, the frustration her impulsive actions caused them troubled her. That she couldn't understand what drove her to be so unruly or to take things that didn't belong to her only made the precocious 12-year-old feel worse.
"
I don't know why I did that stuff," Desiree reflected. "I guess I did a lot without thinking. I do stuff sometimes — I act without thinking before I do it."
Things weren't always like this for Desiree and her family. She'd had a rocky start in life but, for a time, things seemed so promising. Born to a troubled couple, Desiree was shuffled from relative to relative her first couple of years. And, when her grandparents, who she was living with, divorced, circumstances prompted them to seek new caretakers for Desiree.
"They were talking to people, asking if anyone wanted to adopt a little girl," Desiree said.
One of her grandfather's co-workers was related to just such a couple. It didn't take long to sort out the details, and Desiree had a permanent home with parents who loved her.
Desiree thrived in her new home, and continues to enjoy being with her adoptive parents.
"It's fun, because I know that they love me and they care about me. And, I know that they'll never give me up. I have an older brother, even though he gets really annoying," she said with a smile.
For years, Desiree lived like any other child: laughing, playing, making friends and, occasionally, getting into trouble of one sort or another. But, about the time Desiree turned 10, her spontaneous nature took a troubling turn.
"(I was) mainly stealing small things from teachers, like pens and stuff off their desk," she said. "It was never really anything very big, but just always taking something small."
Desiree's parents tried warnings and punishments. They pleaded with her, and sought counseling and other help wherever they could find it. But, her compulsive behavior, and the lies that followed it, continued.
"They would tell me not to do that. They would also ground me or, when I was younger, I'd have to stand in a corner … or have a privilege taken away," Desiree explained. "They'd ask me why I do the things I do, and I'd say 'I don't know why.'"
Desiree's parents were reaching a breaking point. Their daughter had so much promise — she was creative and so academically gifted — there had to be someone who could help her.
For her part, Desiree, too, wanted to change. As a Christian, she said she hated feeling like she was letting God down. But, watching the strain on her parents was the hardest.
"I was putting the most stress on my mom. And, to me, she's like my one-and-only family," Desiree said. "My mom is my best friend, she always has been."
As Desiree's family talked over ideas to help her, they realized the answer might lie in the chiseled mesas of the Texas Panhandle, where Desiree's mother spent part of her childhood. They remembered hearing how Cal Farley's offered a place for struggling children to find new hope for a better life.
"My mom looked it up online," Desiree said. "She told me about it, how … it's a place for kids who need a little extra help."
Before she knew it, Desiree had been accepted to Cal Farley's flagship residential program at Boys Ranch. She brought with her two major expectations: first, that Boys Ranch was a place with people who could help her become the young woman she desired to be and, second, that it probably wouldn't be a place where she'd have a lot of fun. But, if it worked, it'd be worth it.
As it turned out, though, she didn't have to choose between fun and a new life.
"I expected it'd be," Desiree paused, "not as good as this … It seems really big, but everything's in walking distance, so that makes it really small."
And, while her time at Cal Farley's is really just beginning, Desiree already sees the impact of being in an entire community focused on her wellbeing. She's continuing to learn who she is and what motivates her behavior, for better or worse, and she's seen an improvement in her spiritual life, as well.
"I've grown toward Him more," she said. "I thought I wasn't a true Christian, because of those things I was doing. … Then, I came out here, and I guess it got better, because I started reading my Bible more."
Desiree and one of her roommates, Sarah, are reading a book Desiree received titled "God Loves You." The girls enjoy reading selections from the book, then discussing their thoughts on what they've read.
It's just one of Desiree's favorite activities at Boys Ranch.
"I like to be outside most of the time. Or … I'll be in my room drawing or I'll be reading (because I love to read), or, then, I'll probably be playing basketball or I'll be at the gazebo talking to my friends."
Desiree also enjoyed taking part in Girls in the Middle, a Boys Ranch program to encourage middle school-age girls.
"We've done a painting on I Timothy 4:12, which is 'Don't let anyone look down on you because you are young, but set an example to believers in faith, in purity, in love, in conduct.' That's one of my favorite verses," she said.
And, while Desiree enjoys the reading, playing and drawing creative floral designs, she said living out her spiritual commitment is one of the most important parts of her life, and that her experiences at Cal Farley's are helping her become more like her role models, her parents.
"They're people of God, and they live life to the fullest," she smiled. "They care about the world. They care about God. They care about each other. They care about their family. To me, that seems like the best life ever."
In a year or two, Desiree hopes to reunify with her family. And, while she doesn't know exactly how long she'll stay at Cal Farley's, Desiree is determined to make the most of every minute.
"I want to actually stay here until I know I'm ready to leave, and I won't go back to my old ways," she said.
That's pretty mature thinking from a girl who's been in Cal Farley's care such a short time. But, as she sees her life beginning to change, Desiree said she's very grateful for the opportunity.
"Thank you for letting me come out here," she said, "so my life can be better than it was before."