Deborah: Living the life God gave her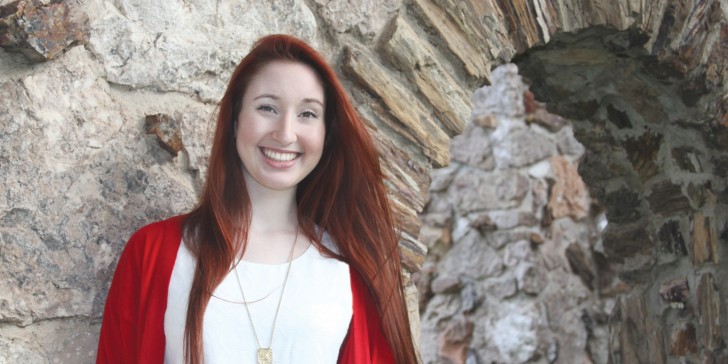 In a small study room at West Texas A&M University in the cozy town of Canyon, Texas, sat Deborah, a Cal Farley's alumna and college sophomore pursuing a degree in music therapy and vocal performance. Like many students, she stays busy keeping up her academic excellence and with her commitments to orchestra, choir and an ensemble group in which she sings.
Getting to this point has been a transformative process that began when Deborah came to Cal Farley's more than five years ago. Along the way, she discovered something priceless — peace with the person she is and is becoming.
"I had no confidence in myself and no self-esteem (before Cal Farley's). Those things weren't even talked about (at home). It was 'you live your life — and just do everything right,'" she said. "(I was) living in fear. I've overcome that — gaining confidence in myself and learning about myself. It's kind of like meeting a new person."
Deborah described a strict, authoritarian childhood. The rare public outings, such as holiday gatherings with her extended family, offered a respite that was all too brief.
"Christmas Day (was good)," she said. "When I was little, Christmas was when you went over to Grandma's house, opened presents and listened to the record playing 'Little Drummer Boy'. Everyone was nice to each other, and acted like they got along.
"Then, we ate a big, fat, happy meal, with those little cookies with the little Hershey's® Kiss in the middle of it," she said, smiling and cupping her left hand to place an imaginary chocolate on top of it with her right. "Do you remember those?"
But, the happy hours never lasted. The Christmas morning mask always gave way to an extreme discord — a rift that separated Deborah from her parents, and them from each other. About age nine, Deborah — the seventh of nine children — began acting out after her parents separated for a brief period. She remembers lots of fighting and often battling against what she saw as the unfair rules of the house.
"I (felt like) the black sheep of the family," she said. "I was the one (who) never got attention, and so I tried to get attention."
Making matters harder for Deborah were her family's very strict spiritual beliefs, which placed increasingly harsh restrictions on many childhood activities and intensified the already stressed family relationships. As a result, Deborah's behavioral response only grew worse.
"It was just a really bad family environment," she said. "We never had friends … we hardly ever went out of the house."
Deborah's disrespect became open rebellion against her parents, prompting her mother to begin asking acquaintances for help. A family friend pointed her to Cal Farley's.
When Deborah's mother called, Cal Farley's connected the family with our Austin Family Resource Center. Julie Skarich, who directs the office, one of seven such community offices operated by Cal Farley's, said her first priority was to work with the family on conflict resolution, hoping to reopen communication between Deborah and her parents.
There was some limited progress, but Deborah's parents felt it was in her best interest to seek placement at Boys Ranch, where she eventually was accepted. By that time, Deborah was 14 and halfway through her freshman year in high school.
"I was so socially awkward and had never hung around kids my own age," she remembered. "And, then, I was living with 11 other girls my age (at Cal Farley's). It was all new and completely different!"
Yet, the newness of Cal Farley's brought exploration, a chance to find activities she felt passionate about. She continued to pursue music. And, there were new extracurricular activities, such as basketball and cross-country.
More importantly, she began to sort out her faith in God.
"I kind of was stepping back and clearing the slate. It was like I was trying to figure out what I did believe," she explained. "(The chapel staff) were there for us and helped us. They were a part of our everyday lives. That's what meant the most."
Christmas, too, has taken on new meaning for Deborah. Gone is the anxiety, the fear of what will follow Christmas morning. These days, she said, Christmas is a time to relax, travel and visit those she loves.
"I really do like the Christmas spirit," she said. "This year, I'm going to Sacramento, (California), with a friend."
Prepared at Cal Farley's with the tools to succeed, Deborah plans to one day go onto graduate school and is excited about where her dreams are taking her — and, she's confident in her future.
"
It's important to be happy and live the life that God gave us. This life is an opportunity to live!