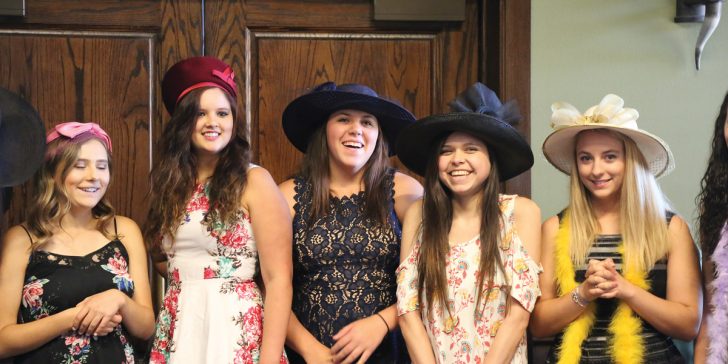 Senior tea is a rite of passage for the girls of Boys Ranch
Every little girl wants to feel like a princess. Every young woman wants to be treated special.
Through the annual senior girls' tea — one last chance for the residents who are participating in the Boys Ranch High School commencement to be honored — our girls are smothered with love and good wishes.
Since 2001, the senior tea, held each May, is attended by the guests of honor, the girls' housemothers, caseworkers and other special female guests.
"In 2011, a group of women in Amarillo who call themselves The Princess Ministries, asked if they could begin hosting the tea for us," explained Suzanne Wright, current director of training, formerly manager of the girls' community on campus.
Wright said what started out as a formal British tea is now a special lunch.
The lunch celebrates these young women, encouraging them as they leave the ranch and start their post-Boys Ranch journey. It also culminates the diligent work of prayer warriors who've been lifting our graduating ladies in constant prayer.
"I give these ladies the girls' first names in January. These older women begin planning, preparing and praying over our senior girls. The women prepare for each girl for five months." Wright said.
When asked why this event has become so dear to the Princess Ministries, co-director Sharon Minor was quick to answer, saying Boys Ranch holds a very special place in their hearts.
"The reason why we do it is because we feel like it is what God tells us to do. We want these young ladies to know, No. 1, they are loved, No. 2, they have worth and value. Plus, we love doing a good party and we go all out on this one!"
The tea is a formal event. Wright has collected various vintage and modern hats for years, amassing a collection of 75. Each guest selects a hat and a feather boa to wear to the event, held at a nice venue in nearby Amarillo.
The event includes a speaker, special music or both.
The senior girls are fed, entertained, introduced and given a chance to tell about their future plans.
"The senior tea was such a fun, memorable moment for me," said alumna Katie Shepherd who graduated in 2009. "It was a chance for us girls to get together, forget the stress and anxiety that being a senior brings, and just enjoy each other's company. If I could go back and do it again with the same classmates and mentors, I would in a heartbeat!"
The Princess Ministries presents each girl with a special gift, such as a piece of luggage for the journey ahead of her. Smaller gifts also are given and have included, among other things, meaningful jewelry and nice journals to write about future travels.
"And then, we take pictures like the paparazzi until everyone is tired of smiling!" Wright said with a big grin.
This annual tradition is an important one. Girls who grow up in a place called 'Boys Ranch' should be honored and celebrated.