Darnell is growing stronger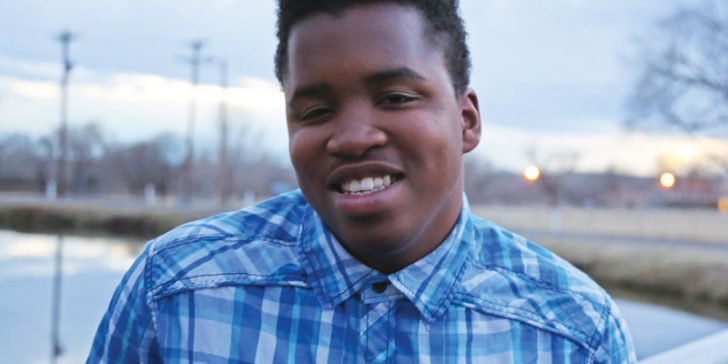 "Life, it's basically like a garden. You have to watch it, you have to take care of it," said Darnell, 17.
In the nearly two years he's spent at Cal Farley's, Darnell has done a lot of tending to the garden that is his life.
The memories of his earliest years are a bit spotty in places, but what Darnell does remember is entering foster care in Maryland when he was only six years old. At a time when a child should be planting strong roots in a loving family, Darnell said he learned to do whatever it took — good or bad — to feel connected with his peers.
"Life was kind of rough for me," he remembered. "I just did whatever it took to fit in. So, if I had to steal this to fit in, or if … I had to lie … I would do it."
Darnell was placed with a new foster family when he was 8. They were loving, and wanted the best for him. A year later, they made Darnell a permanent member of their family.
It wasn't long, though, before weeds started to take root among the blooms.
"At first, I was just this nice kid, then I just changed," Darnell admitted, meekly. "I think I've burned more bridges in the nine years I've been with them than I could possibly rebuild in the rest of my life."
Darnell began stealing things here and there around the home, a habit leftover from his past. His family wanted to be proactive, and sought help before the problem got out of hand.
"I did see a therapist (for about two years)," Darnell said. "But things were going well to the point (I didn't) need it."
Darnell described a series of peaks and valleys, good times spent with his adoptive parents and siblings, interrupted by times when his growing compulsion to steal, and then lie to cover it up, sowed discord in his relationships.
"There were some good memories," Darnell smiled, recalling playing video games with his parents or sitting together to watch the hometown Baltimore Ravens play football on TV. "We had some good times. But honestly, I think the bad times were so bad they outweighed the (memory of the) good times."
In the years that followed, the downward spiral continued, and Darnell's behavior grew worse. His stealing, which initially had been confined to the home, spread to school or other places he and his family went.
"In school, I was basically what you'd call a troublemaker. I was going to a great school that (offered) a great education … I kept getting suspended … Eventually, I didn't care. I just did whatever I wanted to," Darnell said.
His parents struggled with how to reach him. They pleaded with him to stop, or to communicate why a bright young man with a talent for art was behaving this way. When a gentle, loving approach failed, they tried punishing him, taking away privileges, anything they could think of.
One night, Darnell's mother sat down to talk with him. She'd been researching on the Internet, where she found a place that might give him the help he needed. The idea intrigued Darnell. Together, they looked over Cal Farley's website, www.calfarley.org.
"I said, 'This looks like a pretty good place,'" Darnell remembered.
"
"The E.L.P. program shows you training skills I don't think you can learn any better than at Cal Farley's," Darnell said.
The family visited our Boys Ranch campus. Darnell was struck by what he saw.
"When I looked around, I saw a bunch of kids together. They were talking. I didn't see a single person that was singled out anywhere. Everyone was getting along. It's kind of like a huge family."
That kind of belonging was the missing link for Darnell. He'd spent years now with a family who loved him, but somehow, he'd always felt like an outsider.
"I felt like I couldn't fit in. I was kind of an outcast," he said, explaining how this feeling drove him to act out.
At Cal Farley's, his mentors helped Darnell begin to unpack the roots of his behavior. And, he's slowly rebuilding his relationship with his family. But, Darnell was quick to add Cal Farley's is more than a place for young people to heal emotionally. There's a lot of practical learning to be had, too.
"Cal Farley's is a special place because it's not just to mentor kids who have issues. They show you real-life situations," Darnell said.
He explained how Cal Farley's has helped him understand how to manage his money and plan a personal budget to guide his spending. Darnell said he's also found his time in Cal Farley's Experiential Learning Program helpful at providing him with both vocational and relationship-building skills he can use in the outside world.
"The E.L.P. program shows you training skills I don't think you can learn any better than at Cal Farley's," Darnell said.
Young people at Cal Farley's have many E.L.P. learning areas to choose from. Darnell's natural love of the outdoors drew him to the garden program.
"You get to learn the different types of plants and the way that they grow," he said.
Darnell said his training began with simple grasses. He learned the best times to nourish them and how to keep them looking their best.
"I'm an outdoor kind of person. I don't like to just sit around doing nothing, I have to be doing something. And, then when I saw the program," he said, "I said 'Hey, I want to do stuff like that.'"
An aspiring artist who's considering a career in design, Darnell enjoys adding beauty to the Cal Farley's landscape. His time in the garden has taught him a lot about which plants will work well together, letting him create a colorful, living canvas.
Of course, the real lesson behind his E.L.P. experience is how to create and maintain healthy relationships with his peers in the garden and their Cal Farley's mentors. These lessons — things like always giving your best, being honest with others or just being open to new friendships — are concepts he can apply throughout his life. The longer he's at Cal Farley's, the more Darnell is impressed by the impact the many programs at Boys Ranch have had on his life and those of his peers.
"Cal Farley's definitely helped me," he said. "Through this program, you're turning kids' lives around. You're setting them on the right track, and you're preparing them for the real world."
As the high school senior sees his time at Cal Farley's nearing an end, Darnell knows the task of tending to his life's garden is one that never ends. But, he also knows he has the tools to succeed and the determination to grow something beautiful.
"Sometimes when you first start (a garden), it may not be the best. But you have to make the best of it," he said. "You have to make it grow into something good."