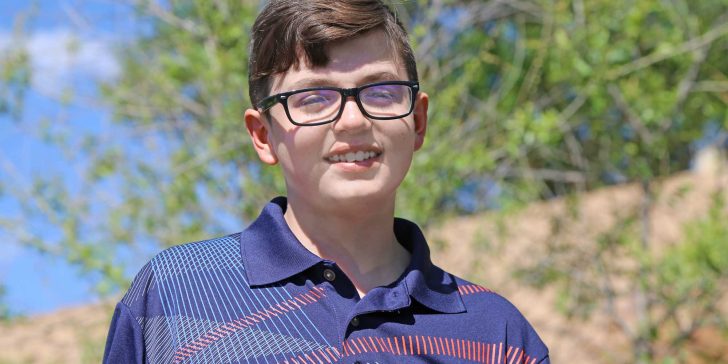 Though he didn't know it at the time, the night of May 20, 2013, was a perfect metaphor for Cole's life.
On that night, Cole, 14, and his grandmother responded to the ominous skies and sound of tornado sirens, like they did every spring — heading down into the storm cellar of their Moore, Okla., home.
"We didn't think it was going to be that bad," Cole said. "Some (storms) go by and don't really hurt anything. But, that one, I remember we got out and the sky was pitch black, and it was only 7 o'clock."
A building storm
The first storm clouds in Cole's life began forming when he was very young. His parents struggled with substance-abuse, and circumstances led Cole to move in with his grandmother.
"My grandma, she had legal care of me since 2006. My mom died in 2005," Cole said. "We get along pretty good, but sometimes we get in arguments."
Cole believes his early years in his parents' home set a pattern of argumentative behavior, modeling undesirable characteristics for him during his most formative years. It was a family tradition he'd seen with his parents, but one he hated to be carrying on.
"(It was) just kind of a force of habit. Whenever I get into those big (arguments), I'd end up crying. And, I'd just get really uncomfortable around it, because my mom and dad had a big history of it, and I just carried it on."
Cole said he found himself being increasingly cross with his grandmother. Sometimes, he wasn't even sure why.
"I'm not even sure myself," Cole said. "It could be something real important, or it could be something really dumb, and it just gets blown up out of proportion … Most of the time, I'd know whenever an argument started to happen, and I know a lot about how to get out of it, but I'd just stay in there."
Cole and his grandmother worked to solve their issues for a long time, going through a lot of ups and downs. Then, Cole's storm reached its peak strength, when his grandmother's health began to fail.
A raging tempest
On that fateful night in 2013, Cole and his grandmother waited in their storm cellar until the storm had passed. The thunderstorm had knocked out power, water and other city services, so they had no way of knowing a powerful tornado had ravaged their hometown for 40 minutes, claiming the lives of 24 of their neighbors. In the absence of information, they decided to look around the neighborhood to assess the storm's impact.
"Once we knew it was all clear, we drove into town," Cole remembered. "There were police officers who were directing traffic."
Observing some scattered, but not Earth-shattering, damage, they returned home.
"The next day, we started driving around Moore, just how we normally do, and whole places are gone and there are just piles of rubble," Cole said, describing his shock at seeing everything from convenience stores to an entire hospital reduced to mere piles of debris.
The trouble stemming from Cole's behavior, meanwhile, was escalating just as his grandmother's ability to cope with it was on the decline. It was clear to her outside help was needed. She'd sought some short-term options in the past, but at this point, they needed a more lasting solution.
"My grandmother heard about this place, the (Cal Farley's) Family Resource Center," Cole said.
At the Oklahoma City Family Resource Center, Director Felicia Kellett was happy to help Cole and his grandmother. At his grandmother's request, Kellett began working out the details related to placing Cole at Boys Ranch.
"(She) kept coming over to see how we were doing," Cole said. "We'd just talk about how (life was) going since her last visit, working on stuff."
His transition to life at Boys Ranch was a gradual one, but Cole said life on campus has been much better than he expected.
"I remember telling someone on the bus about (his upcoming placement) on the way to school. He was like, 'I had a friend to go there. All they did was eat beans and work,'" Cole remembered with a slight chuckle. "I don't even know why I believed him … I was expecting it to be really boring. And, I got here … it wasn't."
The recovery begins
In the aftermath of the devastating Moore, Okla., tornado, Cole said he watched with enthusiasm as his hometown pulled together to rebuild.
"I really like the way the community is," Cole said. "All the shops that still weren't (rebuilt) yet had these murals on them, saying 'we'll get through this.' And, now, (Moore is) becoming one of the first places in the country to (require storm shelters)."
Much like his own healing process, Moore's recovery is ongoing. In addition to healing the emotional wounds he brought with him to his grandmother so long ago, Cole is learning techniques at Cal Farley's that will enable him to cope with new storms as they arise. He's slowly learning to trust people, and to allow himself to trust them with his care.
Sometimes, that healing takes the form of visits to a movie theater with his houseparents and friends. Other times, it's taking part in exercises designed to build trust and camaraderie. Or, it could be a learning experience, in which Cole and his peers learn tools they could use in future careers.
"We call it the S.T.E.A.M. Lab, which stands for Science, Technology, Engineering, Art and Math," Cole said. "We do 3-D printing (and) programming."
Cole knows he still has a long way to go, and a lot of uncertainties about what shape his future will take. But, he also has a clear vision of what he wants for himself — to avoid the pitfalls of drugs and alcohol that so troubled his parents' lives and make a positive contribution to his community.
"I just want to make sure I don't (follow their footsteps), to be certain. My dad was a drug addict, and my mom was an alcoholic," he said. "I just want to see to it that I make a difference in the world."